One of my biggest encounters in Chiang Mai recently was a dish called Pad Thai. I mean, I've been to Thailand several times and never in any of these visits had I come across this dish which is apparently a very popular dish in Thailand. I've had Tom Yam, Som tam which is my favorite and so many other delicious foods in Thailand but never Pad Thai. So when a friend of mine suggested that I should have a taste of Pad Thai in Chiang Mai, I was like – what? What the hell is that?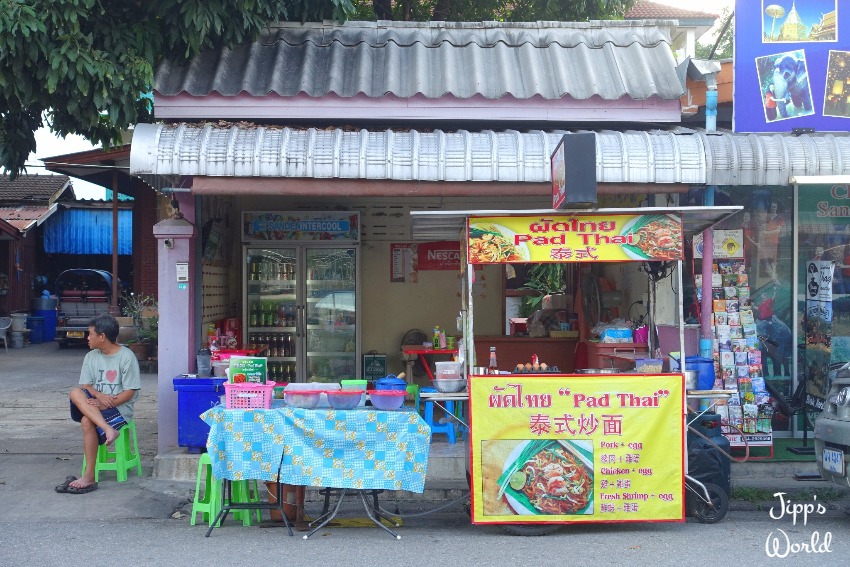 So I saved it for my last day in Chiang Mai when I stopped at a food stall that I had been walking past without paying even the slightest attention to it at all. In fact, I only took notice of it after this friend told me about Pad Thai which I found out (or rather noticed) was printed on its banner. Apparently it is the main dish that they serve. So I took a seat at the only table at the shop and ordered a pork Pad Thai.
My first visual impression of it was – it looks like our Kueh Teow goreng in Malaysia. I'm not sure about Pad Thai at other places but this one is fried with egg and is heavy with taugeh (bean sprouts). I had my first bite and I liked it instantly. There was some sweetness to the taste and some sourness probably because I squeezed a slice of lemon to it. I usually despise bean sprouts in my dish but somehow they go very well with the noodles on this one. I liked it so much that I actually finished it all off in almost no time.
I mean, what took me so long to discover Pad Thai? On my way back to KL, I was seated next to a beautiful young girl from Italy who told me that her favorite Thai food is – well – Pad Thai and that she likes it so much that she doesn't mind eating it every day for at least a month.
Wow. I really thought I knew everything of Thailand at least on the food part. Pad Thai had proved me wrong and for a moment I felt so humbled by it.