You know, something that I didn't mention about in my previous post was the whale-hunting that we did while we were in Mirissa. It was totally unplanned but I knew I had to go for it the moment the receptionist lady at the hotel that we stayed in mentioned it to us. I mean, sighting of whales back in Malaysia requires such a great deal of luck. In fact, I never saw a whale in my entire – at least not in their wild or natural habitat – so I was jumping in excitement when I found out that sighting of this wonderful creature is possible in Mirissa.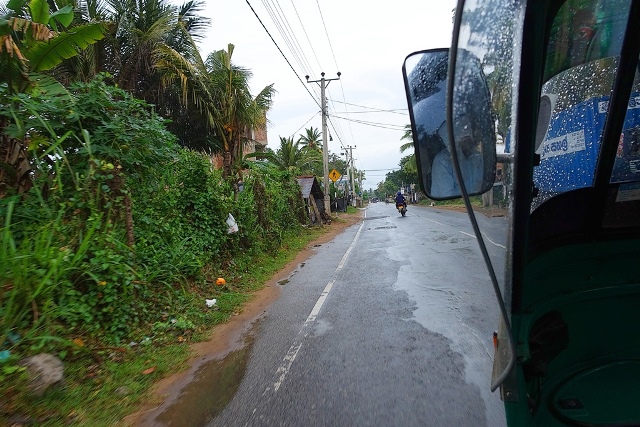 We were picked up from the hotel at around 7.30pm and was at the harbor about half an hour later. There was a little bit of name-checking before we were allowed to go on board which was more like a junk than a boat or a ferry. It was good for at least 50 people at a time and it was almost to its capacity when it pulled out of the deck and off to the open sea.
It was rocky right from the beginning but it became worse as it moved further out into the sea. One of the passengers had to be sent back to the land because she couldn't take it any longer. Her whining and howling every time a wave rocked the boat continued to haunt me for a very long time. Urghhhh!
I really thought it wouldn't take long before we reached the area where whales could possibly be sighted and everyone was holding up against the rough sea. But when one hour turned into two and later three, I was beginning to get quite worried. In fact almost everybody on board was beginning to throw up and I was holding to the last thread of my ego before I was forced to join them too.  It was like being on a roller-coaster, only worse because there was no way of knowing when it was gonna stop. It was without doubt the worse boat-ride that I've ever been on in my entire life.
I was running out of patience and was actually on the very verge of throwing up before one of the crews yelled out and pointed out to somewhere while everyone else turned to look with long over-due eagerness and anticipation. There was a sudden surge of excitement among all the passengers. I joined some of them to run up to the open deck upstairs and wobbled my way in a zig-zag while doing it so that I could get a good view just in case a whale really was there to catch a glimpse of. But I saw none and so did the others judging from their confused and disappointed looks. Urghhhh!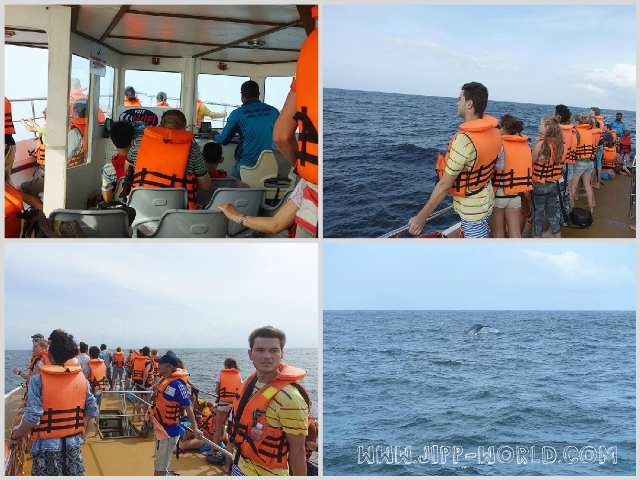 Just when I was about to return to the lower deck where it was less rocky, a commotion put me back to where I was earlier. And then, there it was. It started with the tail flipping elegantly up in the air – and for a moment it stayed there, frozen – before slapping back down and splashing water out of its way. Then it disappeared before flipping out again, this time higher than before. Then the head – spurting out a fountain of water from its blowhole or whatever it is called. It really was magical and everybody was cheering in excitement. Seeing the biggest animal on earth going live in action right before the eyes is certainly an experience not to be easily forgotten. We saw quite a number but they'd all disappear after awhile, probably sensing the presence of something that doesn't quite belong to their group.
I was quite disappointed that I didn't see any of them in full – like the whale that jumped out of the water right in front of Pi in the Life of Pi, may be because they don't really have the capability of jumping right out of the water in full after all – I mean not in real life. Or may be they do. I don't know. But then I can say now that it's not really all about the whales after all but the experience of being on the boat at such a terrible condition.
We made our way back to the harbor at about mid-day and used up my last ounce of energy in the process. I mean, being in a rough sea even in a comfy chair on an over-sized boat has proved to be quite tiring. I had butterflies in my stomach waiting to be let out through my ass and my intestines felt like they have convoluted a thousand times over. Stepping off the boat and back on the land again was more relieving that I thought it would be. But then, it really was a great experience. At least I could always say to people that I've seen whales – live – right before my eyes, in an open sea, in their natural habitat.
We left Mirissa with some sort of accomplishment – not quite a pre-planned one – but it was still an accomplishment. Whales. I've seen some of them. Heh.