Mabul has always been in my bucketlist for as long as I can remember. The first time I initiated a plan to go there was 10 years ago, when I was still based in Sandakan. Sandakan and Semporna – which is the nearest town from Mabul are both located on the East coast of Sabah so I actually had the logistic advantage of visiting Mabul during that time, but as fate might have had it, it never got materialized.
But perhaps it was fate that finally took me Mabul recently, when my job suddenly required me to travel to Semporna, which was the last district in Sabah that I haven't set my foot in yet, apart from Pensiangan and Tongod (again, I could have easily reached Tongod when I was in Sandakan but I didn't!).
Upon reaching Mabul, I checked myself in at Scuba Jeff Mabul – which like most other chalets in Mabul, was an extended wooden chalet that stands on the seabed so you can say that they are more like floating (although they are not). When I first surveyed for accommodation in Mabul, I was taken aback by the shortage of cheap accommodation on this island. The most basic of room could easily cost you more than a hundred bucks. Those beautiful resorts that you see on the tourism pamphlets on Mabul are totally out of reach for a budget traveler like me.
So since I was not quite fond of the idea of sharing a room with a stranger (I think I'm past that now. My dorm days are long over. LOL), I had to grit my teeth and paid RM160 for a twin-bed room. The room was very basic. I remember being a student in those days when I'd stay at the cheapest hotel room that I could find in KK so that I could catch my flight back to KL in the wee hour of the next morning. Those rooms would usually cost me around RM25-RM30 at that time. This room that I stayed in Mabul reminds me of those rooms, only this one had cost me a few times over.
There are the twin beds and a fan, and that's it. I was glad that I had two beds so that I could spread all my stuffs on one of them while I used the other one to sleep on. I'm not sure if this applies to the whole of Mabul but they restrict the electricity to night time only so the fan does not even work during the day when the room turns into a sauna. But then, the idea is to be somewhere else during the day. Besides, most of those that stay at Scuba Jeff Mabul are divers so they'd go out diving during the day so the power rationing is quite justified.
My favorite spot at Scuba Jeff Mabul is the veranda. Overlooking the ocean, I spent most of my time at the lodge lounging around at this veranda from where I could see boats docking in and out or just passing by. Every now and then there'll be children wheezing by on their creatively crafted boats. They may lack a lot, but they seem to be enjoying life and that alone gives me a different perspective of what happiness is. It certainly is very subjective.
Mabul that I found out is a very small island. A little bit of walk can simply take you to a full circle around the island in a couple of hours – perhaps even less if you walk faster. I think the most interesting thing about Mabul is the fact that it is not just an island made for tourism, but it is also an island that is rich with characters.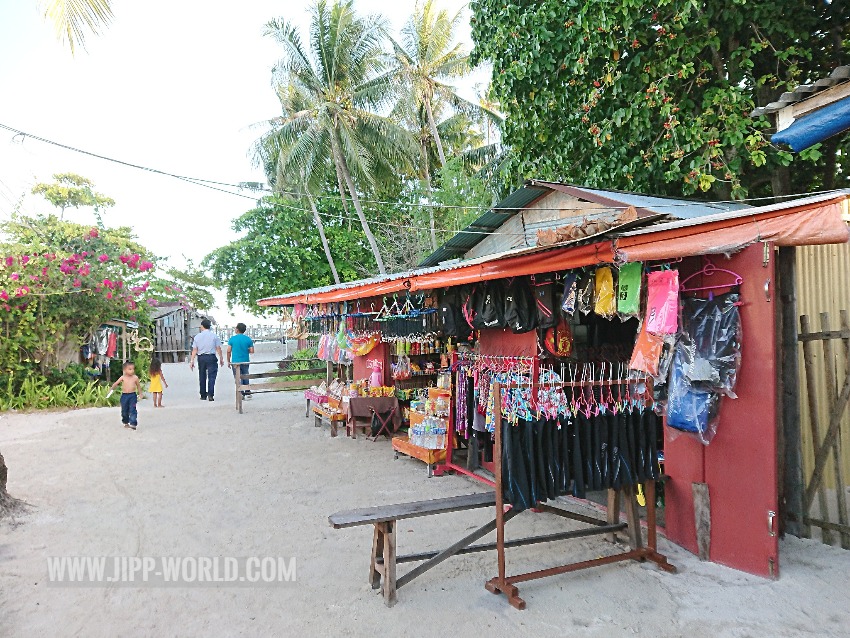 For one the shores are dominated by fishing villages and these fishing villages are quite different compared to other fishing villages that I've been to. Perhaps, due to its close proximity with Southern Philippines, the culture of the people there is more inclined towards the Southern Philippines. Instead of playing volley ball or takraw, they play basketball. Unfortunately, in all the full 10 minutes of watching them play, I was far from impressed. I think they need some proper coaching if they want to take this MBA to a higher level.
Rubbish obviously is still a very big issue on Mabul island but I can see that efforts are being put in place to tackle this very issue. They'd sweep the streets off rubbish every morning so they look quite clean but I think educating the people is still the best way of getting around to it in a long run.
Those that are spared from the fishing villages are now dominated by beach resorts and chalets. Good thing is, the beaches are still open to public, although most of the facilities are signposted with 'Only for Guests'.
I would say the beaches on Mabul are very impressive. The white sand has the best of texture – not so fine and not so coarse. It is just nice. As for the resorts, I think a room could definitely take away a big chunk of fortune from whoever is staying at any of these resorts. I would never pay to stay at any of the rooms, unless perhaps, if I was there on a very special occasion, say, a honeymoon. Heh.
I think the biggest highlight of Mabul is the seawater around it. I remember when I went to Perhentian Island and I told my travel buddies that I could not imagine seawater being clearer that it was but one of them was fast to assure me that seawater at Mabul island is definitely clearer. He definitely did not lie when he told me that. The seawater at Mabul island really defines the term 'crystal clear' at its best.
Prior to my trip to Mabul, I was told that the sunset view from the island was hard to beat. So I was on one side of the island when I felt the rush to run to the other (side), fearing that I might miss the sunset. To make matters worse, I lost my way and strayed into the residential quarters for the resort workers – but then I was mesmerized by the beauty and rusticity of the area itself. There was something about the area that made me feel like I was in some tropical movie set or something.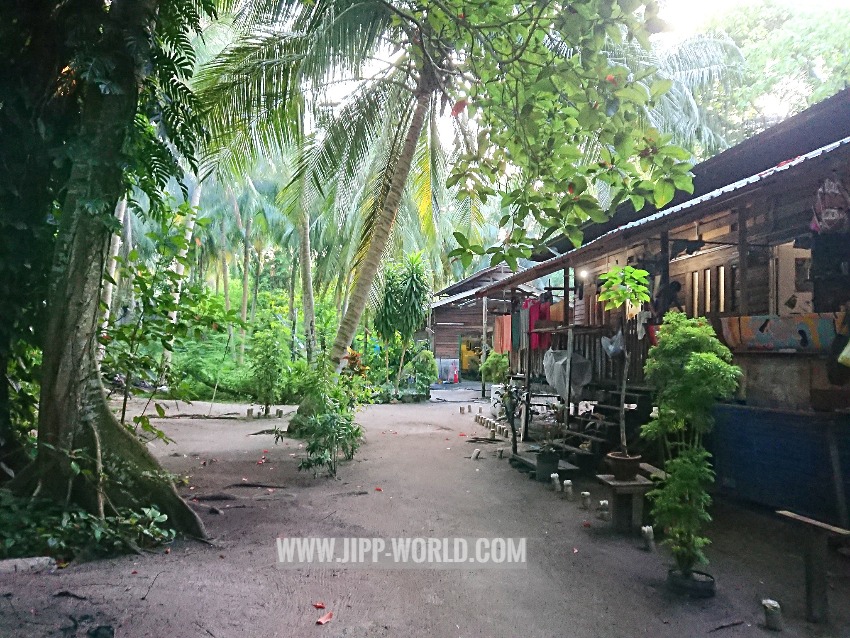 The landscape was heavy with coconut trees and the sandy grounds had just been swept clean, probably by the workers themselves. It was one of those places that I just wanted to have a relaxing time in, probably on a swaying hammock. Unfortunately, I could not stay around longer than I wish I could or I'd miss the sunset so I ran back to the beach where I had to re-route my way and managed to find the trail that eventually led me back on the right track.
When I finally reached the beach on the other side, the sunset was already in its full bloom. The sun was in full shape and somehow I felt like it was bigger than the usual size that I had seen at other sunsets. Anything beyond the horizon had turned red and orange and it widened all over the ocean in the form of reflection and I was held to that very moment of beauty until it was too dark to see anything.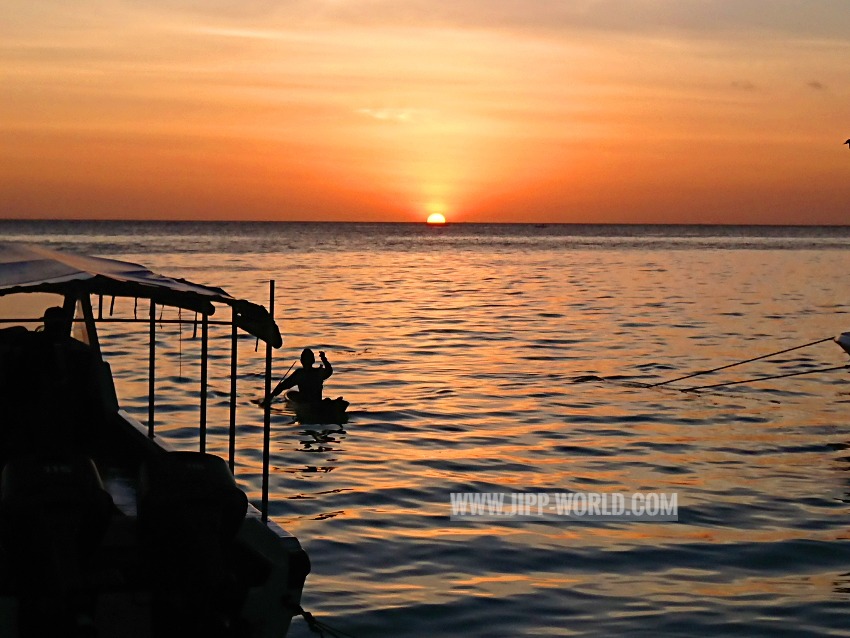 I spent my only night on Mabul island lounging around at the veranda of Scuba Jeff Mabul. By then the divers had already returned from their dives, including Jeff the owner of lodge who himself is a diving instructor. He and his staff are some of the friendliest persons that I've ever met and it kinda amazes me just how they can stay friendly to people when they have just returned from their day-long dives.
They'd continue lounging at the veranda, playing guitar, singing songs and swapping stories right into the night. One thing that I immediately noticed was that – they really laugh a lot and when they laugh, they laugh heartily. I don't know what they smoked, but they really laugh. It can be both entertaining and irritating but as long as they are happy then I'd rather respect it for what it is. Happiness doesn't come by easily to so many people in the world today so it is good that some of them can still be found on this isolated island in the far corner of Sabah.
After doing what I was there to do the next morning, I left Mabul with a little promise to myself, that I'd come back again – hopefully this time to go deep underwater. After all that is what is stated in my bucketlist – going underwater at Mabul and Sipadan.