So we did our first and second day at Milford Track without any problem. The most challenging part only came on the 3rd day. From Mintano Hut, we had to climb for about 600m to the highest point of the whole trail without a single drop. The weather was OK in the beginning and I was enjoying taking in the view and snapping a lot of pictures until it took an ugly turn just before I reached the world-famous Mackinnon Pass.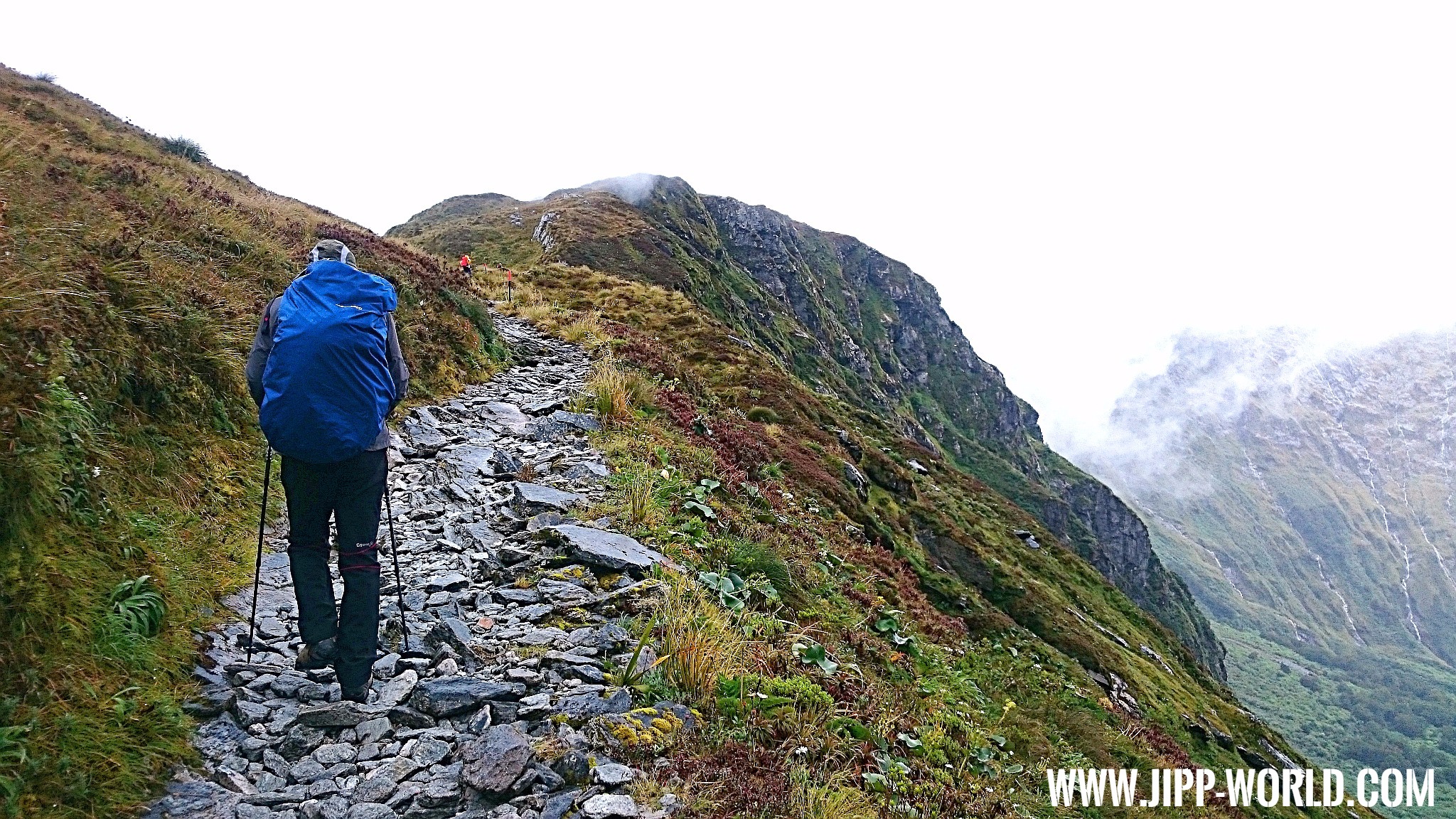 It was still raining when I reached the memorial plaque dedicated to Quintin Mackinnon – a Scottish New Zealander explorer who was the first person (together with his team of course) to find a passage that cuts across the Milford Sound known today as the Milford Track. Unfortunately, he went missing while sailing across the Lake Te Anau during one of his following trips to Milford Sound and although his wrecked ship and belongings were later discovered, his body was never found.
By then the wind was howling like crazy and the temperature dropped to a sub-zero. Even the Columbia thermal jacket that I had on was soaked and my gloves were fully drenched so my hands were half-frozen. I took a little escape from the cold at the Mackinnon Pass Shelter and ate a chocolate bar for lunch before continuing my journey down to our last overnight stop called Dumpling Hut.
The view at the Mackinnon Pass would have been one of the highlights of the whole journey but the bad weather and the thick fog had obliterated what would have been an amazing view. Even the toilet which is considered the most beautiful toilet in the world due to the breath-taking view that we could see from it was totally obscured by white clouds that hung adamantly all across the valley.
But then you know there is a saying that God is always fair – and it is especially true when I was right there descending from the Mackinnon Pass to the Dumpling Hut. Just when I thought the rain was a total disappointment, I could not believe my eyes when I saw dozens (probably hundreds!) of waterfalls thundering their ways from the mountain tops right to the deep valley and it all happened right before my eyes! For a moment I stood right there frozen with my mouth gaping open in a total disbelief that everything that I was seeing was real. It was so OMFG!
But then, I had to keep reminding myself to keep moving. I gotta say the descending part from Mackinnon Pass to Dumping Hut was the most challenging part of my trek at Milford Track may be because I had never been good in descending. My knees were groaning and it was one of those times that I really regretted I did not bring a trekking pole with me. It would have been very much useful.
When I finally arrived at Dumpling Hut, I was totally exhausted. I had the stamina but the constant descent had given my legs quite much of a problem. The Dumpling Hut is located in a deep narrow valley where you could see the beautiful mountain tops with a waterfall gushing down from one of its crevasses. In fact you can hear the thundering sound of the waterfall as it hits the bottom rock and the splashes are sometimes blown by the wind and reach the hut. It was just so unreal.
We spent most of the evening at the kitchen – and so was everybody else. It was our last day at Mildford Track so we'd eat whatever there was to eat. Some of the other trekkers would come to us to offer food and although most of the food was awful (at least to our Asian tongue), we'd still have a taste just so that we'd know what these guys been eating for the past few days.
Despite the exhaustion, it took me quite a while before I could finally force myself to sleep. In fact, I was still half-awake when somebody nudged at my back. I was having my earphones on so the nudging made me jolt in surprise. Through a blurred vision I saw an angry face right by my bed so I took off my earphones and asked in confusion what it was that she wanted.
"You snore. I can't sleep"
And almost compulsively I asked, probably more loudly that I had intended "are you sure it was me?" and I heard her murmur something but I could not quite get what she was saying. I wanted to get off the bed and confront her – asking her as to what she was expecting of a room shared by dozens of people, and that earplugs were not created for nothing but I was too lazy to get off the bed in the dark. I remember thinking that I might injure myself because I was on the upper deck and it was dark.
Then I was woken up about an hour or so later – by a cacophony of sounds that came from every direction. I guess the trick was not go to bed too early. LOL!
It was only the next morning at breakfast when some of the trekkers with whom we share the room came to me and ask "Was it you that got shouted at last night?" to which I replied "I guess it was". Then a male trekker from the US said "Oh gosh. She and her friends talk a lot, very loudly, and yet she can't even tolerate people snoring?".
Then a lady joined in and said "I was still awake when she came to you. In fact most were still awake because it was still pretty early. We heard her jump from the upper deck right to the floor. The thumping sound of her feet landing on the floor was quite loud".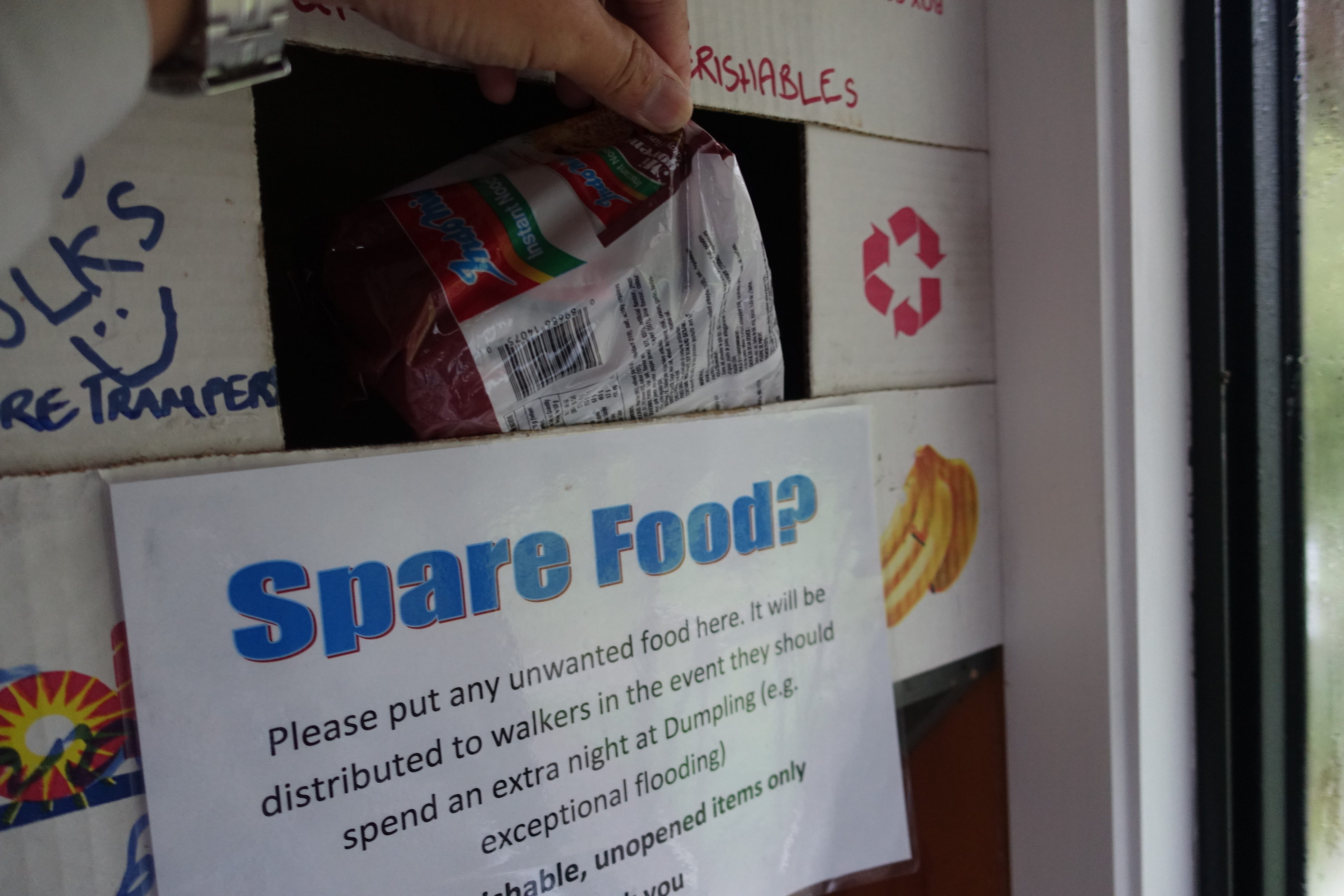 "You were so patient. We were actually expecting you to retaliate" "Don't worry. We in the US are nice people. She does not represent us as a whole" she said referring to the girl's country of origin which as USA.
To tell the truth, I really think they exaggerated it (and I was not surprised. There were Americans after all). It's not like she actually shouted at me. It was just a little bit of nudging at my back and an angry face that I saw in the dark. LOL.
It was another long walk on our last day at Milford Track. The trail was mostly flat but it really felt like there was no end to it. It was raining most of the time so I couldn't really take pictures. Of course there were more waterfalls and I actually walked right under them at times so I'd look up and watch in amazement at the roaring plunge and splattering of water as they parted ways and created smaller waterfalls down to the bottom of the valley.
There were blockages due to fallen trees so I had to maneuver my way a bit every time.  After what felt like such a never ending walk, we finally arrived at the end point of Milford Track. Called the Sandfly Point, the view from there was majestic, almost unreal. The snow-capped mountains rise dramatically above the lake (which I later found out was part of a bay that stretches out to Cook Seachannel). I just stood there in sheer amazement before I suddenly felt a wave of itchy dots on my face, my neck and almost every other part of my body.
The itching was so sharp and sudden it felt like a wave of electric shock or something. Then I realized that I had been swarmed by sandflies, the protectors of Milford Track. I ran to the hut which was fully sealed and waited for another half hour before a boat came fetching us, taking us across the bay towards the little town of Milford Sound.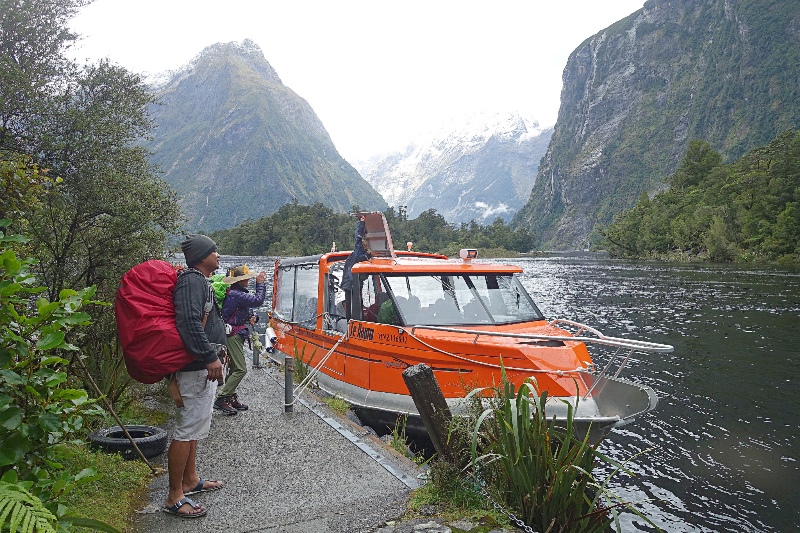 I would never forget the scenery that I had the privilege of seeing that day as we crossed the bay amongst the beautiful mountains. Even until now I still feel like it was more like a dream and not real. I remember looking at a beautiful waterfall that gushes out from the mountain edge and plunges right into the blue lake below and we were not far from there and looking at it in amazement. I had never seen anything like that in my whole life.
It was raining when we were docked at Milford Sound, so we had to run into the ferry terminal so that we would not be drenched and spared ourselves from the consequences later. It was so cold so it was always a good idea to stay dry. There was nothing much to do at Milford Sound and it was especially so when it was raining and we were trapped inside the building.
The bus was already there when we arrived but it would not leave until the scheduled departure time. Somehow it was such a relief when the bus finally left, taking us back nearer and nearer to civilization. Milford Track was beautiful but it was also very wet and cold and I could not wait to return to the warm embrace of the sun.
That bus actually took us along the Milford Sound Highway which is considered the most beautiful highway in the world. But it was raining and most of the time the window panes of the bus – although wide to provide passengers with good view of the scenery along the way – were heavily moistened with droplets of rain it was almost impossible to see through. The bus also took us through the world-famous Milford tunnel and I was surprised to see how 'traditional' the operating system was. We had to wait up for about 10 minutes, probably to give way to the vehicles that come in from the other direction, before we were allowed to pass through.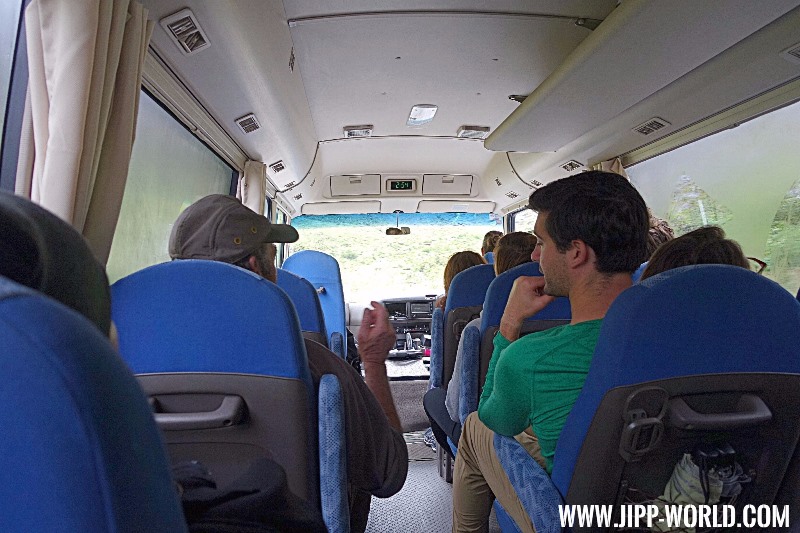 I had some of the best times in New Zealand when I was up there in the mountains of Milford but I felt so much relieved when we were finally back at the much sunnier Te Anau. We stayed at the lakeside Te Anau Backpackers which had a large veranda that faces down to the lake and towards the evening sun – which was fortunately still intense at 4pm because it was summer. It felt so good to be sitting there and soaking in the sun that I had been longing for when I was up there in the rainy mountains.
After taking a quick shower, we went down to the town to look for a good restaurant where we indulged ourselves deeply in a large spread of meal to celebrate the wrapping up of yet another adventurous part of our trip in New Zealand.