Mount Rinjani in Lombok had always been in the list of mountains that I wanted to climb – together with Semeru in the East Java. Considered as one of the most beautiful volcanos in the world, Rinjani has been gaining more and more popularity at least among adventure-seekers especially now that Lombok has its own international airport. People used to go to Lombok on a ferry from Bali. Thanks to Air Asia which provides direct flights from KL and even Johor Bharu (and probably some other major cities), it has now become one of the hottest destinations at least among Malaysians who are attracted to its sandy beaches, scenic and green countryside and of course the beauty of the mighty Mount Rinjani itself.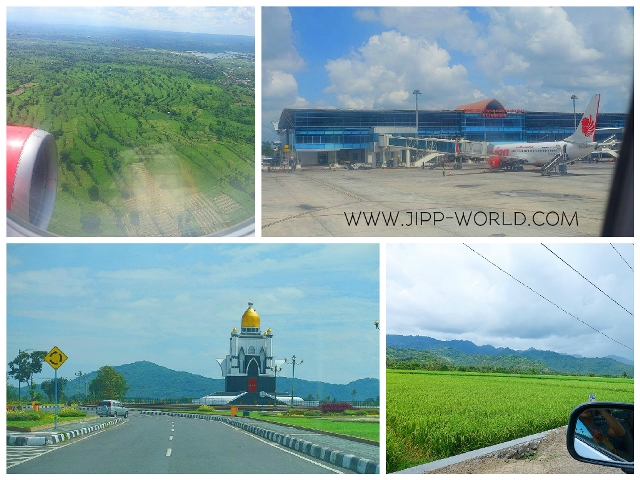 Touching down at Lombok International Airport from an early flight from KL, my climbing buddy Rao who had flown in from Johor Bharu the day before was already there to welcome me. We took a taxi directly to Senaru – some 3 hours away from the airport and located at the foothill of Mount Rinjani. Funny thing was, I really thought Senaru was more like a town bustling with tourists and avid trekkers so I was imagining there'd be shops that sell all kind of trekking gear and there'd be money changers in just about every corner for those who are too lazy to change their local currencies to rupiah back in their countries like me. LOL.
Senaru
What we didn't know was that, Senaru is actually more like a village than a town. There are no ATMs, no money changers, no trekking gear shops, no nothing!  It was more like a farming village where the locals had set up quite a number of trekking companies to arrange things for trekkers who are adventurous enough to take on the mighty Rinjani. But then, the scenery that Senaru has to offer to its visitors would make a visit there such a worthwhile one. The terraced paddy fields and beautiful farms combined with the cool weather that comes with the rather high altitude is something to die for (but please don't. LOL). I was told that it was simply known as Waterfall back then because of the existence of waterfalls in the area but was later changed to Senaru as it is known today. Too bad that we didn't get to visit any of the waterfalls due to time limitations but of course, there's always another time.
SO, after checking in at a budget hotel called Pondok Indah and paid it with whatever rupiah that we still had in our pockets (I still had some from my last trip to East Java), we set out to find a trekking company that suits our budget and at least basic requirements. Apparently, trekking the Rinjani is not really a cheap business. We asked around and made comparison before settling with a company called Lenk Rinjani and still it made us poorer by some 2 million rupiah each (around RM600) for the most popular 3D2N package. But still it is far cheaper compared to what the blood-sucking Sutera Sanctuary Lodges charge to its international climbers to Mount Kinabalu in Sabah, and probably far worthier.
Sembalun
We woke up the next morning with a growing excitement. Rinjani showed itself to us in full as if giving us the last chance to re-consider whether we should go on with the conquering plan or just back off and go to some nice beaches in Gili or probably Sengigi instead. Of course, we didn't go there to give up on something that we haven't even started yet. After having a delicious pan cake and a cup of hot local coffee for breakfast (provided by the company), we hopped into the waiting Jeep and off to Sembalun we went – where we'd start our 3 days of grueling – but very exciting – adventure.
Sembalun is another farm village located on the other side of the mountain from Senaru. Those who want to conquer Mount Rinjani would usually start their trekking there because it is nearer to the peak. Some hardcore climbers do start off at Senaru but it'd double the time and we didn't have that much time (and energy. Heh).
The Journey Began
The beginning of the trek was already a wow to me. Trekking across beautiful farm areas, towards the towering Mount Rinjani in the far distance, I couldn't help but summoning in my silly head the movie The Hobbit where Torrin as the leader and his band of dwarves and Bilbo the only hobbit himself set out onto a long and adventure-filled journey towards the Lonely Mountain to re-claim their land (and the treasures in it. LOL). I was half expecting that some sleeping dragon was waiting for us right there at the mountain. Heh.
Rinjani that I found out is part of a National Park. Upon entering the National park area from Sembalun, we were led across a vast plain of beautiful grassland – which I was told was the result of a mass fire that occurs every other year or so. I mean, being an active volcano, there's no way that the whole area can be fully protected from fire and it has actually become part of the scenic beauty that the mount of Rinjani is so blessed with. At least it happens naturally.
The weather had not been friendly with us right from the beginning. Upon reaching the Post 2, (there are 3 Posts altogether before the first camp site), what seemed to be a clear weather suddenly turned into a torrential rain so everybody was busy putting on their raincoats and ponchos. Me being me, I took out an umbrella that I bought from a very nice pak cik at Senaru for some IDR 50,000 and tadaaa! I was instantly protected. Heh.
The Ascent
Then right from there the real ascent began. The rain made the trail so slippery so I had to be very very careful in taking every step forward, or I'd stumble down right into the mud and become the laughing stock of everybody around me (but of course many do stumble anyway). I was especially worried about my camera because I wanted to have it ready around my neck at all times if possible. I didn't want to miss capturing the moments no matter how risky it was.
I think despite the rain we did quite well on our first day towards the first camping site at the crater rim. It was heavy with mist so the famous lake could not be seen and it stayed so right into the night. By then, the temperature was beginning to drop very sharply. The porters had set up the tent for us and they later came up with the bad news that our sleeping bags were soaked in the rain. They didn't fully seal the bag that was holding them.
Our guide Anga was furious. He had to let go of his own sleeping bag to us together with a comforter that he somehow managed to get from somewhere. I would say it was quite a comfortable night for me – despite the freezing temperature that came with the rain. I was only worried about the rain which might jeopardize our mission to conquer the summit. I went to sleep with a little bit of prayer to the mountain gods so that we'd wake up the next morning with a clear sky – somehow.
The Summit Attack
The tour guide woke us up at around 2 am for the summit attack. It was drizzling so he was quite hesitant about going up. He didn't really suggest that we shouldn't go but he didn't seem to encourage us to go either. He left it entirely to us to decide. If only he knew what kind of person I was, he wouldn't even have bothered to ask. I'm the kind who wouldn't easily get intimidated by weather because I knew for sure how unpredictable the weather is at a mountain. A very heavy downpour would give way to a totally clear weather in no time at all and vise versa. Of course I found myself ready for the summit in less than half an hour later.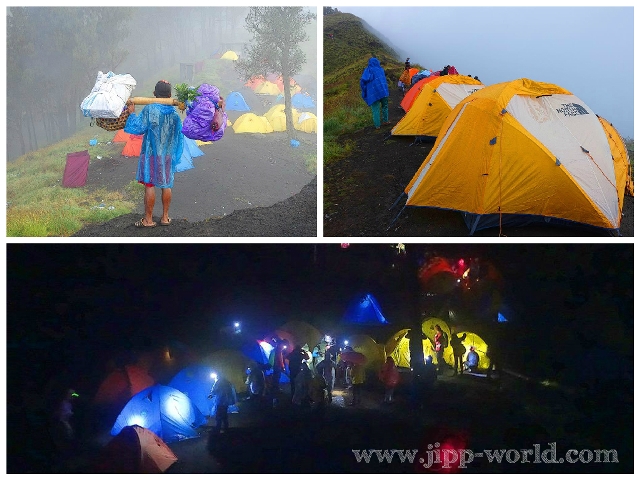 So we joined a long line of people waddling our way up to the summit in the wee hours. Everybody left quite at about the same time – which was quite late actually – probably because they knew it'd be cloudy up there and there wouldn't be any sunrise to see anyway. I suggested to my tour guide that we hurtled forward and led the pack so that we would not be slowed down by the traffic. If only I knew that it wouldn't be that easy. Uhuks!
Just a hundred yards or so away from the camping site, we found ourselves climbing against a very loose soil – or rather a combination of sand, soil and rocks – so it was so difficult to move forward. I didn't wear proper shoes – instead I had on a pair of sandals that I bought from Giant supermarket for some RM15 – the ones that I was so used to wearing to go trekking and found myself very comfortable in. This time, it didn't help at all. The socks that I wore were quite slippery too (first time using) so my feet would slide down in the sandals AND the sandals would slide half a step backward for every step that I made forward! It was disastrous really. Despite all the training that I did prior to the climb, and never mind  the Full Marathon that I had just completed not so long time ago, I still found myself struggling more than I had expected I would. Uhuks!
By the time I arrived reached the upper rim, I was beginning to feel so overworked and I was panting so heavily like a puppy who had just been chased after by a ferocious Rottweiler. I mean, seriously, I knew part of it was due to the thinning air but then the very heavy steps that I had to make against the loose and tacky soil made if even more difficult to move. There was a lil bit of break from the struggle as we walked along the rim towards the summit – which was a towering mound by itself. Then the torturous climb began again – this time more ferocious and merciless than ever. It reminds me very much of my climb to Mount Fuji in Japan but Mount Fuji was facilitated with all the railings to make the climb much easier. Here in Rinjani, you've got nothing to hold on to but yourself.
It was an unending struggle of very slow moving forward. I stopped so many times – every few steps actually – which reminds of those days when I climbed Mount Kinabalu as an overweight 20-something young lad – when I would be left behind by my group of climbers because they were more eager to reach the summit than to drag me along with them as a team. After so many climbs that I did in the past few years or so, Rinjani finally came to humble me down and throw me back into reality again. I was not really that fit after all. Uhuks.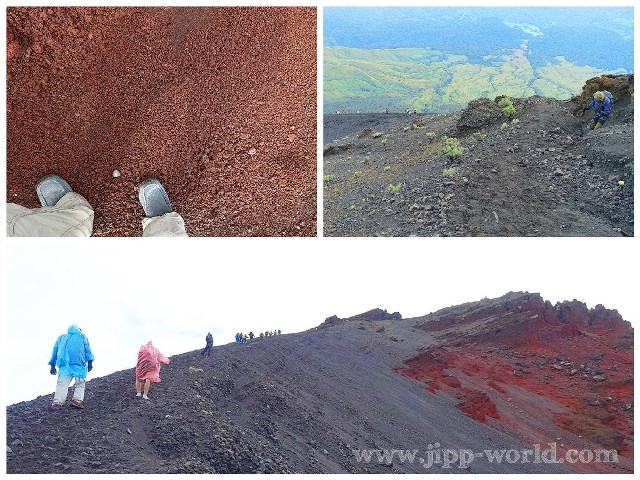 For the first time since I started venturing into trekking activities, I thought of giving up. My climbing buddy Rao who was just as struggling, saw that giving-up look on me that he forced himself to push forward and never looked back, not until he reached the peak. I saw him reach the peak and I knew I had to go after him no matter what which was exactly the message that he wanted to send to me – that I'd go after him no matter what. He later told me how he had to push for the summit because he was so afraid that I would give up and turn back and forced him to do the same. Giving up was not even an option that we had looked into prior to the climb. Heh.
The Summit
You see, one of the sayings that came to my mind when I was right there struggling to reach the summit was that – if you keep climbing, or rather if you keep putting your leg in front of the other, you'll reach a point where you'll have no more to climb. And that thought – together with so many other positive and motivational thoughts that I managed to summon – made me go on no matter how slowly it was and true enough I later realized that I had no more to climb because I already reach the highest point of the mountain. I made it to the summit!
You know, Rao told me how thankful he was that I decided to go for the summit attack despite the discouragement that came from the rain and probably the less encouraging tour guide. He told me how he was actually not quite sure either. He didn't like the idea of climbing in the rain but then – quite so true to how I told him, that the weather can change very quickly in a mountain – the rain paved way for a very clear surrounding and there it was – the famous 360-degree view from atop of Mount Rinjani – the green-ish lake with the beautiful rims that surround it, coupled with the volcano/s and the billowing smokes that rose from the earth openings, and the adjacent islands not quite far beyond such as Bali which is easy to spot because of Mount Agung that rises from it. It was a rare beauty that you wouldn't see anywhere else but Rinjani.
Mount Rinjani has always been compared to Mount Kinabalu – and that is even obvious when you are there climbing because most of the tour guides actually know about that (no lesser) famous mountain in Borneo but here's my own judgement based on what I saw and without prejudice and bias – because I myself is from Sabah where Mount Kinabalu is. I would say yes – when it comes to the view from the summit, Rinjani is easily a few notches up.
The combination of the lake and the rims and volcanos and the ocean and the islands nearby makes the view from atop Rinjani so amazing and that's where it earns more of the points over Kinabalu. But then when it comes to the mountain top, Kinabalu easily outshines Rinjani. Kinabalu has those rocky peaks with the rare shapes which make it quite outstanding while Rinanji's peaks look more like a construction site that has just undergone some last-minute earthwork or something. It is quite ugly but then people actually climb it more for the challenges and the sense of accomplishment that comes with it and of course – the ohmygawding view.
Descending
After taking in as much of the view as I could, we descended back to the camping site – somehow without much difficulty this time – because the trail was now brightly lit and I had managed to master the art of playing sliding on the loose soil. In fact, I was beginning to enjoy it. But still I felt like it was far far down to the camping site. Every now and then I'd bump into a climber still struggling to reach the peak and I couldn't even think of any words of encouragement because it just didn't feel honest. It was certainly a long long way to go. Heh.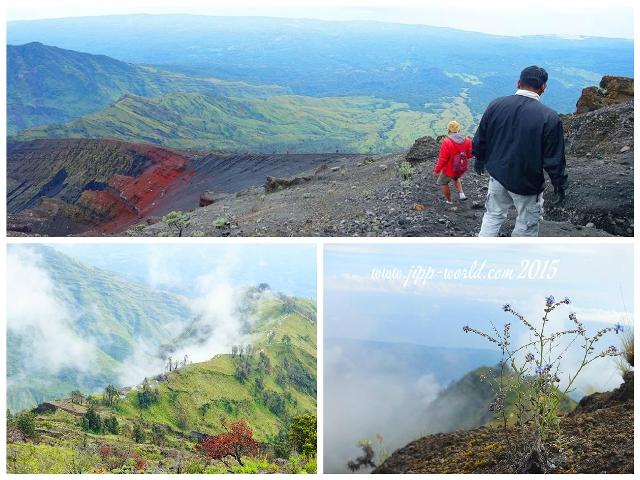 When I finally returned to the camping site where the porters immediately served me with two slices of bread and a cup of hot tea for breakfast, I was so ready to throw myself back into the tent and take a much needed nap and rest when the tour guide came to us and said "Pack up you guys. We need to go now. We'll go down to the lake to have lunch and go to the other side of the rim where we'd be camping out for the night". I thought I was going to strangle him right there.
I really thought that the hardest part of our Rinjani adventure was now behind us. Little did we know that it was far from over yet. Going down to the lake and climbing back up to the other side of the rim had proved to be far from just a walk in the park. They didn't joke when they said that climbing Mount Rinjani is 10 times harder than climbing Mount Kinabalu as I later found out.
But of course I'd spare it for another post.