So I went to Mount Tahan last week, as part of my mission to tick at least something off my bucketlist before end of this year. I had always wanted to conquer the mountain, which is the highest mountain in Peninsular Malaysia but conquering it required more than a week back then – which was quite too long for me – and it also was not cheap. Thanks to the new trail (but I later learned that it was not that new) via Merapoh, it is now possible to conquer the mountain in a matter of a few days.
I was invited to join a group of strangers – which I had no problem with – and the fee was quite cheap at RM150 per person (nett). But then, at that price which was only for the guide and probably some other stuff such as the registration fee, insurance, first night accommodation, first day's breakfast and lunch pack, I had to bring EVERYTHING on my own – tent, sleeping bag, clothes, food stuff, cookery, utensils etc. That was quite a new experience for me because in all my years of climbing mountains, I never had to bring everything on my own. I was both excited and nervous.
So me and my friend Juvi – which was the only one that I knew in the group – started off from KL at about 10.30pm (most of us had to work that day) and arrived in Merapoh at almost 3 in the morning. We were led by the guide to a hostel where we promptly surrendered ourselves to a much-needed sleep.
The real adventure only began the next day. We registered at the National Park office in Sungai Relau and it was here where we had to declare every item that we were going to bring to the climb (they had a check list). In fact we had to unpack and lay out everything for the guide to check before repacking them back into our backpacks. They would be checked again when we returned from the climb (supposedly). I think this technique really works because I could hardly see any trash along the trail (there were some but still much better than most other mountain trails that I've been to).
After a little bit of addressing and briefing by a National Park rep and the guide himself, we were bundled onto a 4×4 Land Cruiser where we were headed to the starting point of the trail at Kuala Juram. It took about 40 minutes of safari-like ride across lush greenery and beautiful forest. It was more like the introductory part of the whole expedition.
So starting off from Kuala Juram at about 10.30am, it was quite an easy walk in the beginning of the trail. Everybody seemed to be marching off quiet at ease and I was beginning to question myself if I was fit enough to keep up with them. We had to cross a river several times and each of the crossings offered different experiences. There was one time when we had to use to the help of a rope and submerged ourselves up to the chest so this was one of those times when a dry bag really really came in handy.
The trail to the top of Mount Tahan really is so beautiful. We trekked past beautiful rapids and waterfalls and one of the waterfalls reminded me of the famous Giant Gate Falls at Milford Track in New Zealand. The water gushes out of a rock cleavage at the top and falls in between a natural rock gutter right to a pool at the bottom. I wish I had a little bit of time to take a dip and enjoy the beauty of the falls more but we were talking about covering some 20 KM to the camping site that day alone so it was quite not possible.
I think Mount Tahan itself is not that high compared to a few other mountains in Malaysia but getting to the foot of the mountain requires trekking across a few other mountains or hills. All the series of ups and downs can be quite challenging and tiring. Most people do it 4D3N but in all the craziness we decided to do it 3D2N so that we can all go back early and enjoy our weekend in KL.
But once you have reached the Mount Tahan itself, that's when the real challenge begins. We were there during rainy season so the trail was very muddy and slippery. We had to depend on the existence of roots as footholds and whatever there was to hold to because it really was so easy to slip down and hurt ourselves along the way.
After pushing on for a solid 9 hours and covering some 20km, we decided to peg our tents at Belumut, a camping site about 10km to the peak. One of the things that you have to remember when you climb Mount Tahan is the fact that the facilities are very basic and limited. You wouldn't find any toilet along the trail (except for one near the peak) so you have to be creative when faced with the need to answer the nature's call. I mean, I did have to do it once and I wouldn't even want to tell how I did it. LOL.
Unless you have all the muscles to bring everything from your car, you have to depend on the natural sources of water at the mountain to keep surviving. They are quite aplenty but as you climb further and further up they'll become more and more sparse. In fact some of the climbers in the group were too tired to go to the nearest source of water from the camping site so they had to go to sleep thirsty and were forced to do the summit attack the next day without water. They never reached the peak.
Some of the sources of water may not be how you expect them to be. Like the one at Belunut, I was expecting a stream that gushes out of the mountain rocks but what I saw was a thinning fleet of water that was so ready to dry out any time any moment. It took ages to even come up with a bottle of water and it certainly required a considerable amount of patience. Again I was reminded to be thankful of all the water that I always took for granted back at home.
The camping site was quite crowded when we were there on the first night – which was a total contrast to the second night when we had it all to ourselves. The climbers were some of the most hilarious – and noisy – people that I had ever come upon. But then I was not surprised at all. I've met Malaysians in many parts of the world and they were always noisy – most of them. After having a quick dinner, we went to sleep and be ready for the summit attack the next morning.
Due to the gloomy weather and the fact that we had to trek some 10km to the summit, we did not intend to catch the sunrise from there (summit) because we did not see any chance of doing it. We did not intend to rush either. Learning from my experiences in the past when I had to struggle so much to the summit due to lack of energy,I had to make sure that we had a proper meal before we started off at about 4am when everybody else had left.
It was quite a challenge having to scramble off in the dark. The fact that the trail was very muddy did not help at all. I had wanted to avoid the mud in the beginning but then trying to avoid them seemed to expose me to more danger than not so I decided to just suck it up and walk right across without any care in the world. I actually enjoyed it after a while.
Thanks God we did not have to bring our fully-loaded bags like we did the day before so it felt much lighter and easier on the back. Still it was very challenging and of course all we had to do was to keep going. We managed to catch the sunrise when we entered the 'bonsai' area as they call it. This is an area of nearly 2000m in elevation where the trees are shorter and the view of the mountain top took on a dramatic change.
The views were simply breath-taking. The views of the mountain top were already a wow but the views FROM it were even more spectacular. I could see the layers of mountain ranges that roll out for as far as the eye could see. Some of them were hidden under the blanket of morning clouds that created such a spectacular backdrop.
At about 9.30 am, we arrived at the peak of Mount Tahan, which at 2187m, is the highest peak in all of West Malaysia. I've reached several other mountains with higher peak before but this one was tougher than most of them. But of course, it was all worth it in the end. We spent more than an hour at the summit as we did not intend to rush going down either. There was something so special about standing at the highest point of Peninsular Malaysia – the part of the country that I had been spending most of my life in for the past 20 years or so.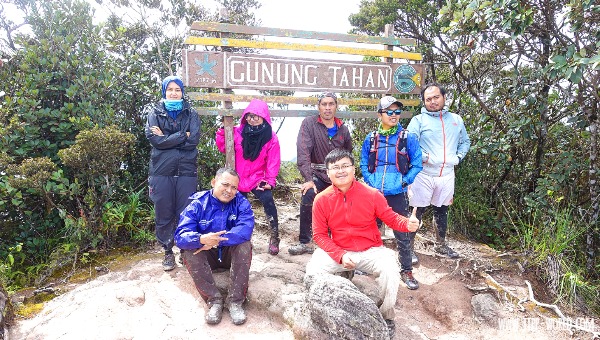 Going down was much more light and easy. It was a long weekend for Muharram so there were more climbers heading up to the peak that we came upon along the way down. I stopped to have a chat with some of them and it really was good to share stories with people of the same passion – which was to climb mountains.
We arrived back at the already deserted Belumut camping site at about 4pm. It was such a long night and the heavy rain than came pouring in the middle of the night did not help at all. My tent, which was never tested before, was not really up to my expectations. The rain could still manage to sip in no matter how hard I tried to keep it sealed. Thanks God the rain did not really last long so I managed to get some decent sleep before descending all the way back to the base camp at Kuala Juram the next morning. In fact I was fresh all throughout the descent. We arrived at Kuala Juram at about 4.30pm and were back at our car at Sungai Relau about an hour or so later.
After having our last meal together at Merapoh town (which was more like a village actually) offered goodbye to each other and wheeled back off to KL and arrived home at around midnight. It was quite an experience having to bring just about every necessity to a climb and returned still in one piece.