So I went to Tioman island last week. I've heard a lot about this island, even when I was still a kid, and I remember reading from somewhere that it was in the Top 10 of the most beautiful islands in the world. Of course all these lists keep changing from time to time, and it depends on who make them (beauty is in the eye of the beholder?)  so I had long ignored them. But then my wanting to come to Tioman and see it for myself had never left me.
So it was a very long journey driving from KL to Mersing, the nearest town to Tioman. As usual, there was nothing much to see from the North-South Expressway, until we finally disengaged from it and reached a town called Kluang. Kluang is one of my favorite towns in Malaysia. It was my second time there and I still loved it as much as I did when I first visited it a few years ago. There is something so relaxing about being at this historic little town of Johor.
We stopped to have coffee and breads at the famous Kluang Railway Café, the origin of Kluang Railway Café which has now opened (its) outlets at several locations in KL. The coffee is good, I have no doubt, but it was the 'roti kahwin' as they call it that really melted my heart, simply because it was so tender and soft and it melted creamily in my mouth when I ate it.
So we continued on to Mersing, driving across the infamous vastness of Palm Oil Plantation in Johor – and a little bit of forest reserve area dotted with villages of Orang Asli here and there before we arrived at the town of Mersing. It took us 5 hours to reach Mersing from KL.
After surveying around for a hotel, we decided to stay at a hotel called Sakiza. I paid RM98 for a room with a queen-size bed and there is nothing extraordinary to talk about the room except that it has those fine cracks all over the walls that look more like part of the wall decoration than workmanship failure to me.
I liked Mersing almost instantly. It might be a small town but everything is basically there. The streets are quite clean compared to most other towns and cities that I've been to in the Malaysian Peninsula. Located at the mouth of Mersing river, it has the rusticity of a fishing village with all the fishing boats docked on the riverside of Mersing river.
Walking along the esplanade was very relaxing and the esplanade itself looks like the favorite hang-out spot among the locals. I'd also like to highlight that Mersing is a town of beautiful wall murals. They've got beautiful murals on the walls at strategic locations all over town so they really are a feast to the eye for me.
Things became more exciting when we woke up the next day. We drove over to the Mersing jetty and parked our car at the fenced parking lot. The charge is RM15 per day – and when it says per day, it is referring to date, not the number of hours. Let's say you park your car on Friday and you take it back on Sunday, then you'll need to pay RM45 regardless of what time you pick it up that Sunday.
One of the parking guys was so kind to take us to the ticket counter, which I was told had shifted from its previous location and left many visitors confused especially among first timers like us. I was told that the management of ferries to Tioman has all been bundled under one company called Bluewater Express but they set up a few counters – which was probably intended to cater for the need of big numbers of tourists during public and school holidays.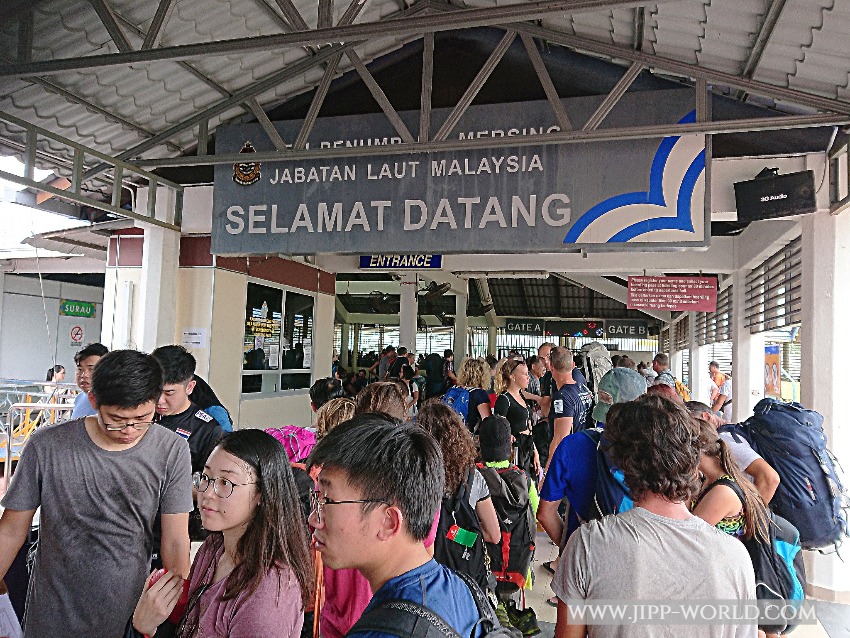 Based on the monthly schedule that they put up at the counter, there are three trips going to Tioman on most days, but reduced to two on certain days. We took the one leaving at 12pm, and proceeded to the 'departure hall' as I'd call it to get the boarding pass (different from the ticket itself) before getting on the fast-moving queues to board the ferry.
Tioman is quite a popular tourist destination so I wasn't surprised to see the long queues and I was told that it could double or even triple up during weekends and public holidays. We were there on a weekday and yet the ferry was almost full to the brim.
I wouldn't complain anything about the ferry. It was air-conditioned and the seats were spacious enough and I had enough space to stretch my legs out a little and that was all I needed. But then the three hour journey didn't end as fast as I wanted it to. It was so boring I wish I had a book with me or something. Luckily the phone coverage had hardly left me all throughout the journey so I could always fiddle over my phone whenever I felt the boredom of not doing anything began to suffocate me. And yet I wished I could just switch my head off and turn it back on when we have arrived at Tioman.