It was so good to be back in Vietnam – or Sapa particularly. I went there back in 2010, and instantly fell in love with that little town left by the French when they colonized Vietnam many decades ago. I'd been wanting to go there again – so badly – but I never had the chance until recently when I decided, it was now and never. I cut my Christmas short and returned to KL just to pack up and flew off to Hanoi the very next day. I would be ushering in the New Year – in a foreign land – alone and believe me, it didn't turn out to be as sad as it might sound 😛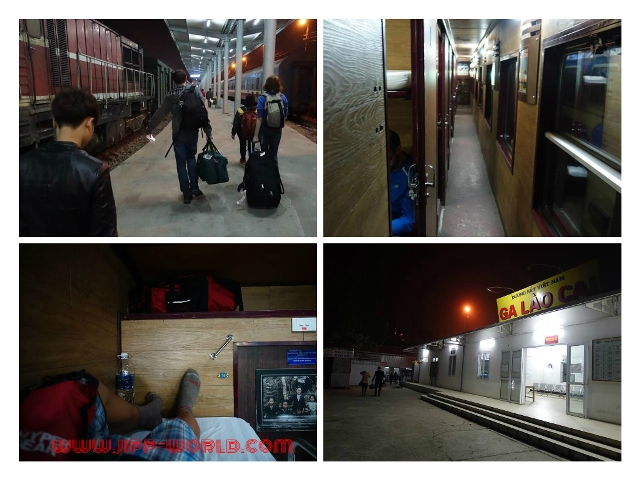 I saved Hanoi for my last day in Vietnam. Instead, I took an overnight train to Sapa on the day I arrived there, and I arrived in Sapa in the wee hours of the day, at a freezing temperature. I remembered how I was instantly surrounded by hotel agents of sort the moment I got off the bus back then, all wanting to bring me to a hotel so that they could get some commission out of it. This time, nobody came to me so I instantly realized something was not quite right.
It wasn't long before I found out why. It would be a National Holiday the next day – which coincides with a weekend so many Vietnamese from all corners of the country took the opportunity to come to Sapa to usher in the New Year in this beautiful little town. I have to say, it wasn't the best time to come to Sapa.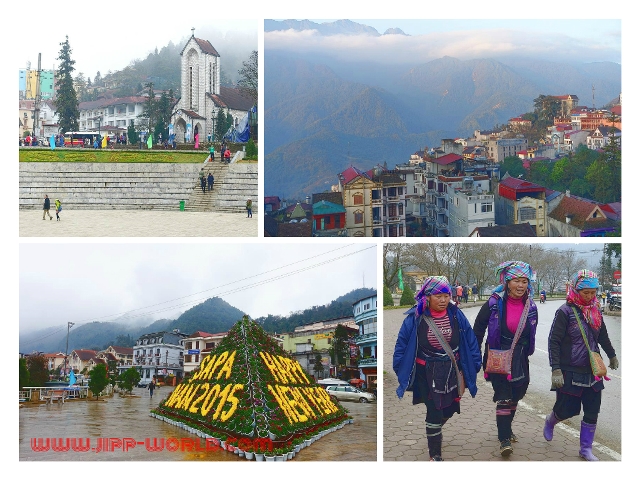 I went from one hotel to another, and they all could only offer me a night of accommodation as Sapa was fully booked the very next day. I stopped looking for a room after the 15th hotel that I came to turned me down. That was the idea of staying at the mountain come about. I mean, I did go there with the intention of conquering  Mount Fansipan – which at 3143 m is the highest mountain in Vietnam and even all of IndoChina but from what I heard and read, the facility was very basic and the climb could be done within one day.
So, without a room to stay in the next day, I had no choice but to spend the night up at the mountain, with whatever facility that they've got up there. With a heavy heart, I booked a 2-day-1 night climb for USD65 through some travel agency called VietDiscovery, and prepared myself for the worse.
It turned out to be a not-so-bad decision. Mount Fansipan is not an easy mountain to climb despite the height which is probably about 1000 m lower than Mount Kinabalu. The trail is not easy and I was so glad that it was dry because it would have been disastrous if I trekked in the rain when the trail was slippery.
I went with a group of people – a couple from Japan, a young student from Australia, and a group of friends from Thailand who is currently working in Vietnam. We called our group the International Team. With a national holiday at hand, there were more than a hundred people climbing Mount Fansipan that day, all wanting to see the first sun rays of 2015 from what is called the roof of IndoChina.
Most of them were Vietnamese youngsters, probably from some local universities or colleges, and they really were so free-spirited and happy which was a very good sign that Vietnam really is becoming a happy nation despite its dark past. They'd shout and yell and sing in unison which made the climb so hilarious. Most of them wore a red t-shirt with "I Love Vietnam" on the front which is indicative to the very high level of patriotism among them.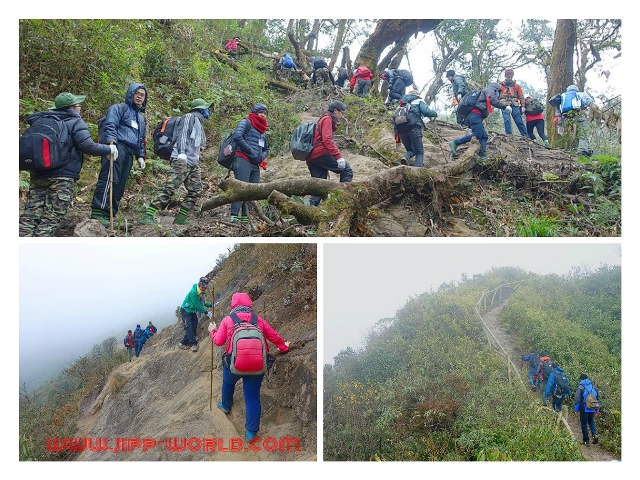 If I were to name two main obstacles to a smooth climb that day, it'd be my shoes and my backpack. The porters would only bring food supplies but they wouldn't bring anything else. Climbers have to carry their own stuff, even their own drinking water or whatever things that they might need to survive the night up at the mountain. I was there in Winter when the temperature could go down to sub-zero so I had to bring whatever I thought necessary to keep myself warm and survive the night. Just like in most other climbs, the low temperature was my main challenge.
I wore the shoes that I bought for less than USD30 in Kathmandu which I only got to use when I came down from Annapurna Base Camp. Going down in them might not be that bad but going up – as how it turned out at Mt Fansipan – was quite a problem. I was struggling with the weight and they almost sent me to some terrible muscle cramps on the calves that night. Seriously, you really don't want to save some money to buy some cheap stuff when going against a mountain like Mount Fansipan.In the end I decided to abandon them and wore my pair of sandals – which is still the best mountain-climbing footwear for me so far.
I wouldn't complain much about the food. In fact, I found them quite tasty. The Hmong (the main tribal group in Sapa) porters cooked them for us and I guess they couldn't be cooked any better at some 2000m above the sea level.
We slept in a tent that night, against the howling winds and I remember looking up at the sky and it was so clear that I could see every dot of the stars glinting as if trying to outshine each other. I had never seen so many stars in the sky for a very long time. Then I remember how my feet were freezing cold, even with two layers of socks on and how I woke up probably sometime after midnight to find out that a dog had come into the tent and slept very close to me I could even hear her every breath. I was too tired to do anything though.
We were awakened by the guide at 3pm and instantly served with noodles for breakfast. He even served us with hot coffee. Hot coffee in a freezing cold temperature couldn't get any tastier. I thought I was thrown into heaven when I drank it.
Then I joined the long line of people to go up to peak. Everything seemed to go wrong for me in the beginning. I was left behind by my group when I snuck back to the tent to get the spare battery for my torch light and with so many people all climbing that night, it was almost impossible to find them. Then my torch light suddenly died on me and it wouldn't turn back on no matter how hard I tried to fix it so I was left walking in the dark while trying to figure out how I was gonna make it to the top of Mount Fansipan without a torch light.
What I hated most in the beginning – which was the number of people which I thought was quite too big – turned out to be a blessing in disguise. I joined the long line of climbers, expecting the person in the front and back to illuminate the way for me. But still, there was no way I could have enough light to go on all the time.
There were times when the person behind me took a rest and so was the one in the front so I'd still have to stop every now and then which as slowing me down. It felt so stupid really but I had nobody to blame but myself. Very luckily, I had my handphone with me and somehow it worked wonderfully for me and I suddenly found myself half-running.
Then came the need to answer the nature's call. I had been feeding my stomach with chili to come with Pho Bho and pork noodles from the time I arrived in Sapa and now it took a toll on me – at the very time when I didn't want it to. Somehow, so miraculously, my guide found me when somebody asked where I was from.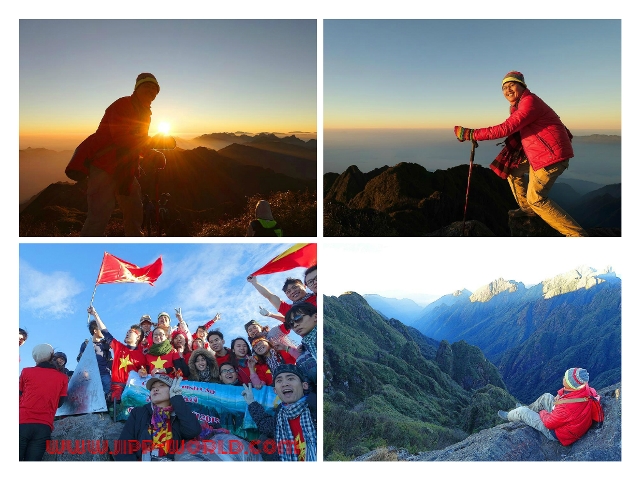 I was the only Malaysian climbing Mount Fansipan that day so the mentioning of Malaysia came to his ears somehow and he responded to it almost immediately. When I told him I needed to relieve my stomach out, he took out a roll of toilet paper from his backpack and asked me to go for it. "Go, you can't climb with a stomach ache" he said. I had to sacrifice half of my drinking water to get my business done but it was worth it.
With a relieved stomach, I knew I had no other reason not go for the peak and see the sunrise from there. It was actually running late and the guide told me that I might not be able to reach the peak in time for the sunrise which was too bad because the weather was amazingly clear. "Unless you can catch up with me. We'll do shortcuts" he said.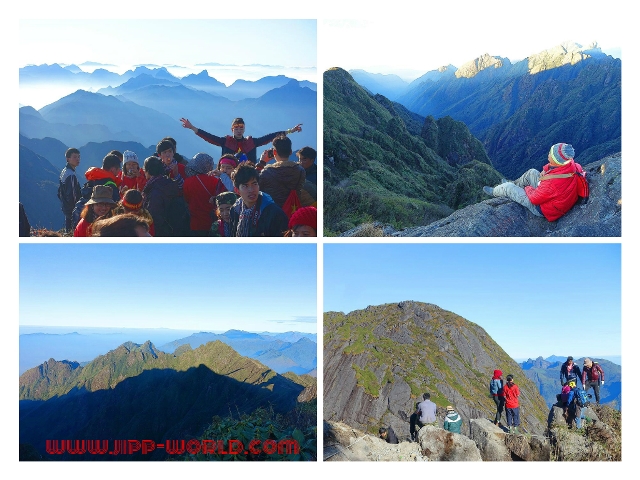 I took it as a challenge and I immediately found myself trailing closely behind him, scrambling in the dark and made it past other climbers. Sometimes I'd push some of them aside so that I could catch up with my guide which I found was quite selfish but yeah, I had every reason to be selfish that day. Almost all of them were Vietnamese youngsters so they could always come back probably when they are older while me – well, I could come back too but there are just so many other mountains to climb in this wide wide world. Heh.
And yeah, I managed to reach the peak just in time for the sunrise. The feeling was indescribable. I wanted to cry at the beauty that unfolded right before me up there, on top of IndoChina, that very day. Just the day before I was cursing myself for coming to Mount Fansipan when the weather was bad – I mean, it was so foggy and misty and cold that I was shivering even at the starting point of the trail – and I didn't expect I'd ever see anything up at the peak anyway – but it has been proven again and again that weather could change very dramatically at high elevations and it was proven to be right again this time.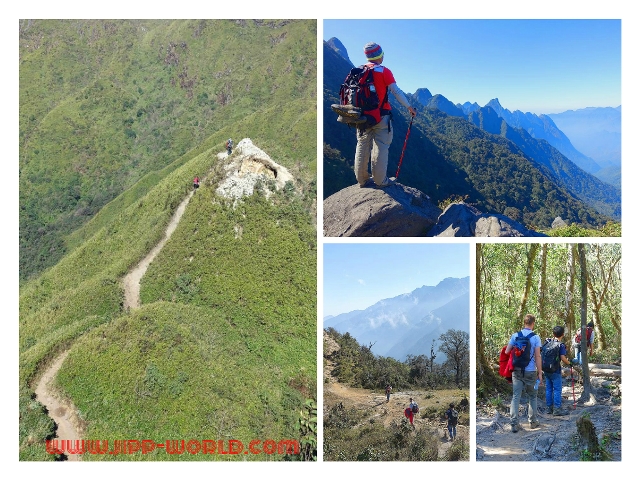 The weather turned out to be perfect and the view was – OMG. Simply put, it made me feel so blessed to be still alive and was given the opportunity to see and experience such a majestic beauty. What a great beginning of another year of adventures for me.
Descending was just as hard as it was while ascending – or probably harder, because I have never been good in descending anyway. I returned to Sapa and later Hanoi with some sense of accomplishment, feeling grateful that I managed to tick something off the bucketlist even it was only the very beginning of the year. 2015 suddenly looked so promising at least in the sense that I'll go through it as a single mingle man who is free to travel (and climb) as he wishes.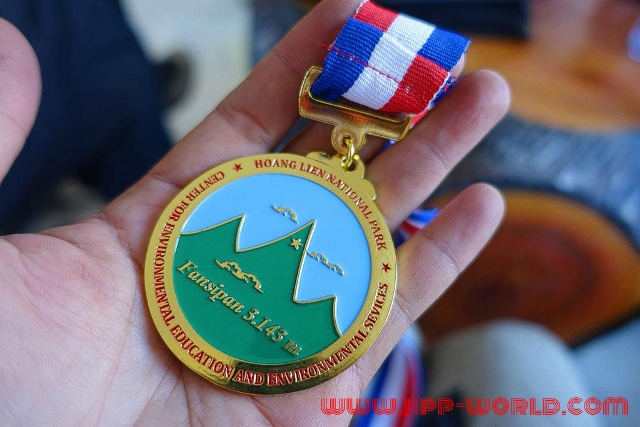 Being single is not really that bad after all. Heh.