Manila really is a city that doesn't sleep. We were woken up by a series of loud bangs at 3 in the morning and upon looking out the window, a firework display was brightening the sky over Malate. o.O
Despite being in the same time zone as Malaysia (there's no/little time difference), the sun rays seem to touch down on Manila earlier then they do in KL or even Sabah. I was surprised to see it was already bright even when it was still 5.30 am !
It was Sunday so there was no way we could skip church when my mom was there (LOL).
Before coming to Manila, I did a little bit of research on which church was nearest to the Tune Hotel. When pictures of Malate Church popped up, the excitement of going there suddenly erupted in me.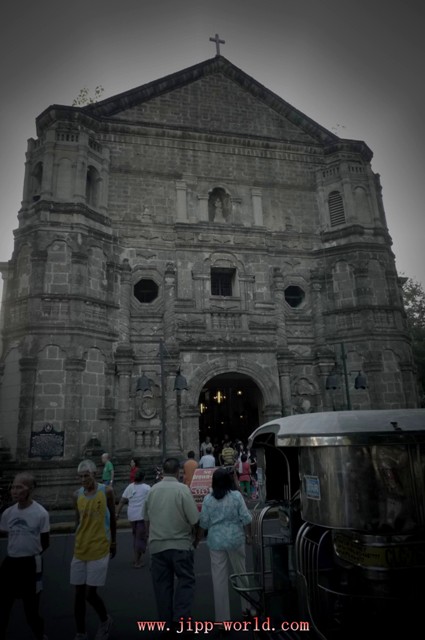 The church of Malate might be just one of so many churches in Manila but the fact that it was built many centuries ago when the Philippines was still under the colonization of western powers makes it quite outstanding.
It really is a church that has a very long history and the fact that it has survived a series of earthquakes and war bombings made me feel so privileged to be there and celebrate its victory against time.
Somehow the attractiveness of a church is judged based on its age and not quite on its architectures probably for the fact that it has served longer and presumably more people than a new (er) one. That's why 'A very Old Church' sounds so appealing to most church enthusiasts like me.
The church of Malate as viewed from the eyes of a bird takes the shape of a cross. It might be old and weather-washed and peeling off all over on the outside but in the inside it is superbly maintained.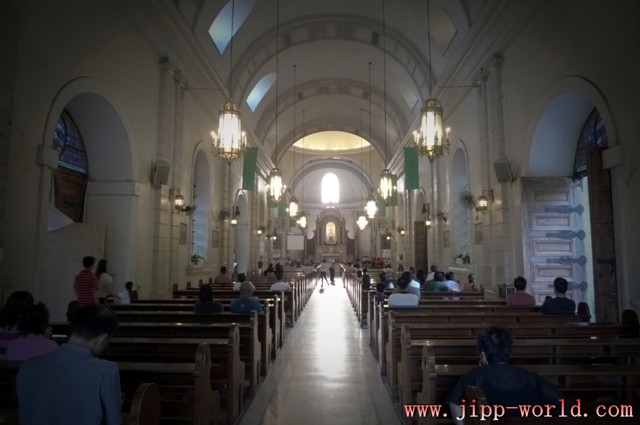 Mom was obviously stunned by the beauty of Malate church. I guess the different feeling when you are entering a very old church with beautiful decoration and stunning architectural features gave such a strong impact on her.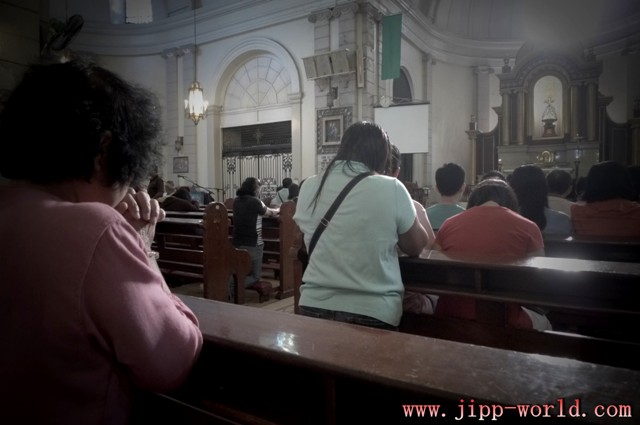 I mean, how beautiful can a church be here in Malaysia compared to those churches that they have in the Philippines? If you want to see how beautiful churches in Europe are, you go to Manila. They have a lot of similarities and in fact churches in Manila are no lesser than those in Europe in terms of architectural wonders.
The front façade of Malate church faces down to a small park and just across the road from the park is a seaside walkway called Bayway.
After having breakfast at a Jollibee nearby, we crossed over to Bayway to get the view of Marina Bay from there. The ladies went whoah-ing when they saw the sweeping view of Manila Bay from the seaside walkway but their excitement seemed to have been short-lived.
The pollution of seawater and the foul smell that comes with it has long been a topic of conversation among visitors to Marina Bay.
The pavement was undergoing a major face-lift so it would be such a perfect place to take a walk and mingle with the locals a little. Unfortunately the existence of rubbish has become quite of an eyesore and that makes Baywalk less attractive to most tourists. But then, it if is OK to the locals, who are we to not be OK about it right? 😀
We walked along the Baywalk and stopped every now and then to take pictures. Of course they were a lot of things to see along the way but I had to keep reminding them not to be too observant.
I mean, there was one time when mom stopped so close to a smooching couple while shaking her head in disbelief. Being somebody who was born and raised in a very conservative upbringing, I don't think I could blame her anyway. 😀
I had to put my trust wholly on my memory to lead the way for us. We continued walking along the Baywalk, past the US Marine Port where we were stopped from taking a picture of the gate. Apparently after so many years of Independence, The Philippines still stand in the shadow of the US.
After quiet a long road-side walk, we finally arrived at the most famous park in Manila – the Rizal Park.
It was so good to be back there again. I felt like a real tourist guide as I explained to them about Jose Rizal and the significance of the park to the people of Manila and the Philippines as a whole.
I had to get out of there before any of them strangled one the peddlers who were persistently following them around.
We continued walking to see the beautiful statue at the other end of the park. Then I led them to the pool with a map of Manila on it. I hissed when they asked why Sabah was not in the map. GRRRR!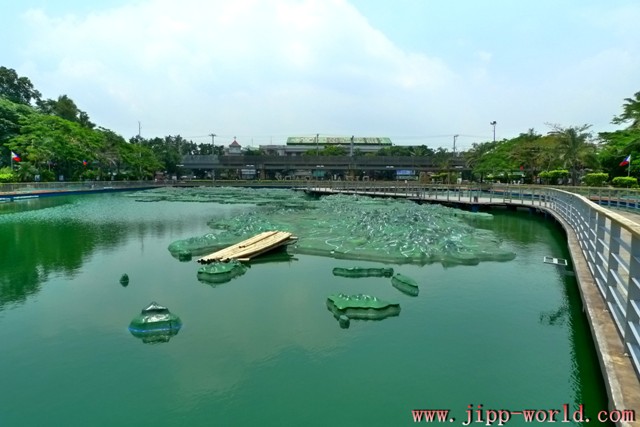 Half day was gone before we knew it. We stopped to get some rest and later tapaoed food from a wooden restaurant which was full of people who had just come out from a church nearby.  That was the only time when we bought food and nodded our heads in approval of the prices. (Very cheap by Manila standard actually).
A group of ladies dressed in green were there too, taking a lunch break from their road-tour campaign against littering. I guess Manila has really transformed a lot. They seem to be making more and more effort in making Manila a cleaner city to live in.
I really wish KL can do the same to its public parks. Quite a few times than not I had the urge of strangling somebody to death at the Titiwangsa Lake for gassing me with smoke while I was doing my run.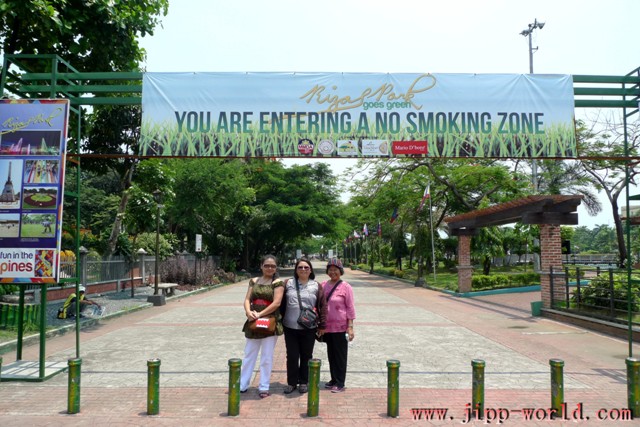 After all the walk since morning, I had to admit that I had actually underestimated the ladies. Weeks prior to the trip, I had to call over and over again to remind them to go for a jog so that they'd gain enough stamina to travel in Manila because 'we'll be walking a lot'.
In the end I was the one who surrendered first. WE hopped on a jeepney and returned to Tune Hotel to take a break of 2 hours before we continued our tour.  My sister complained, as we disembarked,  'That was near. We should have just walked'. Erkkk!
Back at the hotel room later, we had to come up with all the creativity that we could think of in eating our tapau-ed lunch. There were no plates, bowls and even spoons so we had to eat with everything that we had around the hotel room.
Tapau-ing a fish had been a mistake for me apparently. They thought all the fishes had come from Manila Bay so they were struggling to take a first bite. I should never ever brought them to Manila Bay after all. GRRRR!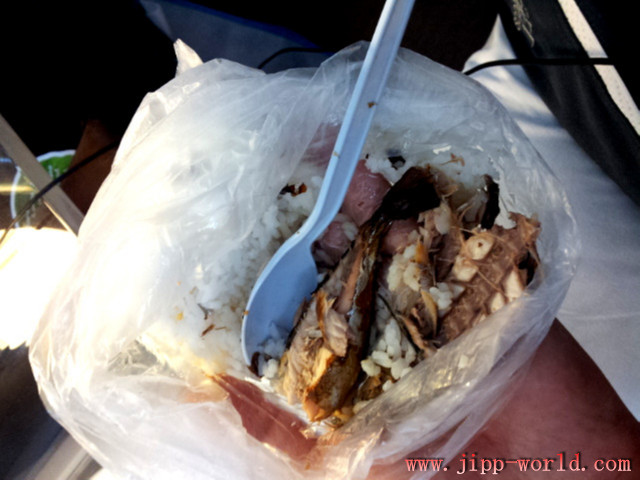 2 hours of break and we were ready to hit into the streets of Manila again. This time we'd be heading to SM Mall of Asia but of course I'd spare it for another post. ^_^