So I was on Samosir Island, which is the biggest island in Lake Toba. It is so big, it is even bigger than the island of Singapore.
I rented a motorbike from my hostel for IDR90,000 per day, for a straight 3-day so that I don't have to return it at the end of each day and avoid getting charged for a late return.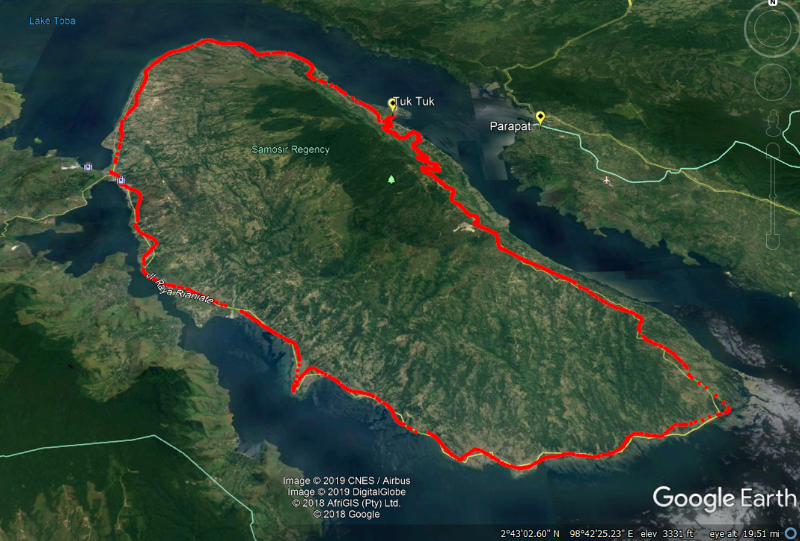 So the plan was to make a one full round around the island and that was what I did. After filling up the fuel to a full tank, I was all set to go. The first thing that caught my attention was the hills near Tuk Tuk. I parked the bike and went up the hill, whose landscape was dominated by a rolling grass-field area. I was welcomed by buffaloes, who seemed quite agitated with my presence. Some of them came to me anyway, probably thinking that I could give some salt to them, which I had none unfortunately.
At the top of the hill was a cemetery. With the views to die for from there, I was quite sure whoever got buried in there had died a happy person. On one side is the sweeping view of the lake, on the other a paddy field set in a beautiful valley. I could see a tall waterfall on the other side of the valley, which was the main caldera that took form when the volcano erupted some hundreds years ago.
Only the day before a bunch of travelers that I met at the hostel asked if I wanted to join them to the waterfall. I politely declined, and they returned to the hostel with swollen faces and arms. Apparently they got attacked by bees when they were on their way to the waterfall. Phew!
I was taking in all the beautiful views from atop the hill when I spotted somebody, who was taking a good rest at the hillside. I later caught up with him and he showed me what he was there to look for. I first heard about magic mushroom when I had a drink with an American traveler at the hostel. He told me that he bought a handful from a shop in Medan and told me that he needed it for energy.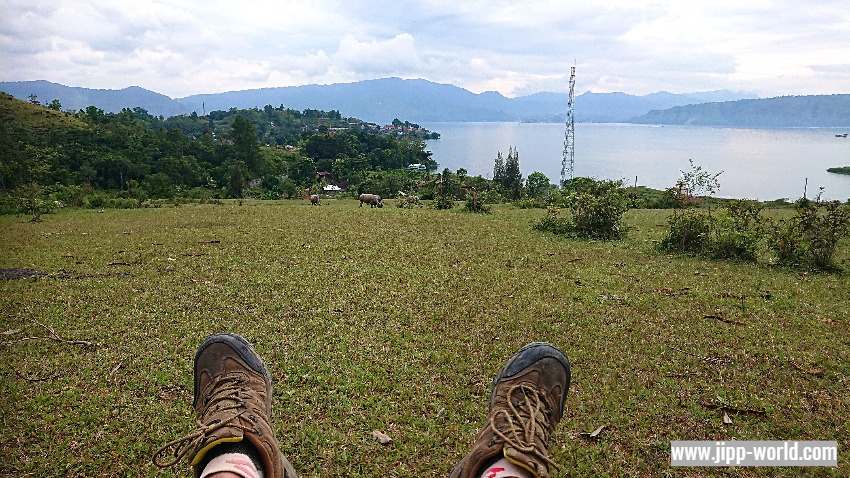 I really thought he was talking about some drug – and that magic mushroom was only a nick-name to it – until I bumped into this guy on the hill and told me that what he had was magic mushroom. So it really is a real mushroom. I remember asking the American if it was legal, and he said "well, it is not legal, but it is allowable". It made me confused a bit, but I rested my confusion right there at the table.
Of course I later found out that mushrooms are considered narcotics in Indonesia – which is known for its strict punishments for drug-related offences. Not that I was interested in giving it a try anyway.
From the hill, I continued my bike tour to Tomok, a lakeside little town which is known as the epicenter of Batak cultures and history on Samosir island. Since the town is quite near to my hostel in Tuk Tuk, I decided to skip it for now and return to it on my last day on Samosir Island. I did go to what is known as the floating tomb, a very old tomb that has now been lifted from its original position in the ground by the growth of a fig tree.
After parking my bike and asked a local woman for directions, I made my way towards and was at the tomb in less than 5 minutes. I was there completely alone and everything suddenly went very silent and for a moment I had this eerie feeling growing in me and the urge to just get the hell out of there. But then of course, like always, my curiosity won, just how it always does.
I instantly noticed that it was just a small tomb, probably the tomb of somebody who died before he or she grew into an adult. The position of the tomb really tells a lot about how old the tomb is – although there is no way of telling how old exactly. I made one quick round around the tree, but slow enough to take a video of it, before returning to my bike in a brisk walk. Seriously, the silence was deafening.
From Tomok, I made my way up to the mountains and stopped at a restaurant with a sweeping view of the lake. The view from there was just surreal. I ordered a fried noodles with chicken and egg, together with a cold Coke which came so smoothly down my throat. I wish I could stay there longer but seriously I had no way of knowing how long I was gonna go so I had to leave as soon I had finished my meal. Not quite far from the restaurant was a waterfall that falls right onto the side the road. It was such a perfect place to clean up vehicles because of the very easy access to water.
Then from the waterfall I just rode higher up the mountains until I came to a point where the road splits. One of the roads would cut across the island – and would take me to the inner parts of Samosir, while the other would take me along the coastal areas so I would never lose sight of the lake.
"If you want to see more beautiful views, you go for the coastal road. If you want to shorten your ride you can take the inland road" a lady who happened to be around told me. I gave her some ringgit notes for that little advice that she gave me, which she excitedly took because she had never seen any ringgit notes before, while I vroomed my way off towards the coastal road.
And she was right. More and more beautiful scenery came unfolding right before me from there on. It really was a countryside with beautiful Batak villages and farms along the way.  I couldn't get enough of the sight of buffaloes grazing over the grass fields – which were sometimes got intruded by the presence of overweight pigs and goats. They certainly live harmoniously with each other and I was so glad that I was there to witness it at least for the moment. Then there were the ponds to complete the whole countryside scenery, probably to provide source of drink water to the animals.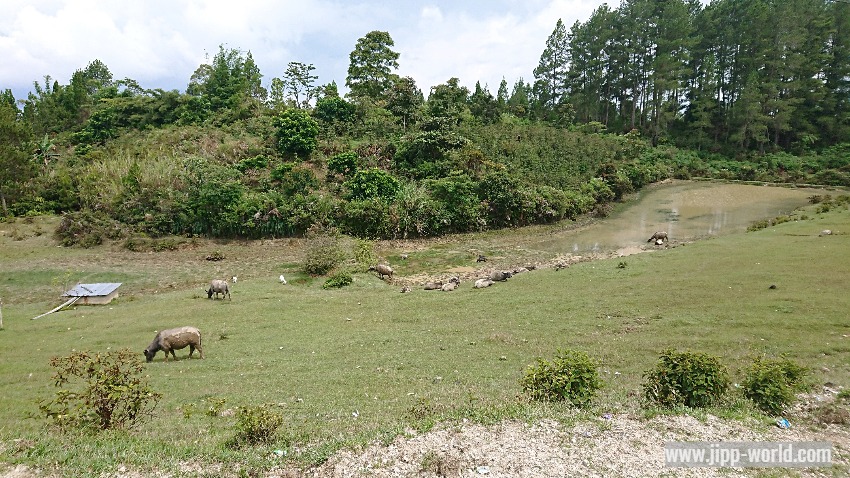 Then there would be churches (or chapels) and of course the beautiful cemeteries for which the people of Batak are known. Like seriously, the sizes and landscape decorations of cemeteries in Samosir (and probably beyond) really amaze me. I remember how the taxi driver that drove me from Parapat to Silangit airport joked about how Batak people spend more money on cemeteries than on their houses. It might be a joke but it really was the case. They put statues on their cemeteries, complete with metal railings as fences when they don't have any on their houses.
Every now and then I'll stop to take pictures – or just to enjoy the views – and I just could not believe how beautiful Lake Toba is. In fact some of the spots remind me of New Zealand – or perhaps some pictures of some beautiful fjords in Norway. They were just so surreal. The extra essences would be the presence of terraced paddy fields and even non-terraced ones when I reached the South-Eastern part of the island which consisted mostly of flat areas.
By then it was getting quite too late, and quite a few times I was not quite sure whether to turn back or to keep pushing on and explore more. Turning back would be quite of an anti-climax and there was no way I was gonna make it back to my hostel in Tuk Tuk without catching up with the night. So I decided to just push on and find somewhere that I could stay in for the night. In fact I also opened myself to the possibility of just knocking on someone's door and begged to be allowed to stay in at least until the next morning. After all Batak people are known to be very accommodative.
Another stupidity that I later realized was the fact that I did not bring any warm clothes with me. The cold was beginning to bite into me as the evening wore off, and I could only pray that my ride would continue to be dry because seriously, it would be a disaster if a rain suddenly decided to come upon me.
In the meantime, the scenery along the way continued to amaze me. I mean, where else in the world can I ever see a beautiful spread of paddy fields that comes with a blue lake in the background – and a beautiful range of caldera further off in the back? The more I told myself to keep riding because it was getting too late, the more of my insta-self demanded that I should stop and take pictures because those views would probably never come back to me again. I only stopped stopping for pictures when things were too dark to be caught on my amateurish phone camera.
Then I started asking people about where to find a hotel. Good thing about the people of Samosir is the fact that they are good drinkers. They drink their own rice wine and they drink a lot so you'll see them gathering around a table and drink their time away. It was easy to ask them if there was a hotel somewhere around. They were more than happy to tell me. I remember how glad I was when the first group that I asked told me of a hotel called Hotel Gorat. At least I was assured of a warm place to stay in for the night.  "About 1 kilometer from here" they told me when I asked how long it was going to take me to reach the said hotel.
So off I went and I was quite sure I had surpassed the 1 km while the hotel was still nowhere to be seen so I had to stop again to ask.  Again, I was told that I still had 1km to go – so I continued riding and I would stop to ask again when the said hotel did not come to sight. Bizarrely enough, each of the groups or individuals would keep saying with confidence that I had 1 km to go when it would still not come to me even after 1 km. In the end I decided that the people of Samosir had problems with deciding on a distance. LOL.
I was actually worried that it was getting to cold for me to continue riding so there was a big relief in me when the hotel – hotel Gorat – finally came into sight. All the check-in and check-out businesses were run from a little café just outside of the hotel so I was happy to have my dinner right there and avoid any necessity of going somewhere else in the cold.
The food was however so limited so I had to settle for a cold rice with egg, topped with some sauce with acidic pungent smell – and when the whole thing did not come smoothly on me, I had to request for them to cook something from their shop (which was part of the café) – a noodle soup to be exact – just so that my throat could tolerate more of the food. I happened to take a glimpse of the insides of the kitchen cubicle when I was paying for the food and I was so glad that only saw it when I was already done with my food. URghhh!
Hotel Gorat was a big hotel, and it had that grandeur of a 5-star hotel when seen from the outside, but once you are inside, you'll see that it is just another run-down hotel, probably a left-over from the heydays when the tourism industry at Lake Toba was still booming. The room was huge and it had a huge wooden closet. I had to squash off lizard droppings from the bed before I had the courage to land myself on it. It was such a long long day for me but I was eager to find out what the next day would bring me to. I was not even half-way around the island!