FRIM (Forest Research Institute Malaysia) is probably too governmental for many KL folks but seriously when it comes to getting back to nature (I like to use the term 'return' because I believe civilization had first originated from nature,no?), nothing can quite beat it.
I mean, most of the forests that you'd see around KL and beyond are merely leftovers of extensive logging activities in the past but the one at FRIM was one of the very lucky few to have been spared from all the merciless mowing machinery driven by human desire for $$$.
It was not my first time going there. I remember going there when I was a school boy back in those days when Yayasan Sabah was still so filthy rich and had too much money in hand they had to bring its students to just about every corner of the country for luxurious vacations. It was there that I walked on a canopy bridge for the very first time in my life and I was in awe.
Of course I never returned there – in fact I had already forgotten the existence of it – until a few months ago when a friend of mine texted me from there about how amazed he was with all the things that he saw there. I knew then that I had to go there again  sooner than later.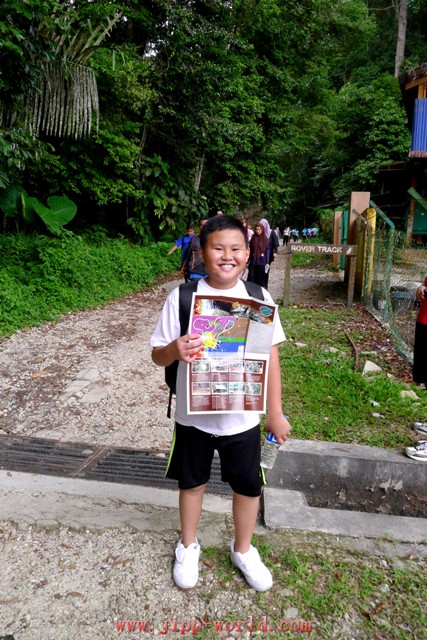 When my sister and son came to KL for a week of holiday, I had to find places around KL that I could simply go over the weekend because I was too tied down to my schedule to go anywhere beyond (student life. Uhuk! ).  That was when FRIM came to mind.
I had no idea where it was so again for the umpteenth time I had to find it on the google map. Following the instructions on my google map, I drove over the Puchong on MRR2 and I could not believe how accessible it was from there.
Entering the gate requires you to pay a very minimal fee – probably RM2 each if my memory serves me right. Following our instincts on where to head to next, we parked our car near to the souvenir shop. Just so happened that the ticket counter to the canopy walk was inside the shop so it was luck at its finest spot. Yippie!
It was a very light hike up to the canopy tree but of course it all depends on your physical which is of course determined by how much you have worked your ass off. My sister went there believing that all the zumba that she had been doing had made her an iron lady only to be slapped with the bitter reality that she was actually not. In fact, she was struggling to even make it up to halfway.
SO ladies, zumba doesn't really do your body much favor. Dump it and do something else. There are so many other forms of exercises in the world that you can do apart from that k-pop-alike series of dance movements called zumba. Heh.
Being so accessible from KL, I was not surprised to see there were so many people coming to FRIM to fulfill their hunger for a weekend break. The trail seemed to be so well-trodden that only somebody with schizophrenia would trail off even with the lack of signage.
Being somebody who was born in an all-ready world, my nephew doesn't get to do much hiking apart from those that he does in the virtual world. Back in those days, I had to hike many kilometers from home to reach our farm from where we'd get most of our daily needs (rice, vegetables etc.) – something that we can only tell our next generations about.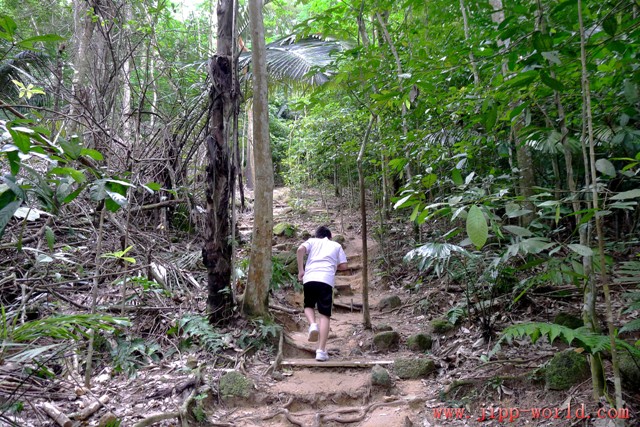 My nephew was super-excited. He was quite struggling that there was one time when he wanted to vomit but he enjoyed the trip very much. Being quite good in English, at least for his age, he whispered to my ear "This is the most wonderful thing that I've ever done in my life" to which I replied "You should be thankful to your uncle then". I mean seriously, take your kids away from those stupid games and bring them out to do some hiking. Don't let them miss out on what nature could offer to them out there.
There was quite a long queue of people waiting for their turns when we reached the starting point of the canopy walk. They'd have to control the number of people walking on each bridge so that they won't succumb to over-loading. Of course it was good to be on a canopy walk again.
Being high on the canopy, it was probably the closest to being an Orang Utan or something. I mean, there is something about walking from one tree to another on a suspension bridge that makes you feel nervous and excited at the same time. The problem is, that is probably the best combination of feelings that make you go "I love this moment. I really do". Heh.
 The view from up there was breath-taking. Apart from the lush greenery that I was surrounded with, I could see a big part of Puchong and even Petaling Jaya in the far distance. As much as I enjoyed the view, I couldn't help but thinking how vulnerable the forest was to all the rapid development in Klang Valley and beyond.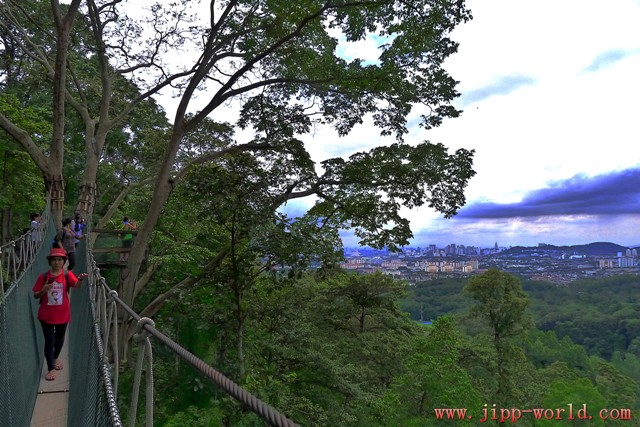 Descending was quite easy. Being there in a rainy season, the trail was quite slippery so it demanded a little bit of extra care. The map that they provided us with was quite confusing so we had to follow our instinct to march down past a waterfall before coming out into the main road again.
I believe there was more of FRIM than just the canopy walk but we had to leave for another destination because time was running out not for me but for my sister and nephew who were returning back to Sabah the next day.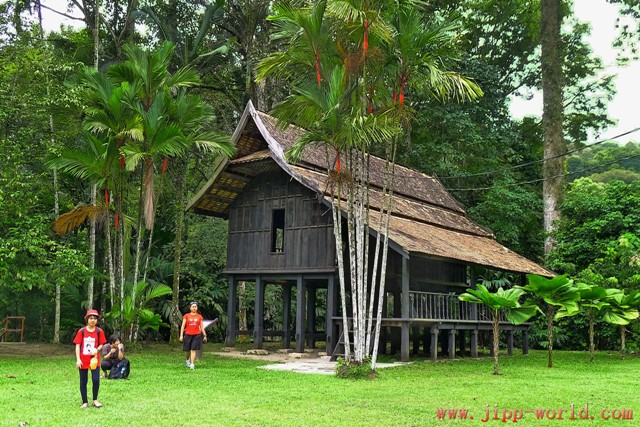 FRIM is probably the only place around KL where you can still see the forest in its original setting. Believe me, you can probably go all over the country but prepared of getting disappointed of the fact that they are all leftovers of deforestation in the past.
FRIM was lucky of course. And still is. For now.
Additional Note:
Please take some time to read and sign the petition against the de-gazetting of Selangor State Park of which the FRIM reserve area is a part of.