Malaysia might be much bigger in size than Sri Lanka, but Sri Lanka has twice the number of UNESCO World Heritage Sites than it is in Malaysia. There are currently 8 UNESCO Sites in Sri Lanka compared to 4 in Malaysia and there are mostly concentrated on the southern half of the island. Naturally, we wanted to visit all of them but due to logistic and time limitation, we could only visit 6 of them. Sri Lanka might be just an island but traveling from one place to another takes longer than you might expect it to be.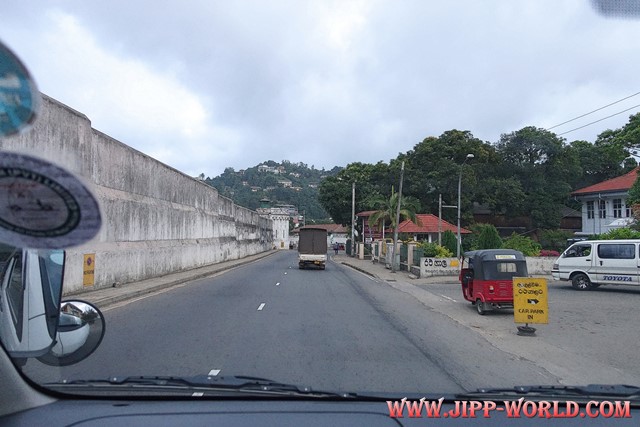 Thanks God three of them – the Ancient city of Polonnaruwa, The Golden Temple of Dambulla and the Ancient city of Sigiriya are located quite close to each other so they can be visited within one day.
We actually went there on our second day in Sri Lanka. WE arranged with the guesthouse a day trip to Polonnaruwa together with Sigiriya and Dambulla.  It came as a big solution for us because all of the tour operators that we talked to insisted that there was no way we could visit them all within one day. Of course I can now understand that they wanted to drag the trip to two days or more so that we'd have to pay them more. After all they put the price as per day. I found it so meh. Grrrr!
A day trip from Kandy to all the sites is very much doable but of course squeezing them all in one day requires you to leave quite early in the morning. It involves hours of riding across beautiful countryside, past small towns, villages, farms, plantations, paddy fields and beautiful lakes! Seriously, I never ran out of things to see all throughout the ride. Some of the lakes looked like they come straight out of a picture postcard!
It might be a long ride but the good news is, the roads are so superbly maintained so the ride turned out to be quite so smooth. All I had to do was lie back and enjoy the views that were unfolding right before my eyes.
We arrived at the ticket counter at the Polonnaruwa Museum at about 12.30 pm when the sun was so burning hot.  The entrance fee was quite expensive but then I had come to find out that tickets to most of the sites are quite expensive and they contributed largely on our expenses in Sri Lanka.
The remains of Polonnaruwa turned out to be scattered within a very big area of flatland so it was impossible to visit all the places within the very limited time that we had there. We had no choice but to be a little bit selective. Most visitors would rent a bicycle but given the very limited time that we had, we had to ask our driver to take us right to the main attractions.
Of course we had to start at the Royal Palace although I could not really see how it was structured in the past because it was so badly ruined now. Being a Buddhist Kingdom, the architecture seems to be heavily influenced by Buddhism which reminded me so much of the Angkor Wat.
One thing I enjoyed so much about being at the Angkor Wat though was that, I could always take pictures without much restriction. Here at Polonaruwa, visitors are not allowed to take picture with their asses facing a Buddha statue. Meaning, you can forget about taking a selfie with a Buddha statue smiling in the background. I really think it was quite ridiculous but then, being a responsible traveler, I had to respect the law and regulations. Kunun. LOL.
It is always a good idea to bring a pair of socks when visiting Polonnaruwa. Most of the remains or ruins or whatever you call them are holy sites so visitors are required to take off their footwear before stepping onto the compound. Problem is, the soil is very sandy and it seems to absorb the heat from the scorching sun which makes it so fucking hot to step on. I had to literally run from one shaded spot to another so that my feet would not burn. I was like – Ouch ouch ouchhhh! LOL.
Apart from the Royal Palace, we also went to see the Hatadags – a temple which is said to have housed the tooth relic before it was brought over to Kandy. Well, the main structures are still all there – the pillars and much of the carvings on the walls are still visible, the steps and even the statue of Buddha itself is still there, although some of them might have been reconstructed as part of the recovering efforts. Of course the highlight has to be the giant stone book whose inscription tells of the 'geneology, heroic and altruistic deeds of King Nissanka Mmalla' as described in the description – whoever he might be. LOL.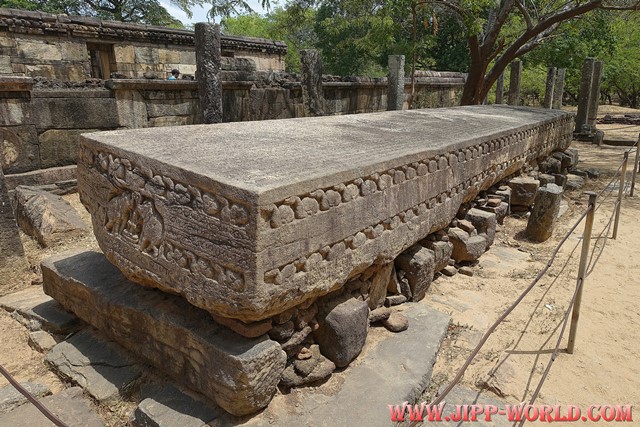 Then there was the Rankoth Vahera stupa – a stupa also built by King Nissanka Malla. The stupa is so large I had to literally drag my feet to make a full circle around it. Standing at some 200 feet, it is made entirely of bricks which makes it look quite different from most stupas that I'd seen anywhere else before.
Another stupa that we had come upon (yeah, we just wandered, literally) was so white it was almost blinding to see it under the bright sun. But still, its whiteness is so nice to visualize against the blue sky and I have no doubt that it'd make such a perfect picture postcard.
Adjacent to the white stupa is one of my favorite ruins in Polonnaruwa – the Lankatilaka Guard Stone. It might be so weathered out now but somehow there's something about it that makes it look so majestic and mystical. I just wish that the statue has not been left headless because it really took out a lot of its beauty.
Then from the Lankatikala Guard Stone we proceeded on to the ancient statue of sleeping Buddha. The statue itself looks like it has been sleeping there since forever. I didn't want to go through all the fuss of taking my sandals off and let my feet burnt against the hot stone-block pavement so I made my way around up to the boulder and visualized the statue from there. Of course, with nobody around, I was free to take a selfie with the statue in the background – and of course with my ass facing to it which is very much forbidden in Polonnaruwa or even the whole of Sri Lanka. Heh.
Polonnaruwa was amazing – there's no doubt about it – but it was visiting the Sigiriya that I was so looking forward to. The driver took us to Sigiriya from Polonnaruwa through some short cut as he claimed it to be and I couldn't help but craning my head out every now and then so that I'd get my very first glimpse of the famous rock column. When I finally saw it, my heart stopped.
It was beautiful even as I looked at it from a distance. But of course, you gotta follow me to the next post to see how beautiful it really was. 😛