Besakih Temple
Besakih Temple at the foothill of Mount Agung is a place not to be missed when you come to Bali. It is a very interesting place to visit and even more interesting is how the people there rip the visitors off out of something that is supposedly – holy.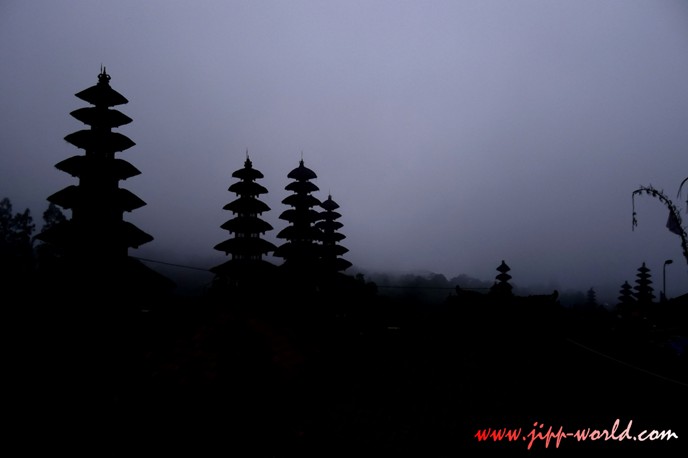 It all started even way before we arrived there. The driver told us an entry to the temple would require us to be in a FULL Balinese costume. Being to countries like Vietnam and Thailand, I knew for sure how drivers or tour guides gain some profit by bringing tourists to certain places – usually souvenir shops – where they'll get certain percentage of commission from all the stuffs bought by these tourists (that they took there).
"Of course you can always buy them at the shops outside the temple but it'd be much more expensive", he assured us as we were pulling out of Batu Bulan towards Kintamani.
It sounded more like a warning then an assurance to us and of course we later found ourselves rummaging through the bundles of clothes at a shop he suggested – although he obviously seemed disappointed (that) when we only bought the most basic of costume, barely enough to grant us an access to the temple– IF it was necessary at all.
Later when we arrived at Besakih Temple, we found out that the clothes were sold at cheaper prices. GRRRRR, we should have smelled it right from the beginning. They were wayyy cheaper I actually bought another piece of cloth to complete the one that I already had.
Of course that was only one of our so-called 'un-holy experiences' at Besakih Temple. Please bear in mind that when you arrive at the gate, you'll be stopped and asked to buy the entry ticket before you can make any advances towards the parking area.
Then, you'd be asked to report in at a registration booth run by the local community there. Here, they'd ask you to pay another kind of fee 'at our own will and generosity' for which they'd ask somebody among themselves to be your guide at the temple in return.
The way they ask you to pay would make it sound almost like a donation or something but they are actually forcing you to take a guide out of our will by saying that you would only be restricted to certain areas of the temple IF you didn't bring one. Of course coming a long way to Besakih Temple, every visitor would expect to gain entry to as much of the temple as possible.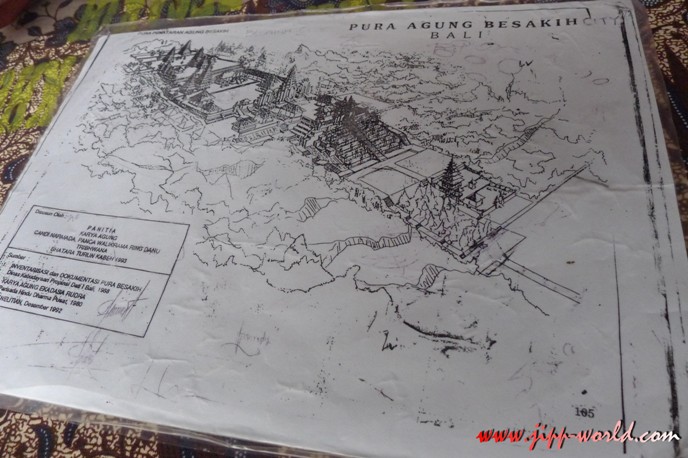 If 'it doesn't matter how much' sounds good to you, wait until you see the registration or guest book or whatever shit you call it, and the list of visitors that registered in it and even more importantly – the amount of money given by each visitor!
HELL. Looking at the amount of money paid by other visitors almost made me pee in my pants! The cheapest I could see was 350,000 rupiah and that is like how much? RM100? RM110?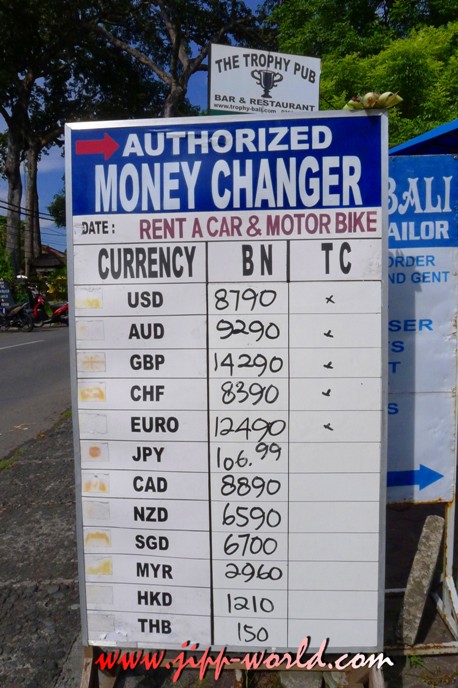 RM120! Converting into USD it would be somewhere around USD40! That is almost equal to the money we spent to hire the car!
It all seemed insensible to me. I knew Western tourists have the advantage in terms of currency value but I also knew how careful they are when it comes to spending money over admission fees (or anything at all). Western tourists are known to travel for months – if not years – and that makes every single dollar such a big deal to them.
Looking at how the amount was handwritten (you write down your name, country of origin and amount of money you wish to 'donate'), it suddenly flicked on in my head how they MUST have added the number of zeros to the amount written by the visitors in the book!
You see, when a visitor put down IDR50,000 they would add in another zero so that it'd become IDR500,000. When another visitor put down IDR100,000 they'd jot in another zero so that I'd become IDR100,0000!
My travel partner Ulai The Borneo Trekker in despair was offering to pay 100,000 rupiahs when I hastily interjected and put down  50,000  rupiahs in an almost 'take it or leave it' manner. Thinking back now, we could have just brushed it aside because we already paid for the entry ticket earlier on.
Since we only paid that much, they were more than happy to pick the oldest and probably the frailest man among them to be our sorry guide. It was such a pain to see him climbing up the long stairs in the temple.
He spoke in what sounded like English but I could hardly understand and I had a lot of respects and admires for Ulai who seemed to have mastered the art of *NWU. I could really see a communication was going on 😛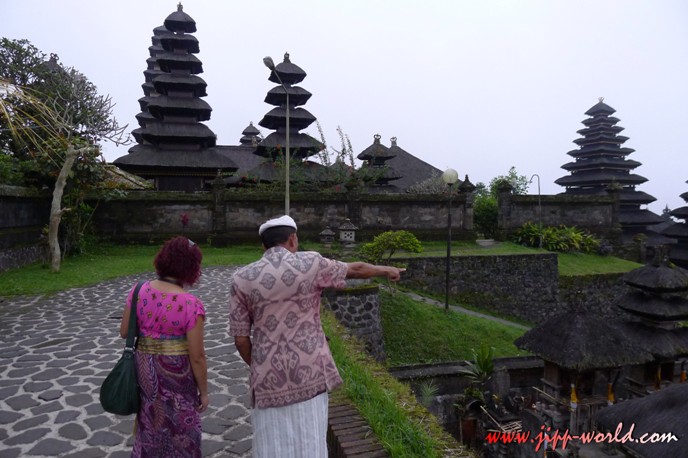 So – I succumbed to the idea of wrapping myself up in a full Balinese costume and JUST IMAGINE how shocked and disgusted I was when I saw the other tourists strutting their butts off in and about the temple in their simplest (and certainly most comfortable) T-shirts and highly elastic cotton pants.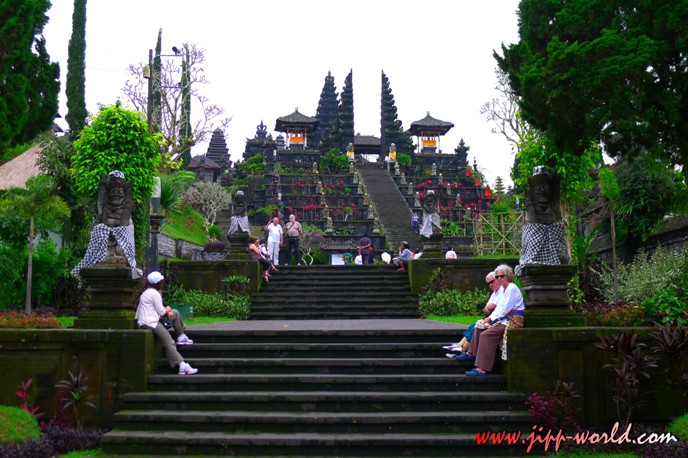 Some of them were even wearing knee-long pants I really felt like stripping down right there at that moment and walking around the temple in my underwear as a mean of protest for all the rip-offs that they had dragged us into.
And it doesn't matter if you are fully clad in Balinese costume or not, they still forbid you to enter certain areas of the temple so spending your hard-earned money over one was totally unnecessary.
So people – don't say I didn't warn you. Forget about Karma and all, rip-offs DO happen anywhere, even in places that you might least expect such as temples.
But then, I was not really as pissed off as I might sound to you right now especially after I returned to my hotel later that day and found myself deeply amused by the pictures I took at Besakih Temple. If I were to be photographed in a full Balinese costume, it had to be at Besakih Temple. 😀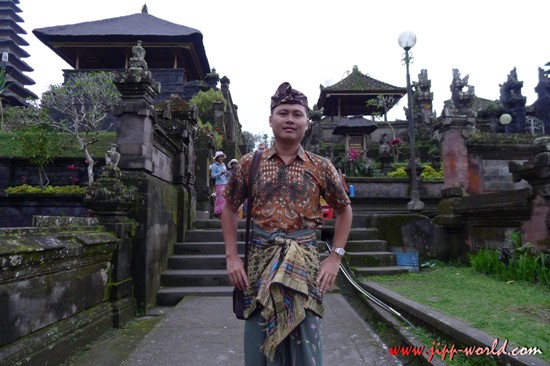 It was just the perfect place to turn myself into a Balinese man – MINUS the chinky eyes and yellow-ish skin that I had been cursed to be born with. *kidding
Walking in and around the temple really was such an amazing experience. Located on a highland area which appears to be in the middle of nowhere, Besakih Temple can be so captivating both visually and probably – spiritually.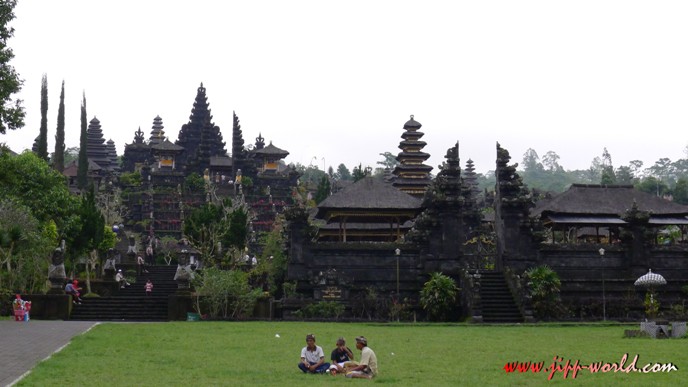 Besakih Temple on a clear sunny day would have looked like this. You could see the beautiful Mount Agung not so far in the background.
It was heavily misty when we were there so the whole place seemed to be floating or something and it was one of those times when the word 'majestic' was defined at its best.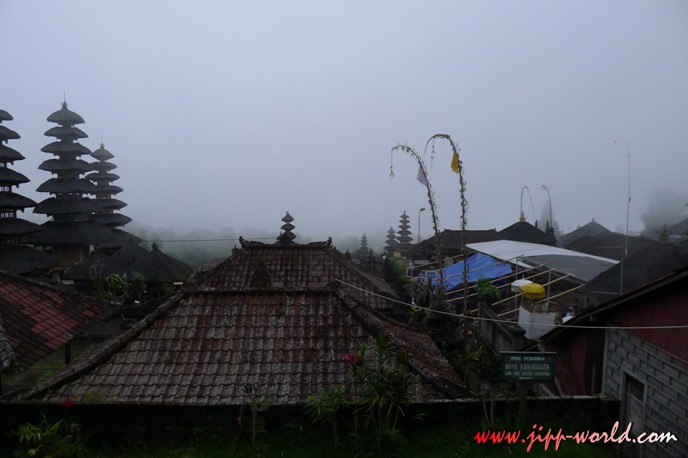 Being the biggest temple in Bali, Besakih Temple seems to have it all – superb architecture, magnificent buildings, majestic surroundings, interesting historical values and all and I wondered why it wasn't even in the UNESCO World Heritage Sites list YET.
I think Ulai and I both agreed that Besakih Temple had been one of the highlights in our whole trip to Bali – not only for its magnificence and majestic surroundings but also the series of rip-offs that we let our self fall right into. He.
After another long ride on a ziz-zagging road across hills and mountainous countryside, we returned to Batu Bulan for the dance that I heard so much about – The Kecak Dance.
The Kecak Dance
Surprisingly though, the number of people was far lesser than it had been in the morning when people filled up the hall to a near capacity to watch the Barong Dance.
Kecak Dance is basically a monotonous chanting of 'kechak  kechak kechak kechak kechak…' by a group of people clad in (only) sarongs and repetitively throws their hands up and down in what appears to be a religious ritual (IT IS a religious ritual anyway).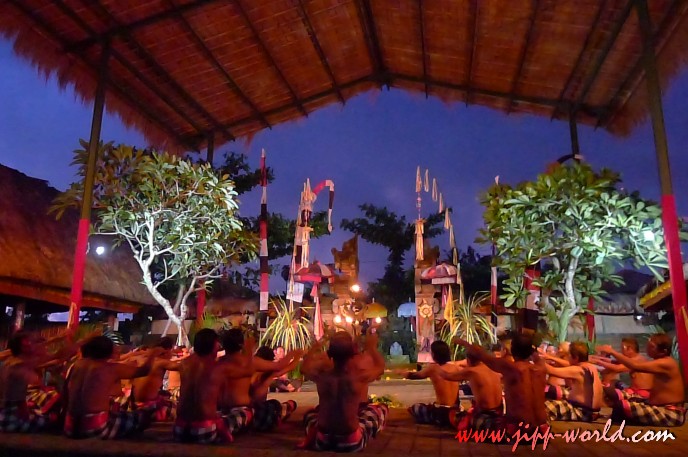 The performers would shift their positions at times, sit down on the floor for most parts but they'd sometimes stand up while the chanting continued.
There were ebbs and tides in the chanting and there were times when I felt like a communication or rather a conversation was actually taking place among them. I couldn't help but being a little bit overly observant by watching every one of the performer's face with intent so that I could read their facial expressions.
And I was so sure I saw some of them ogle at the person next to them and smile over something that only they themselves would know and understand.  LOL! I wouldn't say they were deeply engrossed in the ritual but then what do you expect from people who have done it like thousands of times right? They sure get bored mah hohh?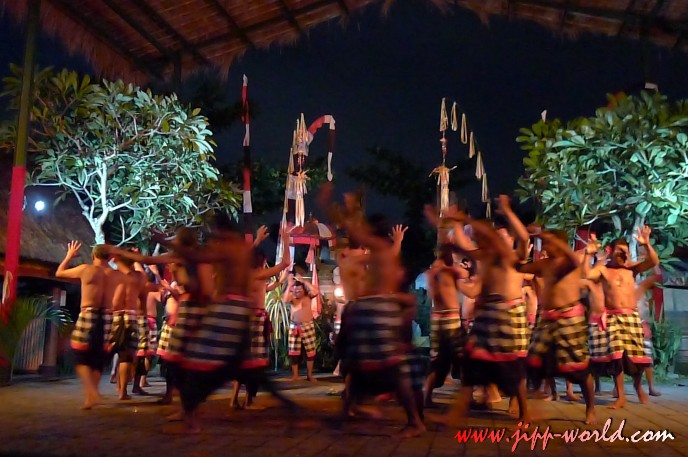 I gotta say, the chanting was kinda eerie I was actually having a goosebump as I sat there watching and listening to it. It was kinda hypnotic it actually stayed in my head for many many weeks.
The sky had darkened over Bali when we pulled out of Batu Bulan. It had been such a long day for us in Bali. The driver kept 'offering' us to go to another attraction called Jimbaran where we would be assured of the best view of sunset over dinner.
"I'll bring you there for free – no extra charges but I need you to do me a favor. If you have any friends coming to Bali, please tell them about me", he said as if the 24 hours of hiring time that we had earlier agreed on was rightfully ignored and forgotten.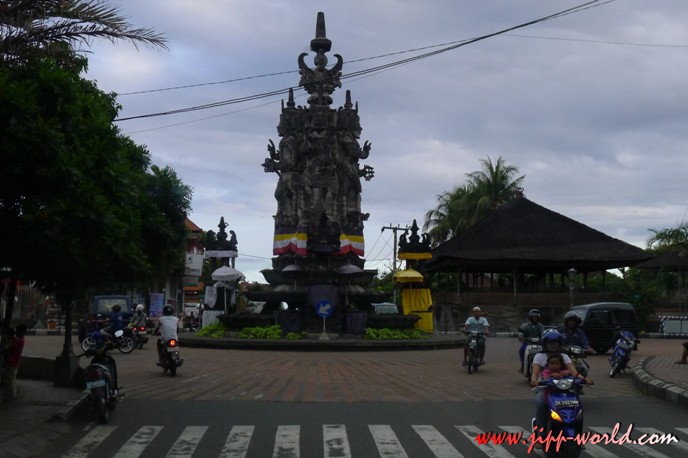 Oh well, that is exactly what I am doing now. I am telling not only my friends but everybody about him. I hope he's happy now.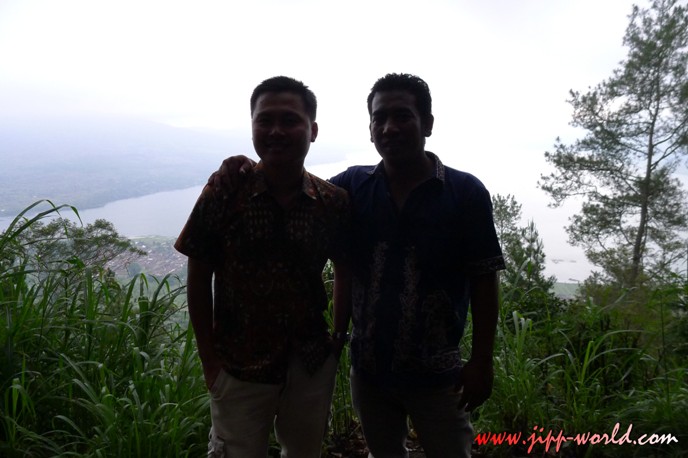 Instead of having dinner at this place called Jimbaran, I chose to fulfill the demand of my raging appetite and hungry stomach with as much food as my little belly could take.
With all of these right at the tip of my finger – who needs a sunset?
It would be our last day in Bali the next day and we knew exactly where to spend it.
Yupp. The world famous beach of … spell it out slowly but loudly… K. U. T. A.  Yeahh, you've got it just right. 😀
*Nodding Without Understanding