Chiang Mai is certainly beautiful in its own ways. There are quite a number of places of interest in and around town and some of them – such as the elephant sanctuaries that I had to avoid going to because the idea of keeping elephants in the captivity was quite against my principles and belief. But out of all the places that I went to while I was in Chiang May, there was one place that I particularly liked.
I actually did not know about this place and it was not even in my itinerary until I posted my first picture in Chiang Mai on facebook and somebody suggested that I go to a place called The Seven Fountains.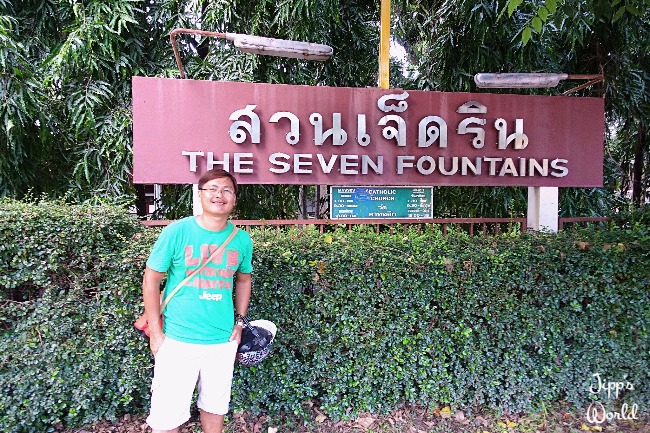 The Seven Fountains turns out to be a retreat centre for Catholics, which makes this place quite unique since Thais are almost 95% Buddhist. Upon googling it up, I found out that it is quite near to the city centre, only a few hundred yards away from the main entrance to Chiang Mai University.
So I went there on the motorbike that I rented. The gate was open but what I first saw was a sign that says entry is not allowed without permission. Unfortunately nobody was at the guardhouse so there was nobody that I could seek permission from. But then it was a retreat centre and there was a church and several chapels in there so my idea of a place like The Seven Mountains is that it should be always be welcoming.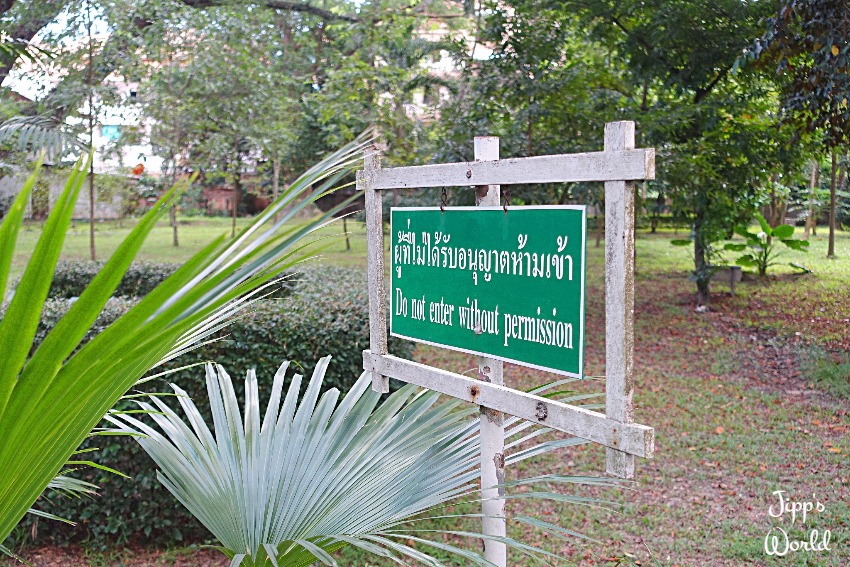 I was actually trying to catch up with the weekday mass at 6 pm so I asked a young guy who had just come in and the only person that I saw around. After a little bit of struggle with the language barrier, he pointed to a double storey building in the far back to where I hastily walked over.
I did manage to find a chapel in the building where I assumed the mass had already started for quite a while but the attendees could not be more than 5 people. It was totally different from what I had imagined. Barging in when the mass had already started suddenly didn't ring well in my head so I decided to skip it. Instead, I took a walk around the compound which was more like a garden. A beautiful garden actually.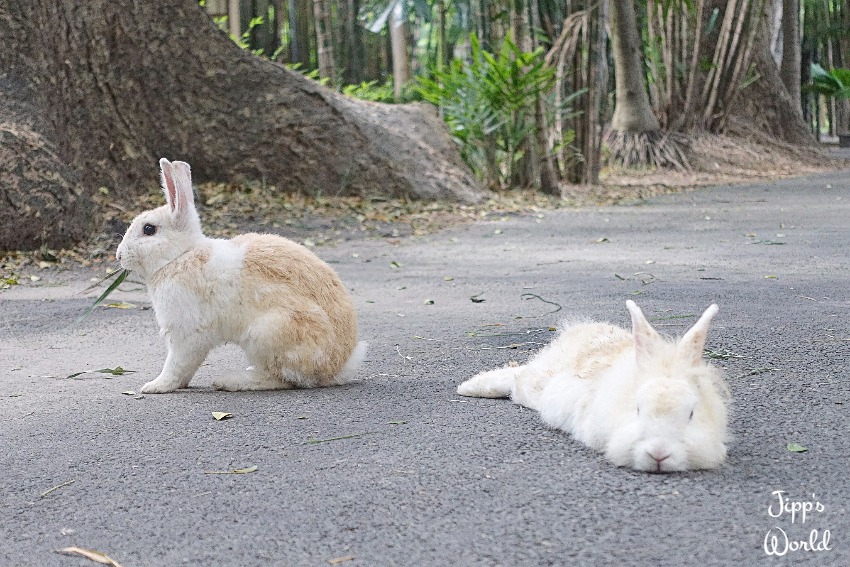 I felt immediately relaxed the moment I stepped onto the compound of The Seven Mountains. It was very silent that all I could hear was the sound of leaves flipping against the evening winds. Of course, being a retreat centre where a lot of religious activities take place, there was no doubt that there was something so spiritual about the whole place.
I came upon a pair of rabbits who appeared unperturbed by my presence. They got me with their cuteness (my goodness, the eyes!) at very first sight. It wasn't long before they ran towards a peacock which didn't seem to like their presence around her and began to spread its feathers.
Central to the whole compound is a church with one of the most beautiful front façades that I've ever seen on a church. The wood carvings are just incredibly beautiful. There is also a beautiful fountain with water cascading down from a big jar at the front yard.
Just at the back the church is my favorite feature of the whole compound. A walkway is flanked by beautiful rows of bamboo on both sides. At both ends of the walkway is a wooden gate with the word 'peace' emblazoned on the top. It reminds me of the famous bamboo forest in Japan.
The whole area is quite large with lush greenery dominating the landscape. Scattered here and there are beautiful wooden huts that are kept at a distance from each other, perfect for meditating activities or something.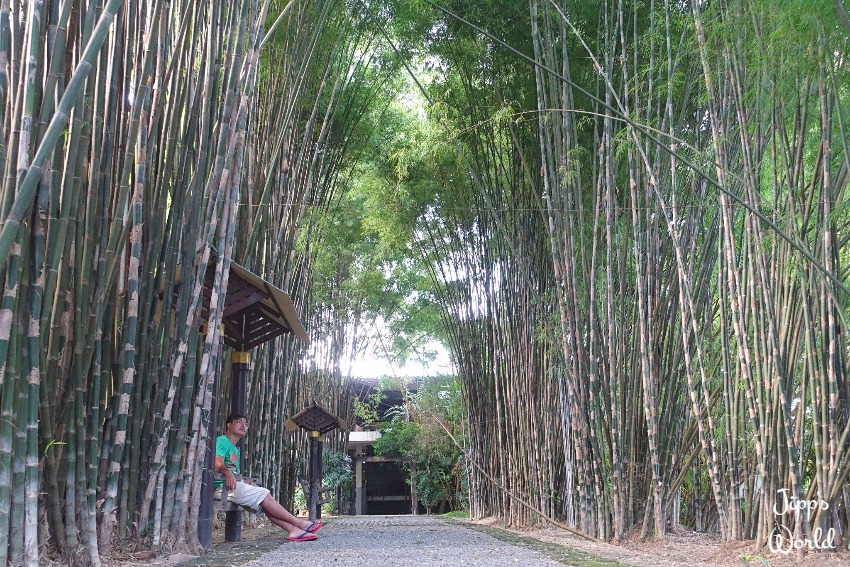 Perhaps the most iconic landmark of the whole compound is the maze garden. I walked right into the maze and later found myself in the middle of it where a large piece of rock with peculiar shape had been erected.
Placed on top of it is a colorful oval stone for whatever significance that it bears. My attention was particularly caught by a long stone that was placed on the side which – if you don't look closely – looks like it is hanging in the air or something. I really wish there was somebody that I could ask of what significance the whole thing carries.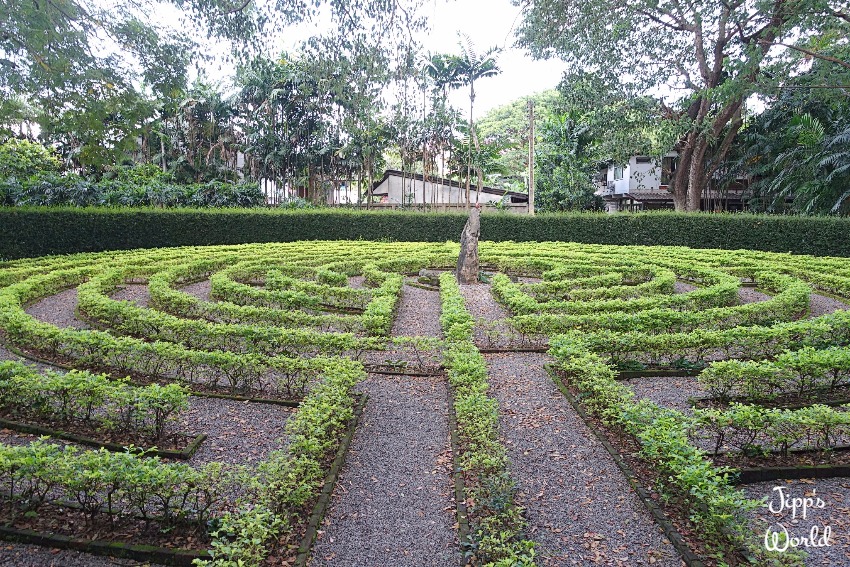 So I must be there long enough because people were beginning to come out of the chapels. I was sitting at one of the benches when a man on a bicycle came up to me and spoke to me in Thai. Unfortunately, I could not understand a word he was saying until he took out a bundle of keys from his pocket and showed it to me.
Then I realized that he was talking about the permission which I failed to get before entering the premise. I tried to reason out to him that he was not at the guard house when I entered but he did not seem to get a shit of thing that I was trying to say either.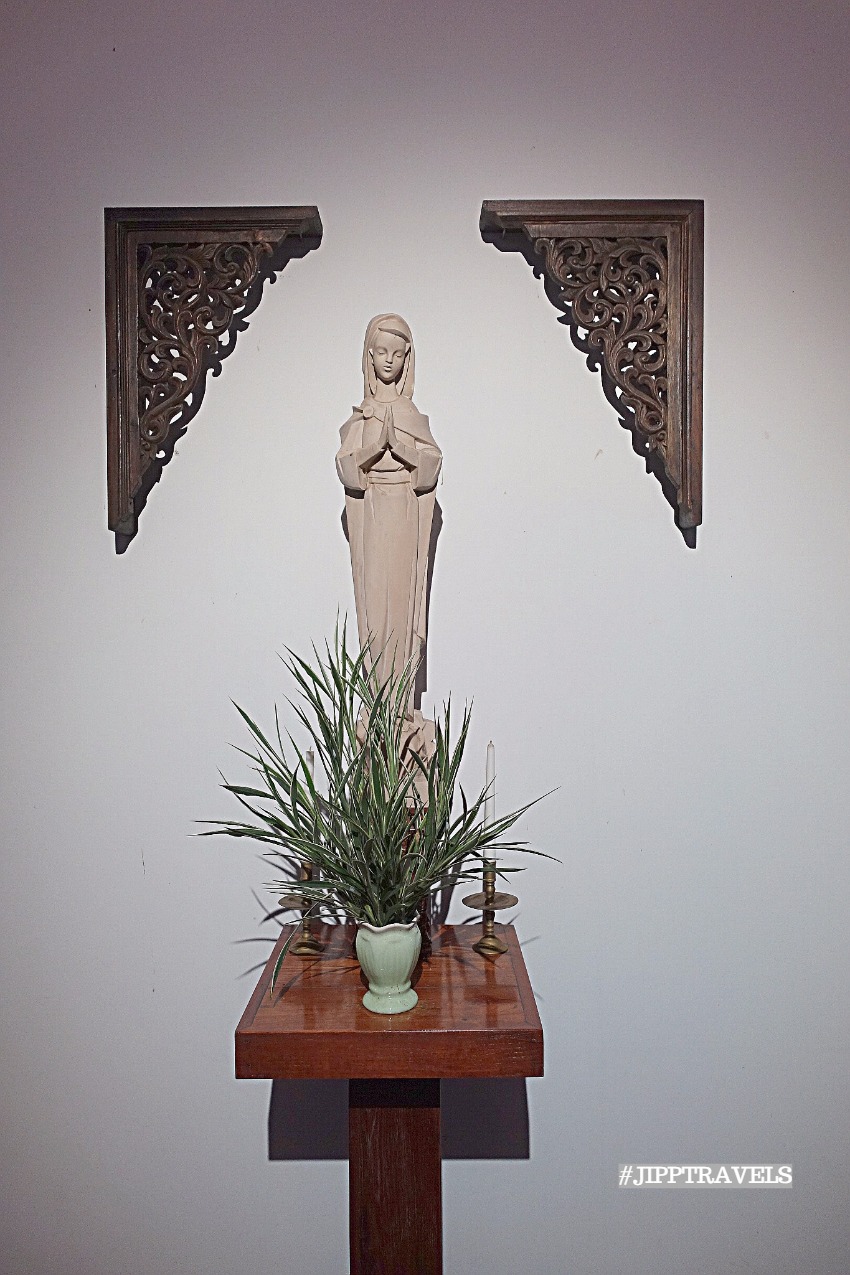 But then I was about to leave anyway but somehow I really wanted to question why is the need to seek permission to enter a place of worship that is dedicated to Christianity (unless I was there to cause trouble). Jesus that I know has always been welcoming. Heh.
But then, I am glad that I did go there. It really was a beautiful place to be – the air of spirituality, the calming atmosphere, the soothing ambiance – exactly the things that I really look for in a place of worship.