Yangon is without doubt one of the most exotic places that I've even been to in all my travel trips so far. It is one of those places where there's always something that surprises you somewhere in the corner. Here are some of the things that I did and found out about when I was in Yangon.
Sakura Tower
I splashed a little bit of money over a fine lunch at the 20th floor of Sakura Tower – which is probably the best place to see the spread of Yangon city from a high standing point. I was quite OK with the price until I found out through an article on Myanmar Times how it'd take an average people of Yangon about 10 days to earn such amount of money through long hours of hard labor at factories etc. It made me feel so bad the food suddenly felt bland and I had to leave almost immediately. Uhuks!
The Markets
I couldn't write about my trip to Yangon without describing its wet markets. I mean, Yangon has some of the most amazing markets that I've been to in all my travel trips so far. I have never seen so many things that were so unfamiliar to even a kampong guy like me. The variety of things was just mind-boggling. I saw in abundance fishes that have long disappeared from our wet markets back in Malaysia.
They seem to have the weirdest things to eat too – some even look like a patch of dirt but edible to their culture. But then, that makes Myanmar such a unique country at least among all the countries in South East Asia.
Bogyoke Market was wonderful. It's not really that big but it still makes you go tailing behind your own tail if you don't have a good sense of direction (like me). What I did not really like about being there was the presence of so many monks – or people dressing like one – all asking for money from just about everybody that comes their way. There were so many of them, with that buzzing sound that they make, which makes them look nothing more than a group of beggars. At least beggars don't use religion to seek $$ anyway. Grrrr!
Apart from the textiles which are up for grab in abundance, Bogyoke Market it is also the place where people come to buy (gem) stones. Myanmar is quite well known for its gemstones which are said to be relatively cheaper compared to prices offered in other countries like Thailand and Malaysia.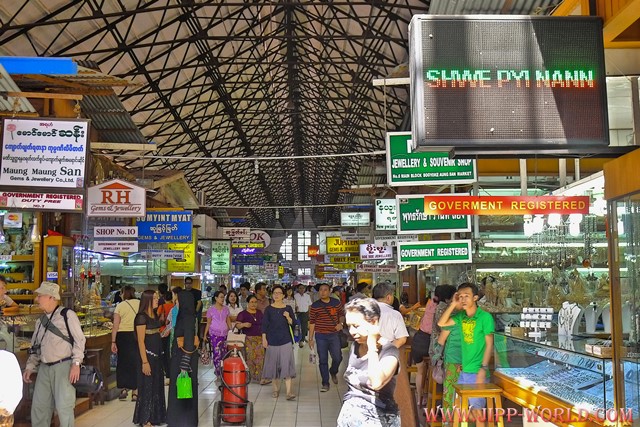 They even have laboratories to check out the authenticity of the germ stones if you have some doubt. Well, I'm not really a big fan of gemstones so I did not buy any of them but at least it was there that I learned about the word 'gemologist'. But seriously, I didn't even know the existence of stone called sapphire or even ruby before I went there. You see, I told ya. I'm not a big fan of batu. LOL!
Betel & Thinakah
I am not sure about China but I am quite sure that chewing betel is a culture of great significance in India. I remember how I had to struggle with hygiene issue in India where everybody seems to spit out their betel every now and then all over the streets. Well, you could not escape that betel-chewing culture in Myanmar. It's like everybody is chewing betel – from the youngest to the oldest. I remember how the taxi driver would stop every now and then to spit out his betel through the rolled-down window.
Then another thing that I quickly noticed in Myanmar is the way they make-up themselves. They put that white powder called Tinakah on their cheeks – something that I had a problem of understanding why. I was told that it has a good aroma but seriously, they've got so many other parts on their bodies that they could put that ugly thing on. I guess it is just a cultural thing.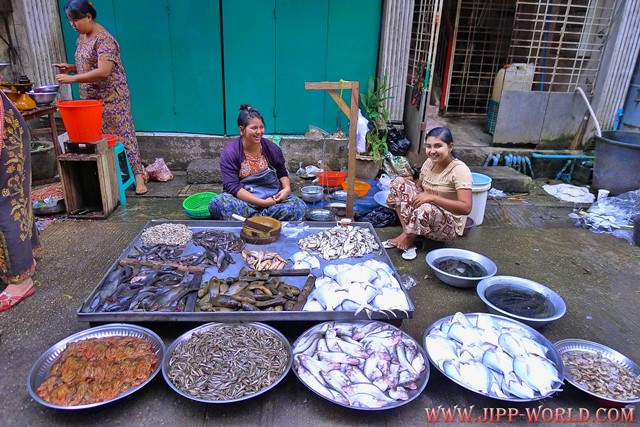 Towards the end of my trip in Myanmar, I had come to decide on one thing – that the most good looking men in Myanmar are the ones who don't chew betel and the best looking women are the ones who don't put tinakah on their faces.
Language Barrier
Well, being one of the very last countries to have opened their doors to outsiders, Myanmar people are still very much struggling with their English. They seem so eager to learn but most of them would just say things in Burmese as if understanding it or not is not really their problem.
Being in Myanmar reminds me of one story – or rather a riddle – told to me by my brother when I was a kid. He told me of a tiger who was keeping watch at a gate and he only knows to say NO to whatever question that is being asked to him. "How would you put your question so that he'd let you in?" asked my brother with that stupid mischievous smile of his. Of course the answer was simple. I mean, you wouldn't ask "Would you let me in" because he's say no to it straight away. So you'd ask "would you be angry if I go in?" and a no is the answer that you'd want from him.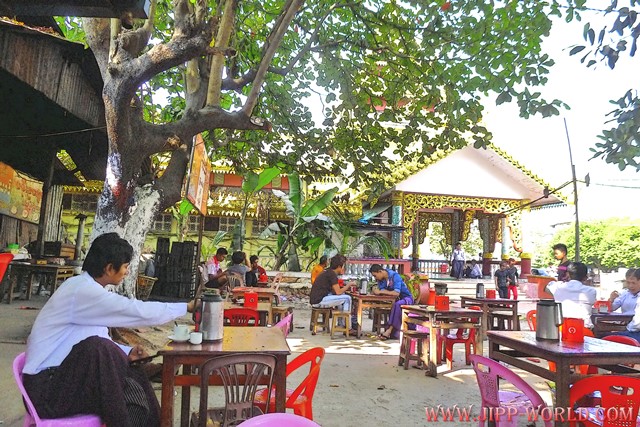 That is quite so relevant in Myanmar too. I remember how I wanted to ask if I could enter a gate to a village. The girl who was selling bottled gas at the gate would only shake her head to whatever I said or asked. Learning from the riddle, I asked if she would be angry if I entered the gate to which she shook her head. Of course that did the trick and I proceeded to enter the gate and enjoy taking pictures of the beautiful village. Heh.
Another similar situation happened when I wanted to share a table with a local guy while waiting for my bus to Bagan because all the other tables were occupied. He shook his head so I just kept standing there and the waiter would keep asking me to take the seat (at the table, with the guy). I told him the guy did not want me to share the table with him. There was a little bit of confusion going on. Then the guy who had only half-eaten his food stood up to leave, looking quite angry with me, probably because he thought I was the one who did not want to share the table with him. Of course the waiter had to explain to us both before we came to understand that none of us minded to share a table at all. Jeez.
Street Food
To tell the truth, I was very surprised by the abundance and variety of street food in Yangon. They do really look yummy but in the end it really is about whether you can take them or not. With so many people spitting here and there, you might get turned off whenever you try to negotiate with your stomach (or rather you mouth). I think I've been quite open about how I have a very low tolerance for street food in other countries but my own – something that I've been trying to understand myself. I remember how I spent the whole day roaming the streets of Surabaya in search for food only to end up eating something from a fast food restaurant. It was so meh really but I just couldn't help it (but I'm getting better).
After spending the whole day trying to negotiate with my throat to swallow something from the street at least before I go back to Malaysia, I managed to muster up enough courage to take a seat at one of the stalls outside of Bogyoke Market. I held my head up and ordered what a girl from the next table was eating. The moment I forced-fed my mouth with a spoonful of the noodle, I knew I should have eaten in the streets all along! I mean, the taste was so damn good I was so tempted to order another bowl but it was too late because I needed to rush to the airport by then. Damn.
I wish I could explore more of Yangon because seriously, you really don't know what to expect from this amazing city. I can things of so many things to return to Yangon for.