Our full-day tour of the city began on our second day in Bangkok. I've come to realize how shops open quite late there and it's a no surprise that you'd see how vehicles are still scarce on the streets even when it's already 8 am.
The booming tourism industry in Bangkok doesn't seem to have changed the city and its people at least linguistically. As the only nation in South East Asia that has never been colonized by any Western power, the people seem to struggle conversing in any other language but their own. Ordering food might be a little bit of problem so you'll just need to know how to use your body language.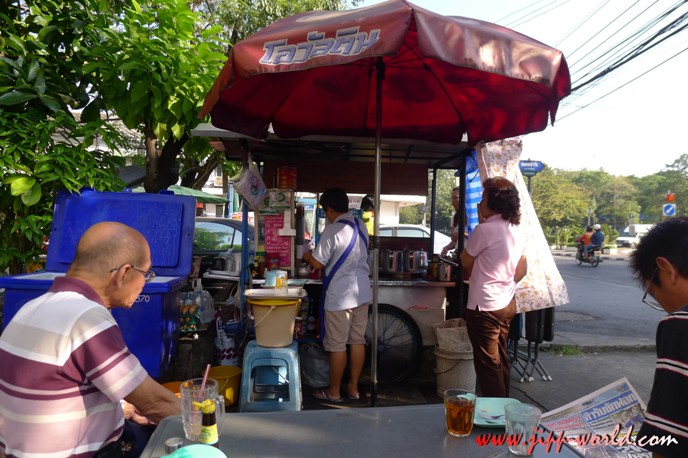 Not bad for my very first breakfast in Bangkok.
So, we went to the usual places – the places that you'd see listed under Bangkok Major Attractions in Lonely Planet, Trip Advisor, Virtual Tourist and all.
It was good to be back to The Grand Palace three years after my first visit there. Either they had increased the ticket price or I had grown broke over the years I had no idea but I don't remember being taken aback by the admission fee back then as much as I did when I returned again this time.
But at 350 Baht, you'd get to see more than what you might have expected. The Grand Palace is such a dazzling place you might want to put your sun glasses on at all time. Bangkok alone is full of so many beautiful temples but the ones that they have at the Grand Palace seemed to be at least a few notches up.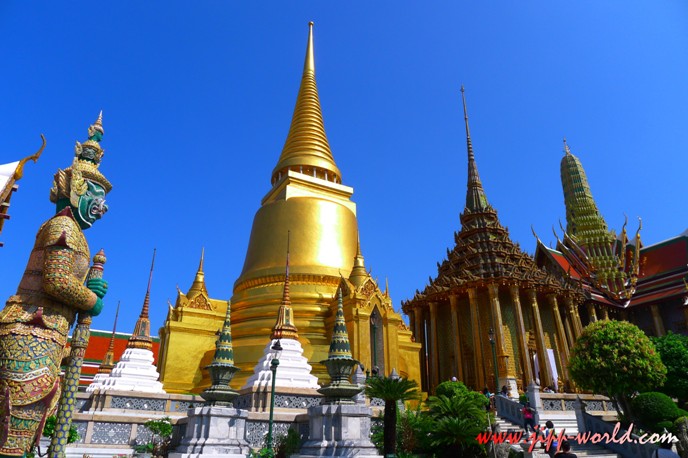 My encounter with Angkor Wat came quite too soon and just knowing that I'd be heading to Cambodia to see the real one soon kinda made the excitement grow in me. But of course THAT would just have to wait. 🙂
Bangkok is probably the best place to have a temple enthusiast as a travel buddy because you'd see more of everything than you'd probably do when you were alone. We must have spent at least an hour just trying to read the stories behind the paintings on the wall here.
Of course 3 years is not that long enough to make me grow out of my wittiness. I did it back then and I did it again this time. Only this time I had someone else to do it with me so it was more hilarious. 😀
I didn't get to see the Emerald Buddha last time so I wouldn't miss seeing it again this time. Known for its very long history – from its known existence that dated back to 43 BC to its long journey of being passed around from India to Sri Langka and Cambodia to Laos and finally to Thailand – The Emerald Buddha is now considered one of the most treasured statues in all over Thailand.
Good thing about touring Bangkok particularly within the area where The Grand Palace is located is the closeness of some of the city's biggest attractions with each other.
We must have spent at least half a day at the Grand Palace alone before we decided to move on. With all the wow things that it had to offer to us, we didn't realize how hungry we were until we made it through the exit.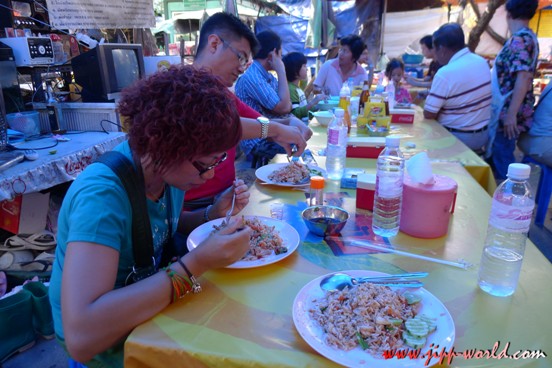 After having lunch at one of the food stalls at the riverside market, we walked over to another major attraction which was located just within a walking distance from the Grand Palace.
Wat Pho seemed to be undergoing some major restoration work when we were there but of course Bangkok couldn't afford to close it to its visitors, not when it is one of the most visited temples in Thailand.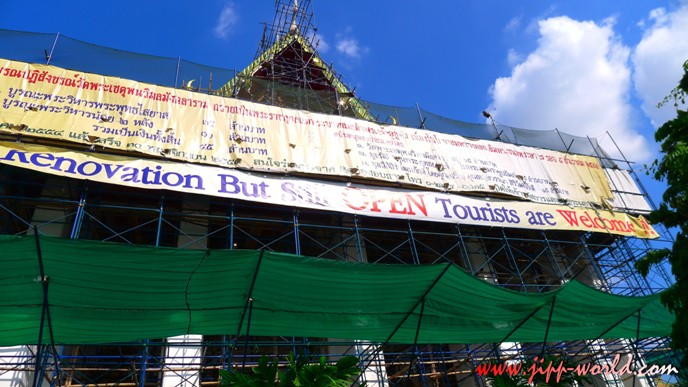 The beautiful stupas that stand tall and pointing straight to the sky make Wat Pho such a perfect place to get playful with your camera. It was probably one of only few places where you can try out all the settings in your camera and the pictures still come back alright every time.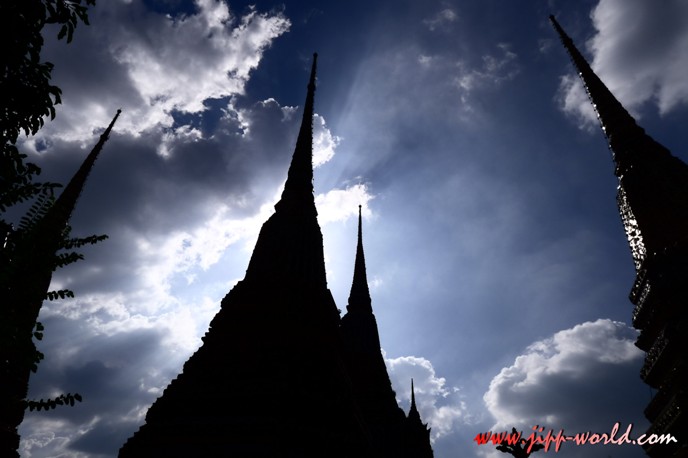 But of course the Reclining Buddha is what most people come to Wat Pho for. With an official name of Wat Phra Chettuphon Wimon Mangkhalaram Ratchaworamahawihan (forget about trying to pronounce it, you'll never get it right. LOL) it already gives you a little bit of idea on how long the statue is.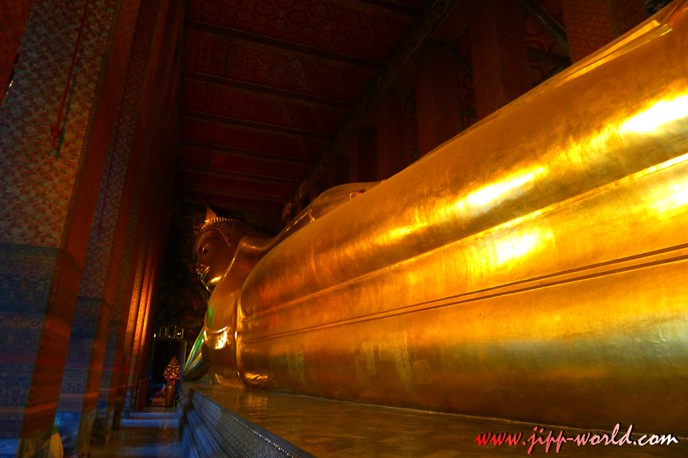 I was wowed by it back then and I was wowed again this time. The Reclining Buddha reminded me that there are things that are worth to be seen for a second time and Wat Pho is certainly one of them.
Then we took a ferry across the Chao Phraya River. Just on the other side of the river is Wat Arun – the temple that I instantly declared my personal favorite when I first visited Bangkok three years ago.
The temple itself is actually quite simple so there's no way I can declare it the 'fairest of 'em all' when there are so many beautiful temples with spectacular (and mostly dazzling) architectures all over Bangkok.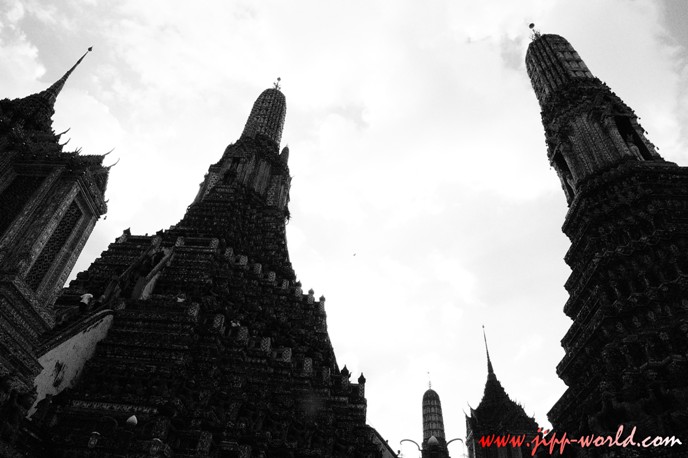 And yet there's something about it that makes it stand out so prominently at least in my eyes. The experience of climbing the steep stairs and the 360 degree of panoramic view of Bangkok from the viewing platform is certainly a rewarding experience.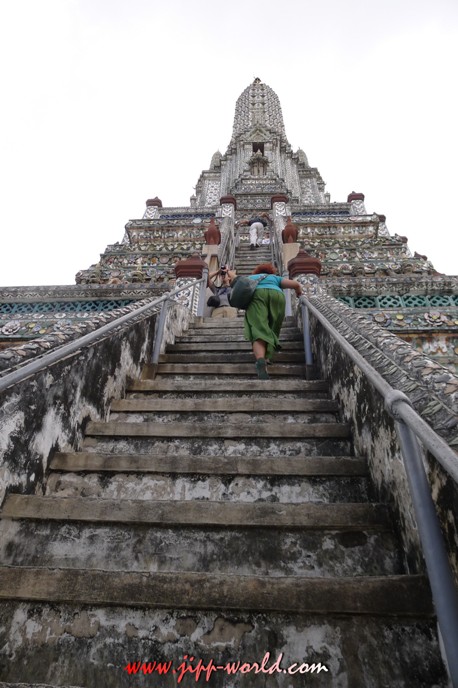 There are certainly a lot of things to talk about Chao Phraya River. Although it has always been considered a lifeline to the people of Bangkok, the recent occurrences of flood have made a lot of people wish that it wasn't where it is today. The flood had changed how most people look at it now and some of them ever think that 'building' Bangkok at its current location was such a big mistake.
And I don't blame them. The water level seems to be higher the ground on both sides so the people of Bangkok certainly have every reason to be worried.
We returned to the other side of the river and spent the rest of the evening watching the sunset from the beautiful riverside promenade at a place called Nagaraphirom.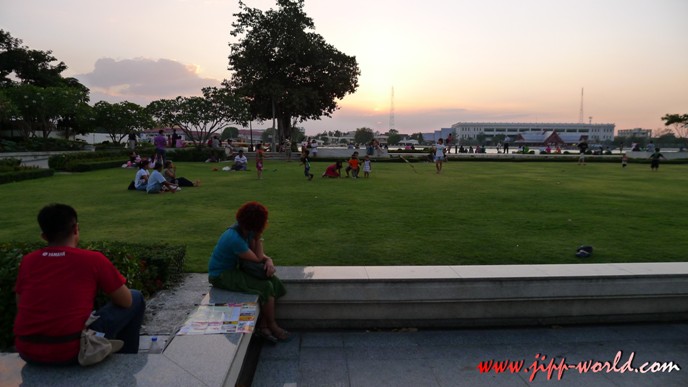 Watching the locals lepaking around and the kids chasing after each other with the beautiful sunset in the background was certainly such a relaxing moment.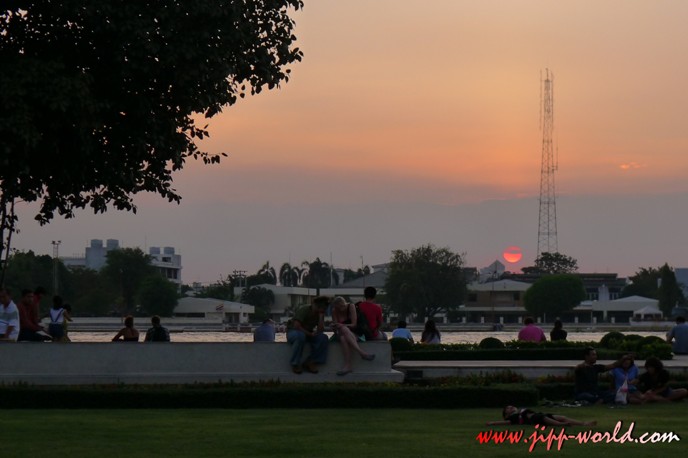 When the sun has finally diminished down the horizon we took a taxi to a place called Silom.
Silom is probably best known for its vast night baazar but of course it was too early for us to do any shopping.
We'd come there expecting to see lots of eateries – probably food stalls where we could finally indulge in authentic Thai cuisine especially after that ass-burning chili-studded Tom Yam that I had had the day before. Unfortunately with such a limited number of stalls, Silom that we found out wasn't really the best place to find good street foods.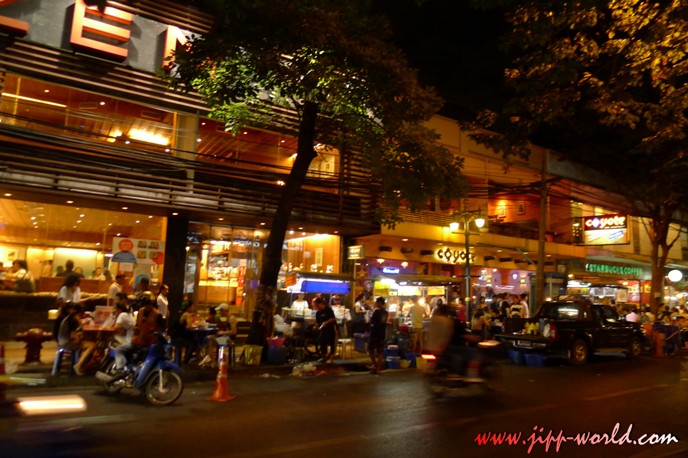 BUT it was certainly the best place to find – errr – something else.
SUPER as defined on the dictionary means 'An article or a product of superior size, quality, or grade' so just imagine what a SUPER pussy can do.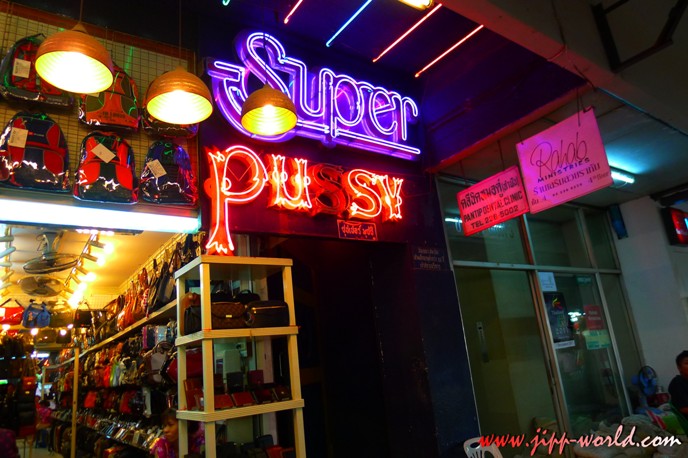 LOL! Stop imagining you pervert! 😛
While we enjoyed the sight of neon sign boards with those P words blinking on them – and of course the temptation that comes with it – we actually found it quite unfair for Ulai after awhile.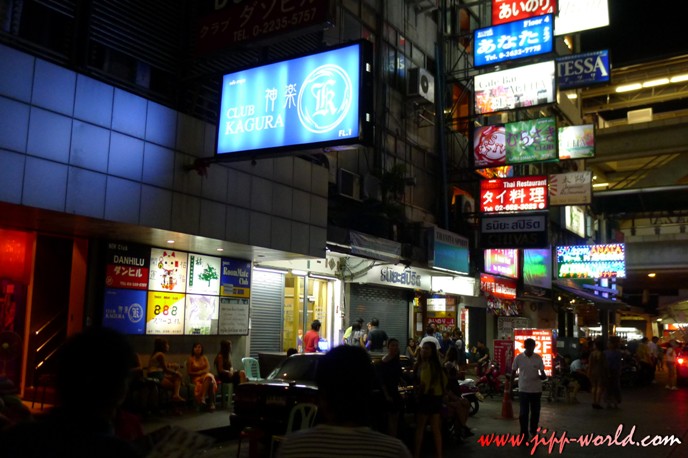 But then, there was something about the neon boards that we saw later at one stretch of the streets in Silom that made me and KJH break into a wide grin almost simultaneously. There was finally something for Ulai.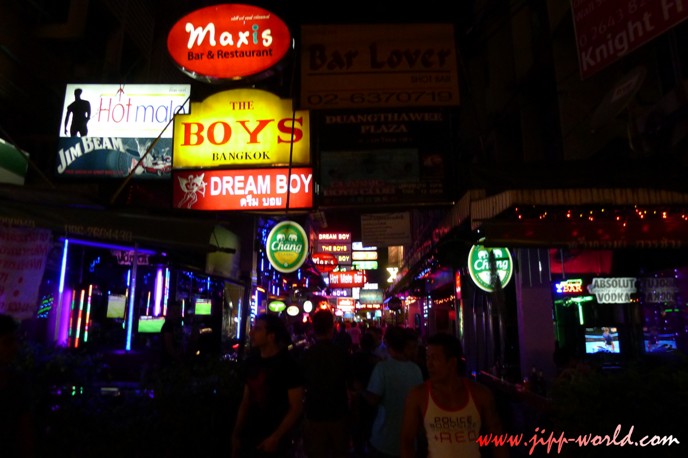 Or so we thought. We traversed along the street expecting hordes of male strippers (I wouldn't say male prostitutes) competing to get Ulai's attention and may be, if they were lucky, get her into one of their strip clubs and see if they could get some $$ out of it. LOL.
Well, we had thought wrong – apparently. It was me and KJH that the club promoters came after and not Ulai who was having all the sweet time chuckling and laughing at the sight of us being poked and pulled at while she herself was (being) almost completely ignored and invisible. What was intended to be a practical joke aimed at her turned into the other way around and it was her who then had the last laugh. Damn. 😀
Tired of waiting around and there was still no sign of people defecting their seats at the stalls that we wanted to have dinner; I tried to think of an alternative. Then I remembered a place that held so much fond memories of me being so foodie on my first visit to Bangkok three years ago – a place that then verified Bangkok as the gastronomical capital of the world at least to me at that time.
The name is Ratchadewi and it is easily accessible by Skytrain. You know you're at the right place when you come down from the station and see a long array of food stalls waiting for you on the side of the road (Thanon Petchaburia?).
I gotta tell you that there are so many of them all ready to serve you with the tastiest of authentic Thai cuisine there might be times when you'd regret ever coming there in the first place because you'd be put in a situation where you'd have to pick a choice – which is unfortunately not so easy to do when you are at Ratchadewi. *gasping for air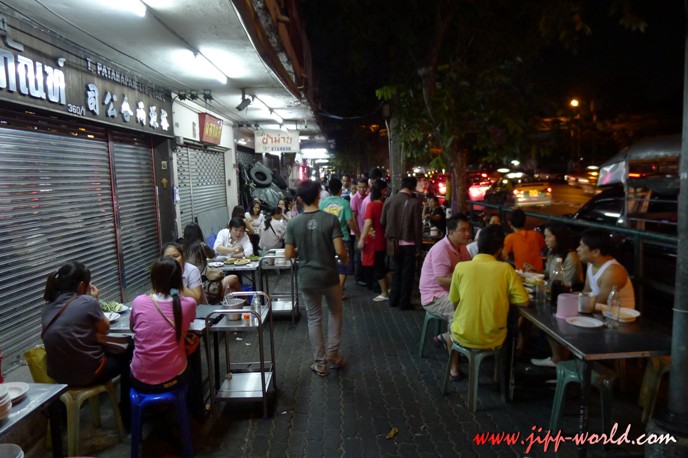 So – sitting at one of the stalls that we had picked almost randomly, we let our foodie halves took charge.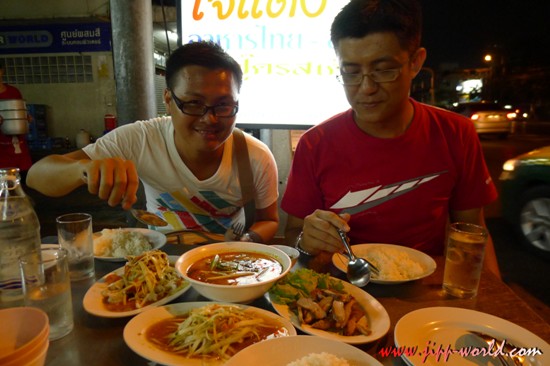 I think it is a known fact that Thai has some of the best cuisines in the world so there's nothing much I can say about it at least for now.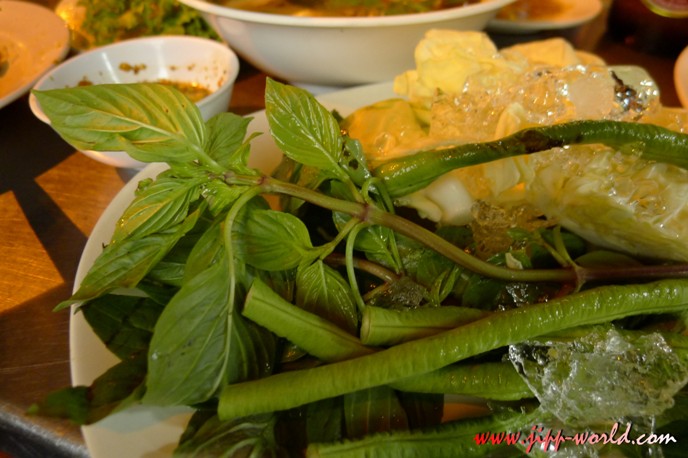 We returned to Silom on the Skytrain before going underground via MRT train to Hua Lamphong – the nearest to the hostel that that the train could take us to. I don't know what happened to Bangkok in the past but MRT seems to be a least favored choice of transport in this capital city of Thailand.
Saying NO to all the taxis and Tuk Tuk drivers at the Hua Lamphong station, we put our trust into whatever energy that we still had left and decided to walk our way back to the hostel.
It was always good to find something that you'd walked so long to look for. Yippie !
Tips/Personal Encounters:
>>Don't not believe it when somebody come up to tell you that the Grand Palaces and the temples are closed because Bangkok is having some shit of celebration. Believe me – they are not (closed). They'd usually offer you a 'cheap' ride to some mostly lesser known destinations in which they'll bring you to some shops – usually a tailor from which they'll get some commission. Then they'll more then happy to dump you somewhere once their mission is accomplished.
>>If you look at the ticket to the Grand Palace, you'll see how you're entitled to an entry to some mansion/s and exhibition/s and is usually valid for 7 days.  We didn't go to any of them because we didn't have much time in Bangkok.