It was good to have finally ticked something off the bucketlist. Milford Track was great but there's much more to New Zealand than the beautiful track across the Fiordland National Park which is considered the finest trail in the world. After soaking in the much-missed sunshine on the lakeside of Te Anau, it was time to move on.
I was in a deep dilemma actually, whether to return to Queenstown and take my chances to do the sky-diving since I missed it due to bad weather just a week ago, or just forget about it and take a different route back to Christchurch from where we'd be flying back to Auckland. Then I thought, returning to Queenstown would not guarantee me a sky-dive because the weather in that part of the country is so fucking unpredictable. And – once we returned to Queenstown we may have to take the same route that we took last time and if that was the case we'd miss the alternative road on the East Coast entirely.
I decided to forget about the skydiving. I may not return to New Zealand just for the sake of doing the sky-diving but then there are so many other places in the world where I could actually do it. Wheeling off towards the east coast of South Island, I began to feel glad that we decided to skip it because seriously, we would have missed a lot of New Zealand's other and largely unexplored attractions (at least among tourists and travelers I guess) if we had decided to go for it.
There was one beautiful little town called Gore for instance that we happened to drive across. Neither of us had ever heard of this town before but I had come to find out later that it was actually New Zealand's capital of country music. I mean, most of Ne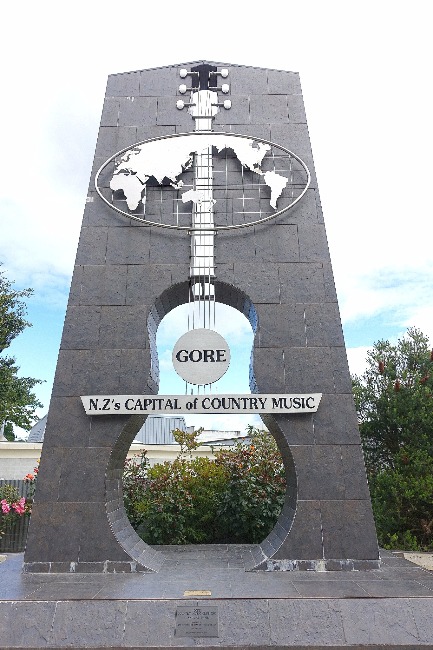 w Zealand's 103,483 square mile area consists of countryside which is very much associated with country music so it is only right to have a capital town dedicated especially for it. We stopped there for a while and I took time to enter its public library which really impressed me its huge collection of books and most especially for its neatness.
Then we continued on East-bound, stopping a few times including once when we came upon a Chinese food restaurant (amazing how Chinese food restaurants in New Zealand are mostly operated by one single person) from where we bought our lunch to be had at one of the roadside stops with a beautiful view of the expansive farmland. Our diet had always been dominated by Western food ever since we first set foot in New Zealand not only because of their availability but also for their prices which are usually a few dollars cheaper than Asian dishes.
After driving across so many little towns and countless number of villages we finally found ourselves back on the east coast of South Island. We were in Dunedin, which I later learned is the second largest city in the South Island – after Christchurch of course – and it amused by the fact that I had never heard of this beautiful city before. But that is the beauty of traveling. You'll tend to bump into things that you least expect to.
I liked Dunedin almost instantly when we got there. It was the kind of cities that I could probably settle in if I had to. It has just the right size and the traffic is not that bad compared to those in Christchurch and probably Auckland. After parking the car on a roadside parking lot, we took a little walk around town. My attention was instantly on a tall sphere-shaped building that jotted out over other buildings in Dunedin. I later found out that it was The First Church of Otago which was built in 1848 by early settlers from Scotland.
It was undergoing some major restoration works so the indoors were heavy with scaffolding and all. I went to the shop at the back of the building and had a long chat with the shop keeper. He told me a little bit of the history of the church and how the Scottish settlers had first come to Dunedin about 170 years ago. He seemed to be too carried away that he would not stop talking, probably because he did not have anyone else in the shop so he had to depend on visitors to have a conversation with. I was so glad when an elderly couple came in and I just seized the opportunity to ask to be excused the moment his attention moved over to them.
I wish we could stay in Dunedin for a little bit longer but we had to get as close to Christchurch as possible because we only had one night left before flying back to Auckland – excluding the last night that we were going to spend at a guesthouse near to the airport. I googled for a place among the rolling hills from where we could get a good look at the whole city and it came back with Signal Hill so off to Signal Hill we went. The beauty of Dunedin impressed me even more when I looked at it from the top of Signal Hill. The city is located at the end of a beautiful bay which is flanked by rolling hills which are blanketed by green farmlands. The view was just so break-taking.
From Dunedin we wheeled off along the coast towards the North, stopping here and there along the way if we found anything worthy to stop for. We were glad that we put in the GPS as part of the car package that we took. There was a little bit of argument in my head whether we should take it because we could actually use a cell phone to show us the way around so long as we had the internet connection. But it turned out that the GPS was not all about the directions alone but it would tell if there was any interesting place within the vicinity. It would also tell about each town that we passed through so the information that we got from that little device was enormous.
There was one place called Shag Point for instance that we wouldn't have known the existence of if not for the GPS. Based on the information it gave, Shag Point is a place that we could find penguins at if we were lucky. Unfortunately we were not (lucky) but still we managed to catch up with a group of seals. And they gotta be some of the cutest animals that I had ever come upon.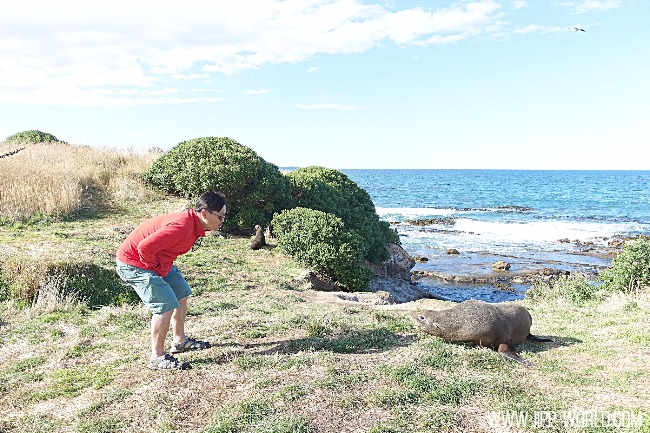 They seemed to enjoy the sun very very much and they'd roll around on the grass totally in oblivion to the surrounding. They only looked at us when we were close enough to see into their sparkling and watery eyes. I was filming when one of them suddenly came charging at me and in a panic state I stumbled but managed to get back on my feet and run before the animal caught up with me (although I have no idea if she was coming to hurt me or just being playful).
Then another place that we heard about on the GPS is the Moeraki Boulders. Our curiosity had led us to a beach where boulders of near-perfect round shape were scattered all over. The existence of the boulders remains a mystery and of course when there is something mysterious there'll be a lot of theories. I refused to fall for any of them. LOL.
Our final destination of the day was Oamaru. Based on the information facilitated to us by the GPS, this beautiful seaside town is said to be the town with the highest concentration of historical buildings in New Zealand. Being in Oamaru is like being thrown back to the colonial time – except that the colonists never left unlike in most other countries where the colonists left after the country that they had colonized gained independence. The buildings were beautiful. There was a beautiful church and for a moment I wished we had arrived there earlier so that we had the time to explore more.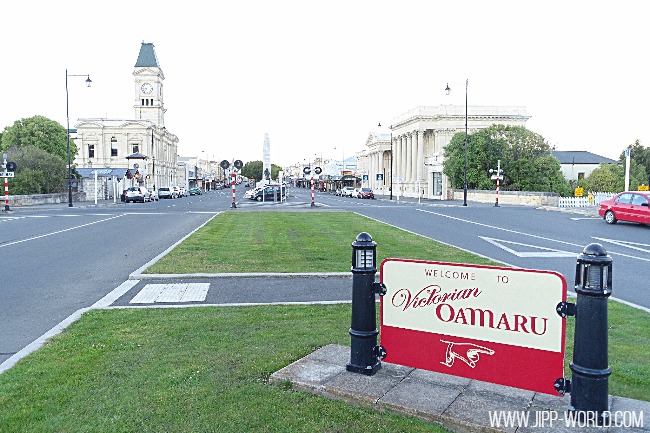 We did not book for our accommodation in Oamaru, or anywhere else for that particular day and it had proved to be quite of a mistake. We went all over looking for a room but all the hotels that we went to were full. It was getting dark and chilly to stay outside so we were quite desperate to look for a room. We finally managed to get one but it had cost us way beyond our average budget for nightly accommodation. The double-story building was more like a motel but the rooms were spacious. It was such a long day for us so we had some of the beer that we had bought back in Queenstown. I never fancied drinking in a hotel room so I stopped after the second bottle. It would be another long day back to Christchurch the next day.