Our adventures in the North of India did not really end in Badrinath. In fact, it was just the beginning. From Badrinath we hired a jeep to Govinghat – from where we started our trek up to Ghangaria. Ghangaria is the starting point of the trails to Hemkund Sahib – the world's highest Sikh temple – and of course the much anticipated Valley of Flowers.
Upon arriving at the gate to Ghangaria, we were instantly flooded by people who offered to be our porter and guide. I let the ladies pick their own choice – but sternly warned them against hiring somebody who would use horses to carry their bags.
"It's against my principle. It's a form of exploitation against the animals" I said to them and I really meant it. They hired somebody – a Nepalese – who didn't speak a single world of English but smiled a lot.
Trekking to Govinghat at the foothill to Ghangaria was not really that difficult but not that easy either. I mean, it is very well-paved and it is more like climbing a very long stairway. We met some of the most amazing people along the way. Most of them were pilgrims who were heading to or coming down from Hemkund Sahib the Sikh temple. The scenery along the way was just so unbelievable. It was very green and it was very easy to be instantly smitten by the whole surrounding.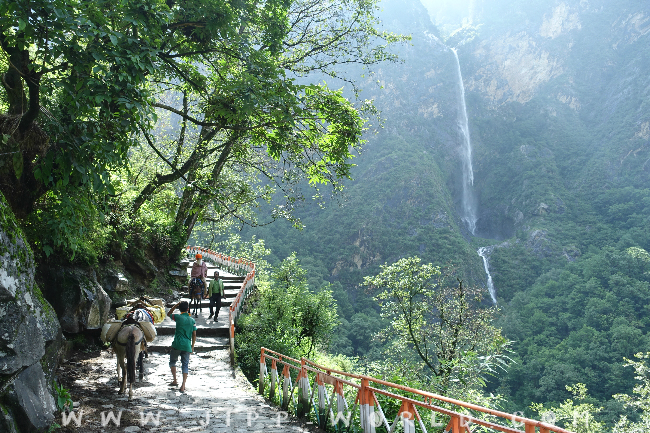 We'd see a waterfall every now and then, plummeting hundreds of meters from the edges of mountains to the far bottom. Some of them looked like scenes from some fairy tale movie and it was very hard not to be carried away by all the beauty. But of course I had to keep going. I couldn't help but noticing the existence of so many marijuana plants along the way. I was so fascinated when I first saw marijuana plants while I was trekking up to ABC in Nepal. Here at the trek to Ghangaria there were just so many of them I wondered if they really were there naturally or they were actually planted. LOL.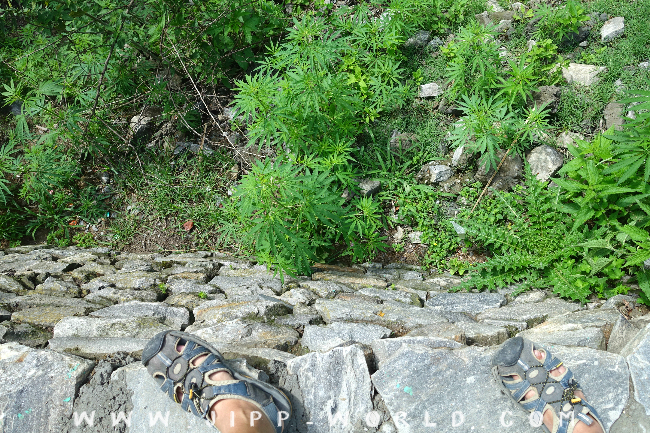 We happened to meet a guy from Punjab – who was so excited when he knew that we were from Malaysia. Instantly speaking in fluent Malay, he told us how he came to Kuala Lumpur a few years ago and worked at a hotel before venturing into air-conditioner services. He told us how he started from the bottom as a labor but eventually got promoted to a managerial post – thanks to his good command in English – and was put in charge of looking after a group of workers who were all put under him.
"I had to represent the company to attend meetings. My boss liked me because I could take it all in when I was at a meeting" he said proudly. He told us how all the promotion from the bottom to the top happened within a mere couple of years.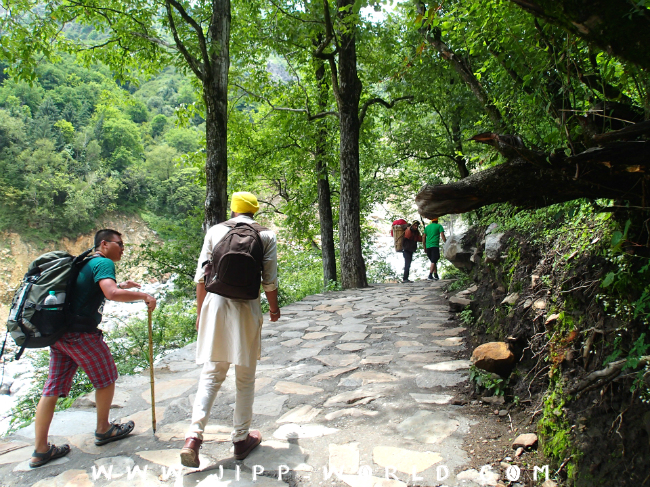 But it all came to a halt when he fell from a crane while doing some repairing job for a newly-installed air-con. "We were short on workers that day because some of them took leave so I decided to do it myself. And that's when the accident happened" he told us with a bitter smile on his face. The accident took quite a toll on him. He could hardly walk and it was deteriorating by the day despite all the visits to several doctors and masseurs. When his injury showed no signs of recovering, he decided to return to Punjab to seek further treatment. It had proved to be a right decision.
He began to recover and it was not long before he could walk a normal walk again. "Now look at me. I can even climb a mountain" he said before bursting out laughing. After a full recovery, he decided to go back to Malaysia but that was when he found out that his passport had been duplicated illegally.
"I don't know how but somebody there is using my passport so I can't even go to Malaysia using my real passport" he said without even trying to hide his disappointment. I could only roll my eyes in disbelief. He told me how he had to wait until the passport (most probably the fake one. I forgot to ask) expired so that it could be renewed back to its original owner.
"Please let me know once you are in KL", I told him, not once but several times. He invited me to go to Punjab and promised to drive me around when I am there. That sounded like quite a good offer to me.
All along the conversation, I couldn't help but noticing his 'bah' which so much is associated with Sabahan slang (if you are not familiar with Malaysia, Sabahans are the people in the Malaysian state of Sabah. They have their own slang). Then he told me how he used to stay with Sabahans when he was in Kuala Lumpur.
"I really liked them a lot. They are friends that you can always trust. They helped me a lot when I was there. There was one time when I had a fight with a bunch of local Indians and I was put in jail for that. All other friends disappeared but these Sabahan friends collected money among themselves and bailed me out. All of them – each one of them – came to the police station to make sure that I was released. I would never forget what these Sabahan friends did for me" he explained in length.
"Oh well, that's Sabahans for you" I jumped in and we all laughed.
With so much conversation that we had along the way, the 10 kilometers suddenly did not feel like 10 kilometers at all. We arrived at Ghangaria late in the afternoon and instantly looked for a hotel. We actually checked in at the very first hotel what we came upon. Named Sri Nanda Lokpal Palace, we were told that it was the best hotel there was in town.
But of course we didn't choose it simply because of what we were told but we took some time to check out the rooms and facilities. The rooms were quite big and we took two adjoining rooms which were separated by some kind of living room in the middle. The fact that it has a restaurant with nice food kind of did the trick for us. I was later told that the cook had won a number of cooking competitions in Uttarakhand.
After dumping our bags at the hotel, we walked around the small town of Ghangaria – which was more like a village actually – and made our way to the Gurdwara. Gurdwara is a place of worship for Sikhs, only this one has a hostel for pilgrims and is open for everyone, even if you are not a Sikh. It provides free meals and basic facilities and I even saw a clinic.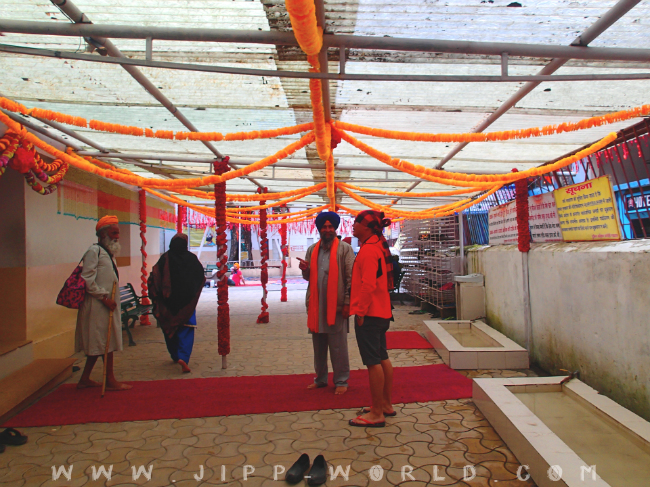 Our different features instantly caught the people's attention. We were warmly welcomed and they even offered us hot tea. Every now and then we'd stop to have conversation with pilgrims, some of whom we had already met while climbing up from Govinghat.
We returned to the hotel when it was too chilled to stay outside but not before we sampled some of the food that we found on the street.
Then it was time to take shower – and it was more challenging than all the climbing that I had to do the whole day. The room does not provide hot shower – so I had no choice but bracing myself against the freezing water. It was like being splashed with acid so much so I was instantly thrown into a lingering spasm and I couldn't help but letting out a loud scream. It really was an agony. I later found out that we could actually buy hot water from the kitchen for 50 rupees per bucket. Then my showering became much easier from then on. Urgh.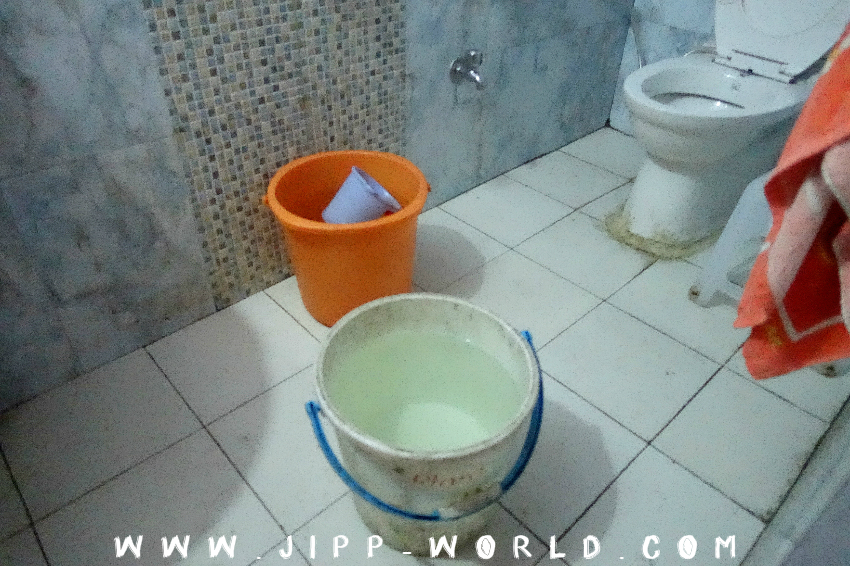 I went to sleep that night with so much excitement in my head. I remember how one of the pilgrims told me that I was not going up to Hemkund Sahib simply because I wanted to. "You are going there because you are destined to be there. It has already been written" he said and I actually believed him.
I was destined to be at Hemkund Sahid the next day. It had already been written. I only wished it was not destined to be so much challenging – as I later found out.