I had always wanted to go to Vang Vieng. When I first heard about a place with peculiar rock formations scattered among valleys and vast paddy fields, I knew I was gonna be heading there sooner or later. And true enough, when I finally set foot in Laos – the very last country in ASEAN that I went to – I decided to go there after Vientiane the capital city and Luang Prabang the UNESCO town.
After spending the first half of the day cruising along the Mekong River in Luang Prabang, I went directly to the bus station and bought a ticket to Vang Vieng. Another long journey dragged me on a bus ride from 2 pm to almost 9 pm with a dinner stopover at a restaurant somewhere in the middle of nowhere. After being dumped on the side of the road, I took a Tuk Tuk to go to a hotel that I had already searched on the internet (but had not booked) called Maylay Guest House. I kinda liked the hotel and the room and I instantly checked myself in.
Of course I only got to explore Vang Vieng the next morning. The town of Vang Vieng is still very much under-developed, with much of the roads are still un-asphalted. The dust can be smothering and I was glad that I was there when it was not really dry. In fact, the occasional rains spared from what would have been a very dusty town.
After having breakfast at one of the restaurants that overlooks the beautiful mountain rocks, I rented a motor-bike from the very first rental shop that I saw and instantly headed for the mountains.
Going to the mountains requires passing through a gated bridge and every vehicle is required to pay an amount of toll. Good thing is, the road on the other side of the bridge is very much well-maintained so I did not really feel bad about paying. Besides, the view was something to really die for – the mountains, the paddy fields, the crystal clear rivers, the lagoons – everything. Having been born to a farming family, I felt instantly connected to the whole surrounding. It reminds me a lot of my childhood memories when I used to go to the farm after returning home from school. Everything looked so familiar to me. Even the smell of the paddy fields was so familiar I almost cried in excitement.
I went to the famous blue lagoon – but it did not really impress me. I mean, the water was blue, alright, but I was expecting it to be bigger than it actually was. It just did not meet my expectations. Then I ventured going further into the valley, on a graveled road without even planning where to go next. Every now and then I'd stop to take pictures and I really felt so immersed in the moment. I'd stop to look at things and I couldn't stop smiling because everything really reminded me of my childhood – the grazing buffaloes, the dragon flies (Jesus, I used to see a lot of them back then but they are all gone now, somehow), the creeks, the bamboos, the houses and even the people! It was just so unbelievable.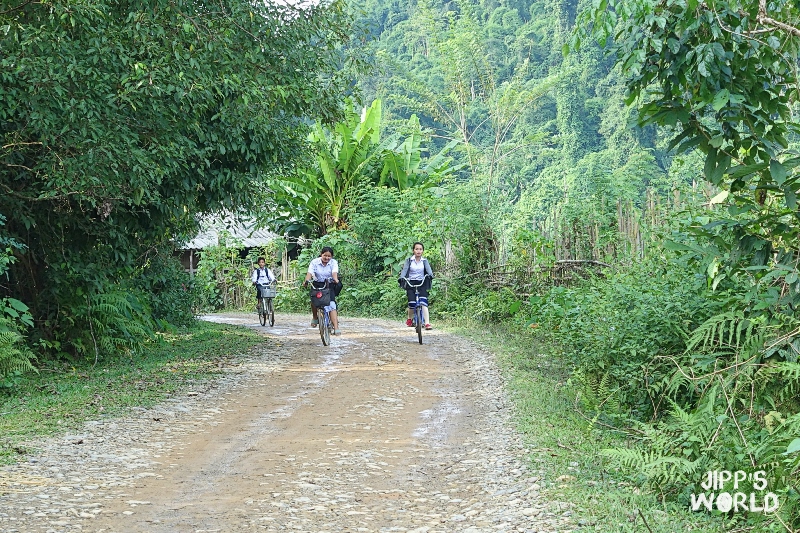 My unplanned venture led me to another lagoon called Lagoon 3 (I probably missed the Lagoon 2). The lagoon was unreachable by vehicles because of a collapsed bridge, so I had to park my bike somewhere, which I happily did. It really gave me the opportunity to enjoy the view more because I did not have to watch the road and all. I had to walk for about 2 kilometers before I finally reached the lagoon. I really liked this one. It was less-crowded then the first lagoon – and much more beautiful. I did not intend to take a dip but was interested to go for the cave which is located not so far from there. "I think it's quite late for the cave", the friendly janitor told me and he was right. It was almost 6pm and it might not be long before dark. So I thanked him and returned to my bike – taking lots of pictures along the way.
It was a long way back to Vang Vieng town and I had to ride the bike in the dark. I was only hoping that the bike would not break down on me and thanks God it did not.
I returned to the mountains the next day to climb up to Pangern peak. It is one of a few places in Vang Vieng from where you could see the beautiful valley at a high standing point. The climb was moderate with some parts of the trail required climbers to climb on wooden stairs. The view from the top was out of the world. I had the place pretty much all to myself. There was a woman who sells food and drinks on a platform made from bamboo and two young monks who were probably there to enjoy the view too. I offered to buy them drinks – and asked them to take pictures for me in return. Heh.
But seriously, the view of the paddy fields flanked by dramatic mountain rocks was something to be cherished for a lifetime. I returned to the town of Vang Vieng thanking God for the opportunity of witnessing it all. I felt so blessed.
Vang Vieng might not be as 'happening' as it used to be. Back then it was famous, or rather infamous for its reputation as a party town. Due to a lot of drug and alcohol-related accidents, the government decided to tone down all the partying and introduced curfew. A lot of the riverside pubs and bars were closed and only a few were allowed to continue operating.
But then, the partying continues for the locals, as I had come to find out and one of the guys at the rental shop offered to give me a taste of it. I hopped onto the passenger seat of his bike and he took me first to a local restaurant with a karaoke. It was a long and interesting conversation with the guy over beer. He told me how he was from Vientiane and born to a mixed parentage. His father is a Thai and his mother is a Lao and he can fluently speak both languages. He even sang a Thai song and boy – he could really sing. He told me how he used to have a group back in Vientiane and that he joined some local singing competitions too.
As if the karaoke was not enough, he took me to a night club – which was more like a disco – and this time we were joined by a few other friends of his. I remember riding on the bike with him at around 2 am and it was quite far from the town center. In fact, the night club was located in the far corner of a village and I was imagining that it was going to be a very traditional club house or something. But how wrong I was. The night club turned out to be a very spacious one – with elevated multi-level platforms for people to stand on – with high tech lighting and sound systems. Even the disco lights were (pleasantly) blinding. It was one of the most modern night clubs that I have ever been to. There were a lot of people in there and most of them were local teenagers. I might be the only foreigner there, but thanks to my Asian looks, I managed to blend in without any problem at all.
As the alcohol wore on, they began to challenge among themselves to court a sexy and beautiful girl at the next table. This impromptu friend of mine managed to start a conversation and it was not long before he joined her at her table. It looked like he had succeeded but he later told me that the girl was "not a good one" – that he actually caught her talking bad about him with her friend. "She looked down on guys like me – who don't have a good job", I remember him saying as we pulled out of the night club compound at four in the morning to return to the town area. By then I was so ready for bed. Instead, he took me to a food stall to have a hot bowl of noodle soup – something that I'd do with my friends back in KL every time we go for a late-night drink. What a perfect ending to my last day in Vang Vieng. LOL.
Vang Vieng really got me. I really liked it there and I believe there was more of it that I could explore. If I were asked if I wanted to go back there again, I'd give a solid YES.