It is just so timely that it will be Christmas so soon from now and here I am blogging about my visit to the very place where it all began. I mean, what happened in Betlehem over 2000 years ago is the reason why Christmas is celebrated all over the world every December 25 and I feel so blessed to have been there in my recent visit to what is always considered the Holy Land at least in the Christian world.
All the while I did not know that Betlehem was located in Palestine and not in Israel. But then these two countries used to be one in the past and even now with all the political and territorial complications it is very hard to tell which belongs to which. You wouldn't even find Palestine on Google maps but then Google itself was co-founded by two Jews so one should not really wonder 🙂
The only indication that I could probably refer to in telling the Palestinian territories from those of Israel is the infamous wall known as Israeli West Bank barrier whose construction was commissioned by the then-prime minister Yitzhak Rabin. The 700km long wall was constructed for security reasons despite all the protests and public outcry especially among the Palestinian people.
I would say, Palestine was OK. The country has its own share of the prosperity but the people there seem to lag a little bit behind at least economically compared to their Israeli neighbors. We'd get swamped by street peddlers trying to sell all kinds of stuff to tourists like us – mostly religious handicrafts. It was something that we did not experience much when we were in Israel.
And mind to tell you that most of those who sell Christian religious handcrafts in the Palestine are Muslims. They seem to be at ease selling things which are probably considered haram back in Malaysia. For them what matters is what lies within. They even sell Holy Bibles and the Qurans on the same table – something that you'd never even dream of seeing here in Malaysia.
The mentioning of Betlehem was powerful enough to send shivers down my spine. I mean, seriously. This place is mentioned in church choirs, Christmas caroling and religious hymns that I grew up listening to as a Catholic.
As a Catholic, coming to the birthplace of my faith was very much exhilarating and exciting beyond words.
I had come to find out that most of the places mentioned in the Bible are nothing like how I imagined they would be. Most of the places of great significance have now been turned into pilgrimage landmarks and quite more than not I'd find a church standing on top of each of them – ruining all the pictures that I had all along been carrying in my head.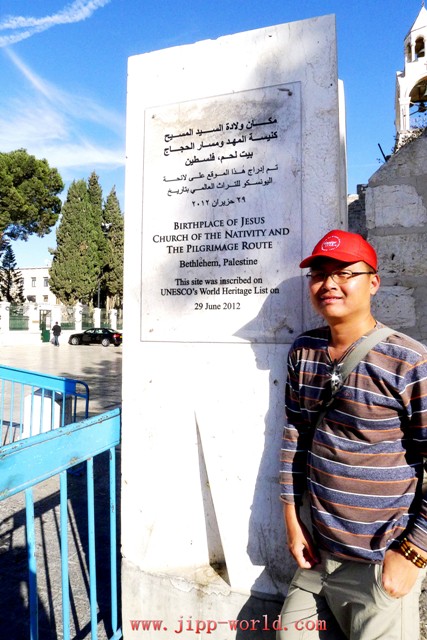 But then I had to remind myself that thousands if not millions of people come to these places every year so there is no way that they could keep the places like how they probably were in the past. There is no way they could let all the pilgrims come and pray under the burning sun in summer and probably in the cold during winter. They need a shelter and what can be a better shelter for something so significant for to Christianity than a church right?
Even the exact spot where the manger was located has now been turned into a church called Church of the Nativity. Apparently, getting to the manger was not a quickie kind of stuff. With so many pilgrims coming to this place to see for themselves the exact spot where Jesus was put to a crib when he was born, I had to be in a long queue except there was no apparent queue but more like crowds of people all marching into a small room located underneath the church.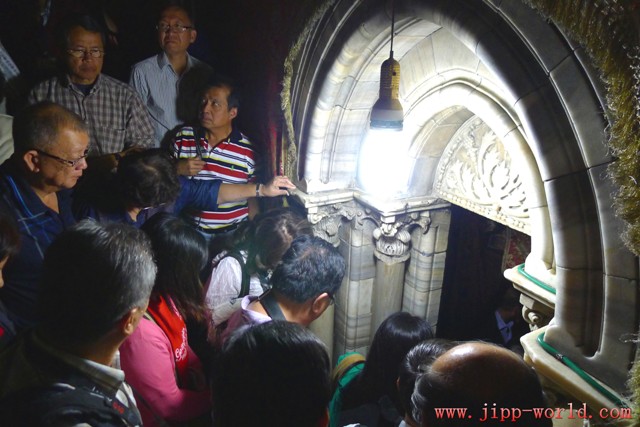 Since so many people were waiting for their turns, it needed to be done fast. Besides, the church was closing its doors when we were there. The spot where the crib was placed on is now marked by a hole – to which I quickly put my face into and said a brief prayer before dashing away to pave way for the next person in line.
It was so good to have finally come to the birth place of my faith. The Church of the Nativity is one of the latest in the list of UNESCO World Heritage Sites so striking something off the list is another sweet feat for me while I was in the Palestine.
Betlehem itself is very beautiful it almost looked something out of a picture postcard. I wish I could stay there longer but of course I was there on a pilgrimage tour so I had to see whatever I got to see along the way. Uhuks!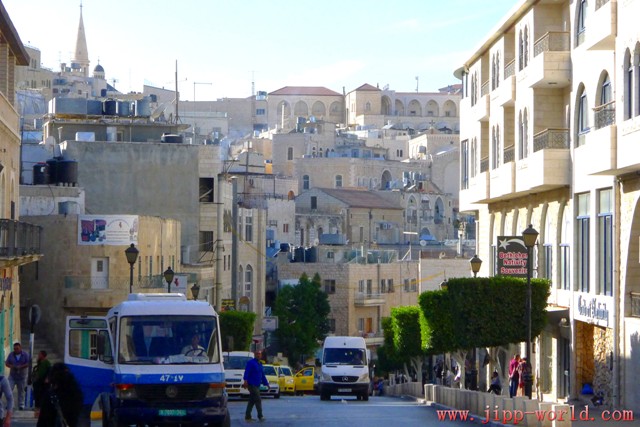 We stayed overnight at a hotel located on the outskirt of town – which was probably one of the biggest hotels that I had ever seen (and stayed) in my entire life. It was more like a palace whose complexity of walkways and stairs could leave anyone going after his own tail.
I took a little bit of time exploring around and it wasn't long before I found myself standing in front of a hall where a traditional Palestinian wedding was taking place. In the hallway was a group of teenagers who was performing a traditional Palestinian dance – something that I had been dying to see for a very long time.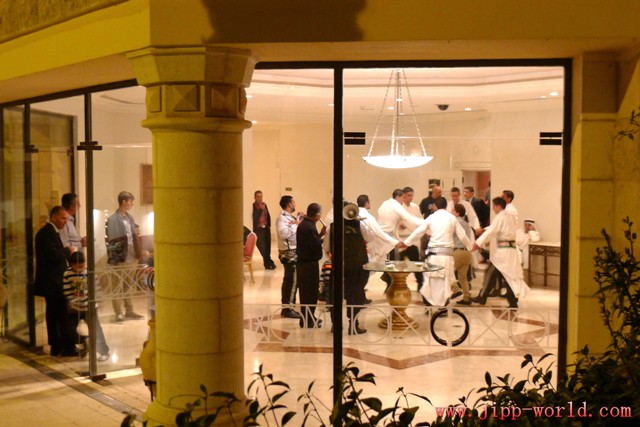 Driven by my own excitement, I shamelessly marched nearer to them and I was immediately welcome by warm smiles and nods of approval. The dance was so incredible to watch that for a moment I just stood they frozen.
It was a dance to celebrate the groom – something like a bachelor's party or something – while the bride was celebrated in another room by her own group of friends. Too bad men were not allowed to come and see them but I managed to get a quick peek through the door. I'd say, they were pretty wild, even wilder than the guys. LOLZ !
After spending quite a long while watching the dance, I continued exploring and it was not long before I found myself exiting one of the gates that led down to a main street. I continued exploring a little bit of the town before deciding that there wasn't much to see of it at night. Besides, it was freezing cold out there so I didn't want to catch a cold, not when I was barely a day in the Holy Land.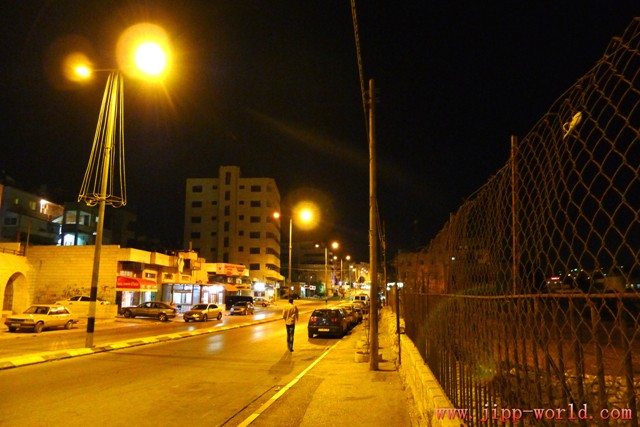 I returned to the hotel and took a seat at one of the cafes and ordered myself a cup of Cappuccino and a slice of Cheese cake just to fulfill my craving for one. I was joined by another youngster in the group (ahem!) and the night just drifted on with so many stories exchanged from both sides. Being an avid traveler herself, we swapped our own traveling experiences over coffee and it wasn't long before one of the Palestinian waiters came to join us.
Having a conversation with a Palestinian on my very first night in the Holy Land almost felt like striking a jackpot or something. I mean, it was something that I had so much expected of doing. With so many things that I heard about on the news, it was good to get first-hand stories from somebody who was really there and not those who are thousands of kilometers away but pretending like they know everything.
Palestinians are certainly some of the friendliest people in the world. They are so friendly to the extent that they can talk openly about their personal things, from things regarding their families, marriages and even sex life even when you have just met them like a few minutes ago.
The waiter for instance was so happy to talk about his wife and kids and what plan he has for the future.  He was even keen to show us pictures of his wife and kids on his cellphone – one by one – complete with a long elaboration every time he clicked to another picture (Yawnzzzz 🙂
Another Palestinian that I had a chance of having a conversation with was a young bus driver (not the one who drove our bus) who has been driving a bus for tourists in and around Isreal for the past 5 years. He was sitting alone on the front foyer of the hotel that we stayed in when he opened up to a conversation.
"I was married once but the girl left me for another man". "I hate my job". "My life sucks". "What? You are not married yet? So how do you have sex? You use your hand?" and those went on and on until I was persuaded to retreat to the warmth of my hotel room – away from the freezing cold wind that blew from the Sea of Galilee at night.
I did ask him between the conversations about which tourists were the most difficult to deal with.
"The Koreans. Seriously, they are not human. They are so rigid they wouldn't let even the slightest of change in their travel plan. I hate them".
Quite naturally I then asked which tourists that he liked most.
"The Filipinos. They are the friendliest people in the world. They seem so happy all the time".
I am not so sure about the first verdict but I do agree with him that Filipinos are the friendliest people at least among all the people that I have met.
I did not ask about Malaysians but I assumed he didn't see much of us. He did say that Malaysia is a very beautiful country.
"You mean you've been there?"
"No. But I saw it on TV. Malaysia – truly Asia" he said with a grin.
I did not really believe him until a few days later when I happened to see the Malaysia Truly Asia promo being aired on a local TV in Jerusalem.
Ehhh, I thought there's no business with Israel? o.O
Neewayysss, Merry Christmas everyone 🙂