Of all the places that I went to during my recent weekend escapade to the neighboring country, there was one place that I was most excited of going to. The place is called Ayutthaya.
I first found out about Ayutthaya when I searched for the list of UNESCO World Heritage Sites in Thailand. Strangely enough, Thailand doesn't seem to have a lot of UNESCO World Heritage sites despite being a tourist magnate in Asia and the world over.  I was even more surprised that despite all the hoohaas about Bangkok, there seemed to be no UNESCO World Heritage Site in the city at all.
Ayutthaya – the nearest site – is located some 80km to the North of the Thai capital city. Being a UNESCO sites enthusiast, I convinced my two travel buddies to take a full day out to go there, telling them that it's always worthwhile to go to a UNESCO World Heritage Site.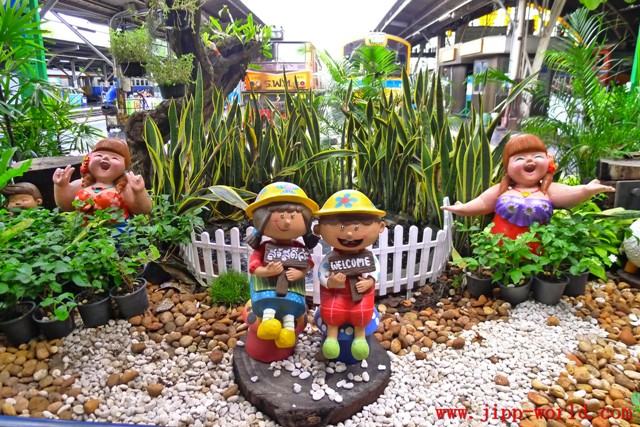 I was even more excited to know that traveling to Ayutthaya involved going on a train ride. The last time I went on a train ride (real trains, not those urban trains) was from New Delhi to see the Taj Mahal in Agra and I loved every moment of it! There is always something so exciting about going to a place on a train.
I think the best station to disembark the journey to Ayutthaya from Bangkok is the Hua Lampong train station. The station itself is pretty much exciting to explore. It looks like an old building which seems to bear a lot of historical significance to the people of Bangkok in terms of mobilization and public transport.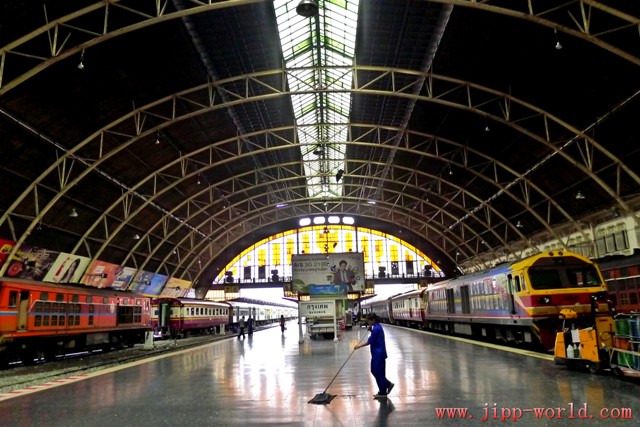 My eyes almost popped out when I was first told that the fare to Ayutthaya was THB15 for a one way. I thought I heard it wrongly or whatever auto-conversion in my head had miscalculated it. But no, it really was THB15 and we are talking about an almost 3-hours ride!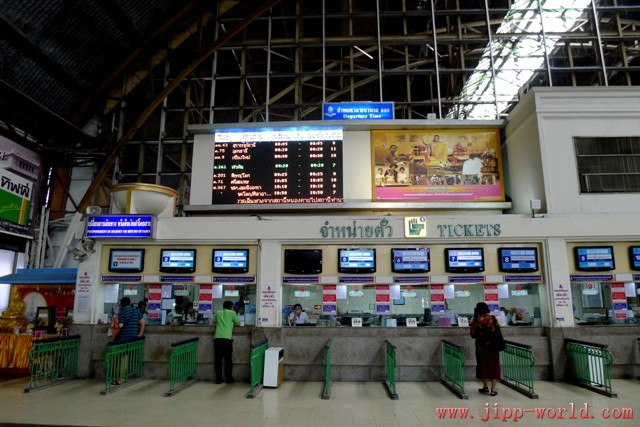 So we giggled our way to the train, expecting the worse of condition. But it turned out to be OK. Being called a 3rd Class Train, it applies a free-seating policy so it is advisable to get on board the earliest you can or you'll end up standing on your sorry feet all the way to your destination.
Sharing a train with locals felt almost like a privilege. They were mothers with kids, old men with newspapers and they had food stuffs with funny smell which I first thought was coming from the toilet. I still liked it nevertheless.
I couldn't help but moving from one seat to another just to take in the moment of excitement. Of course I had to settle when the train began to move. There were a lot of things to see along the way. Too bad, it's almost impossible to snap a picture while being on a moving train.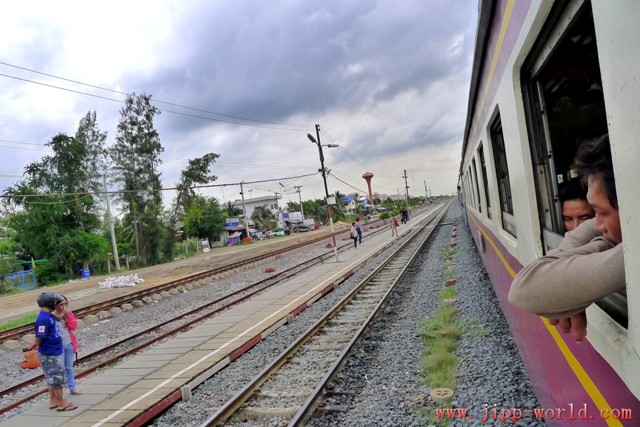 The train stopped several times to drop off and take in more passengers. It wasn't long before my two other buddies drifted to a deep and sound sleep, leaving me alone in the wake to see whatever there was to see along the way. I really didn't want to miss a thing. LOLz.
It was past midday when we arrived at Ayutthaya train station. It was a small station but quite sufficient for the purpose that it was meant to serve. We walked over to the jetty and took a ferry across the River of Chao Phraya River.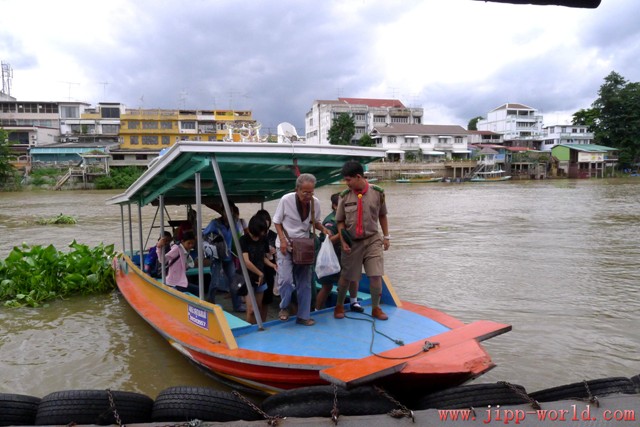 We had initially wanted to rent a bike so that we could explore the old city of Ayutthaya according to our likes but after considering the very limited time that we had, we decided to rent a Tuk Tuk instead. In a foreign place like Ayutthaya, even looking for a gas station could take a considerable amount of time and we didn't have that much time.
Being one of the biggest cities in the world at one time, it takes quite a little bit of time to explore the whole of Ayutthaya UNESCO site. In fact, it might take days if you want to explore every nook and cranny. We only had 3-4 hours before all the sites closed their gates to visitors so we had to pick on places most worthy to explore.
The first site that we went to was the Wat Maha That. It is said to be the royal temple and most sacred in Ayutthaya during its glorious time.
One thing I quickly noticed about the structures in Ayutthaya was that they are very heavily bricked. They remind me of those bricked houses in England. May be I can safely say that the temples in Angkor Wat represent the French architecture while those in Ayutthaya represent the English.  It's quite obvious which one is more superior than the other. LOL!
Of course the Wat Maha That is most famous for the strangulated Buddha. The hundreds of years of abandonment had resulted in the overgrowing of the strangular fig tree which has now covered most of the Buddha, leaving only its face which looks unfazed by the living roots that continue to strangle it tighter over time.
Too bad that most of the statues at Ayutthaya temples had turned headless due to rampant looting in the past.  A story was told that a prominent officer who was appointed to be the caretaker of all the buildings had betrayed the trust that was placed upon him and led the rampant looting which resulted in a massive loss of precious relics.
Our next destination was the adjacent Wat Rajaburana whose main building looked more like a church than a temple to me. The whole complex is dominated by a big Prang which is still very much under restoration work.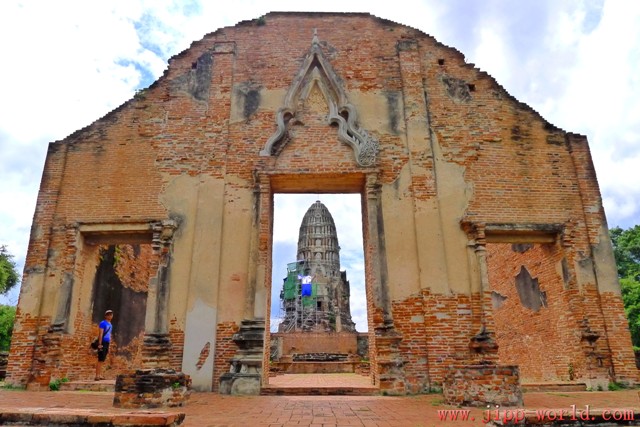 Getting into the Prang is quite exciting. You have to go down a steep stair to get to the core of it. The lack of light made it even more thrilling to explore because there is no way of telling what you are going to see down there. I'm not going to tell you what we found there but it was definitely worth the time and energy. LOL.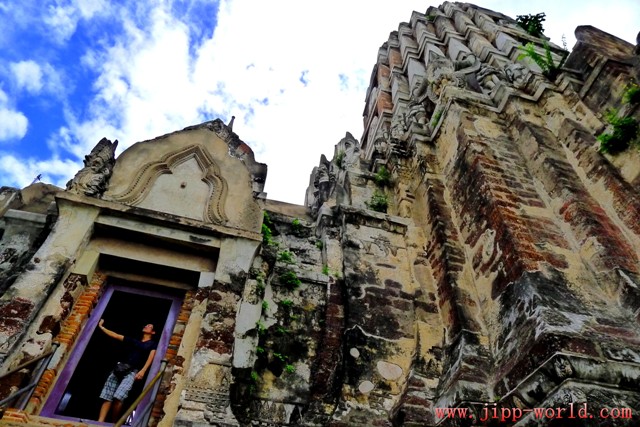 Next up was the sitting Buddha. There is no entry fee which is quite justified since it is very much a live temple where people still come to pray and perform rituals.
The building is said to have been made the base for the Burmese army when they invaded  the city of Ayutthaya back in 1765.  They then burned down the whole city and brought the Ayutthaya kingdom to ruin.
There are smaller Buddha relics lined up to the walls and I was told that most of them were actually made of gold. If only they were small enough to fit into my pocket. LOL
We decided to skip the Wat Phra Si Sanphet which was located next to it and asked to be sent to the Reclining Buddha next (and now regretting it because I didn't know it was one of the most important parts of the whole city which houses the remains of  some of the kings. Jeez!).
I freaked out when a horde of elephants crossed the road and one of them actually walked straight up to us as if so ready to terrorize us for whatever reason. I panicked and started to freak out, trying all I could to alert the driver who seemed so unfazed and unaware of the incoming doom. Except that there was no doom.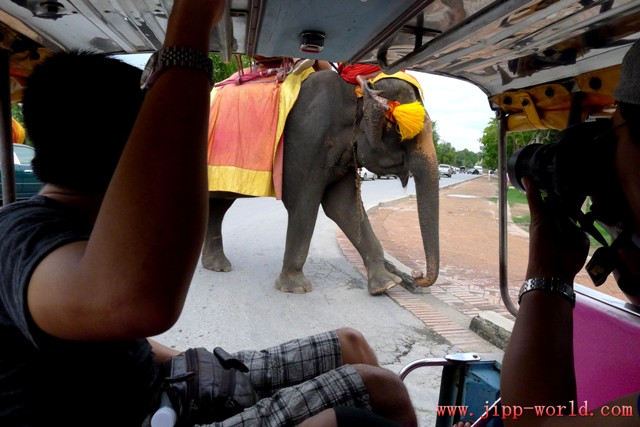 I guess their communication with humans has made them know quite all too well on how to entertain and freak out us humans. Grrr!
Of all the poses that Buddha has been portrayed of doing, the reclining pose is always my favorite. It is the position that he looks most relaxed in so looking at him in a very relaxed pose like that makes me relax too.
I noticed how the reclining Buddha in Ayutthaya is covered with a piece of linen unlike most other Buddhas that I had seen before which were usually covered with a painted cloth made of composite itself.
Due to the peeling off of the skin (or probably ridden with fungus), it was quite hard to tell whether the Buddha was sleeping or simply reclined to relax. Of course you need to go quite close to it to know that it was indeed reclining.
We took a little bit of time taking in the relaxing atmosphere that surrounded the reclining Buddha before dashing over to our last destination in Ayutthaya – the Wat Chaiwattanaram.
Located quite outside of the 'island', it's always good to save the best for the last. The Wat Chaiwattanaram amazed me the moment I stepped onto its compound.
If there was one wat in Ayutthaya that could match the amazement I felt when I took my first glimpse of Angkor Wat, it was the Wat Chaiwattanaram. Unlike most other temples in the UNESCO Site area, it seems to be very much well-maintained.
Of course a marvelous place like Wat Chaiwattanaram deserves a star jump from me – something that I'd only do to places that truly deserve it 😛
An extensive restoration work forbade us from entering further into the temple area but it still looks good to be seen as a whole from the outside. We took a little bit of time to check out the ongoing restoration work at one of the stupas.
One of the workers took the effort in his broken English to explain to us that they had to dig deep into the foundation of the stupa because it has now sunk a little so it needed to be hoisted up and re-aligned. We wished them luck before continuing our tour.
Wat Chaiwattanaram is located on the riverbank of Chao Phraya River. When the river swelled in the major flood that almost crippled the whole city of Bangkok back in 2011, almost the whole of Ayutthaya UNESCO Site was submerged in water. The damage was devastating. Of course it has now been fully restored and is back to its full swing of business.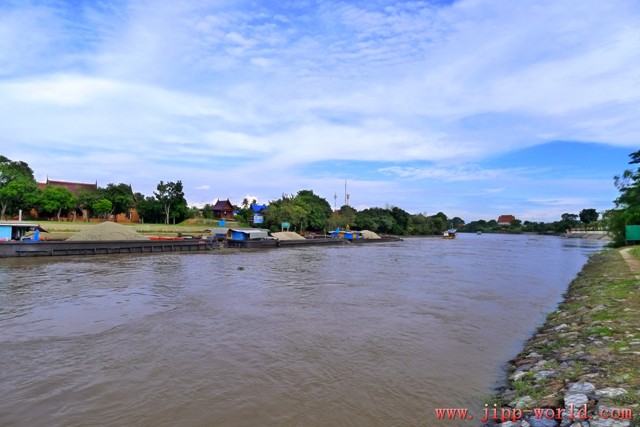 After consulting the Tuk Tuk driver, we decided to take a van back to Bangkok. It will shorten our travel time by at least half the time it'd take to return to Bangkok by train.
It would be our last night in Bangkok so we wanted our last dinner to be a little bit special. With such a marvelous trip and a great company – we certainly deserved it. 🙂
It always feels good to add another UNESCO World Heritage Site in my 'been there, done that' list. 😉